From the bride's walk down the aisle showcasing her bouquet, to the centerpieces as the focal point of the dining room and to the extra venue decorations, floral arrangements can bring the theme of a wedding to life. Adding aromatic herbs to your floral arrangement will be a welcome scent to your day.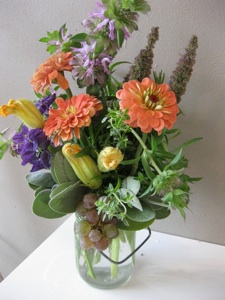 I've seen many beautiful bridal bouquets – from traditional roses to feathers, brooches and even egg carton craft made ones. Cary Pereyra, owner of The Little Glass Slipper in Brooklyn, NY, is a master at creating beautiful and unique arrangements that include unexpected and eye-catching herbs.
Cary transitioned from being a counselor to an herb florist, opening her studio in 2010. She gets her interest in decorating from her mother. She discovered her passion is about creating arrangements that are both beautiful and aromatically beneficial.
All types of herbs are used in the floral creations by Cary. On a seasonal basis she will add herbs to accent the time of year. Eucalyptus is one she likes to use in any season because it changes over the year. For fall-winter weddings, she adds rosehips and rosemary. In spring-summer weddings, Cary prefers mint, lavender, geraniums and roses.
Cary likes to include sage in bridal bouquets because it is a traditional spiritual herb for women. Men, she says, enjoy the look and woody scent of rosemary for their boutonnieres.
I was pleasantly surprised that Cary includes fruits and fruit bearing plants in her arrangements. She will routinely use kumquats… and oranges.
When she told me this, I was immediately struck with the answer for late August weddings. That is the time when bees and wasps are active and love to buzz around the bride during an outdoor ceremony attracted to the sweet floral scents. By having a herbal and citrus bouquet, you can naturally detract these nasty pests. No more awkward swatting at bugs during the ceremony!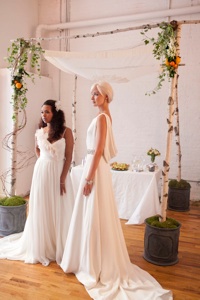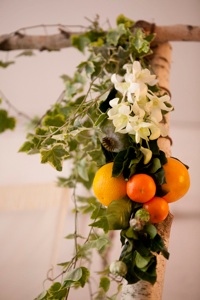 Cary finds that brides continue to love purple as a wedding color. The other two popular colors she gets requests for are orange and the traditional pink.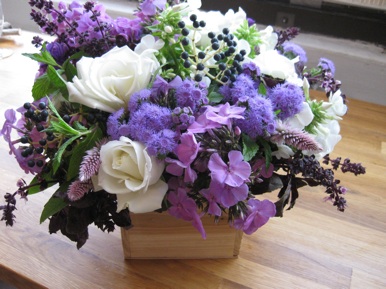 The Little Glass Slipper delivers in Brooklyn and its immediate surrounding area including Manhattan and into upstate New York. Typical lead time for ordering is two months.
If you are wanting a little something extra special, you might want to consider including as Cary does, herbs and fruits in your wedding arrangements. Their sight and scents will no doubt be a pleasant surprise.