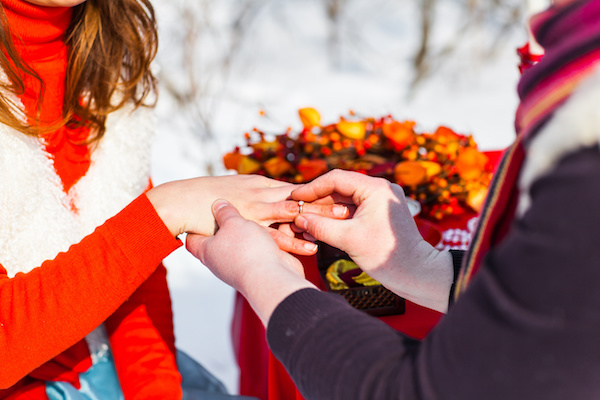 Have you found "the one" you want to spend your future with? The one with whom you want to tackle all of life's ups and downs, challenges and joys?
Maybe it's time to pop the question and utter the four words that will alter the course of your future: "Will you marry me?"
If you're ready to make the commitment, the holiday season is a lovely, meaningful time to get engaged.
For one thing, it's super romantic. You can cuddle by the fire, and bask in the glow and sparkle of the holiday lights. In fact, the 32nd edition of Christmas Lights Across Canada is taking place from December 7 to January 7, 2017. Some 400,000 dazzling Christmas lights will be glowing throughout downtown — and you can add another sparkler!
There are also practical benefits to a holiday engagement. For one thing, if you want to share your great news with your nearest and dearest, this is the perfect time to do it. Get-togethers with family members and friends are a  part of the different celebrations, from Hanukkah to Christmas to New Year's Eve and New Year's Day.
-> There are lots of different fun and creative ways to propose at Christmas. You can wrap the ring and place it in a not-easy-to-guess package under the tree.
-> How about putting it in a special, sentimental ornament?
Here are some other great ideas, courtesy of Senate House.
-> Go outdoor skating, hopefully on the Rideau Canal if it's open, and pop the question over hot chocolate and beavertails.
-> If you have or share a dog, attach the ring to the dog's collar.
-> Use mistletoe! You can dangle the mistletoe and dangle the ring too!
-> Put the ring in December 24 of an Advent Calendar.
-> If you or she are Jewish, propose during a game of dreidel.
-> Give a love note for each day of Hanukkah, leading up to a proposal on the eighth day.