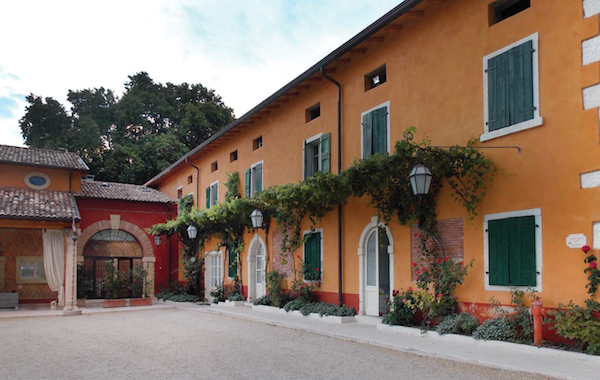 Villabella Resort. Photo: Jane Staples.
by Jane Staples
Planning a honeymoon in Italy? Make sure to include Verona in your itinerary. It's close to Venice and beautiful Lake Garda, too. Nestled just below the Alps along the Adige River, Verona is oozing with charm and gracious hospitality. The population is just over 265, 000, so it's less crowded than many other European cities. It's a city where you can walk around at a leisurely pace to see many of the sights.
Famous for the setting of Shakespeare's Romeo and Juliet, Verona has long been associated with romance and has lots to offer to those planning a honeymoon or romantic getaway. There's beautiful Romanesque and Medieval architecture along with the natural beauty of the rolling hills surrounding Verona, combined with a thriving food and wine scene. For accommodation, you can choose from a cozy, romantic B&B overlooking vineyards, a luxury villa with a Michelin restaurant, or a hotel overlooking Juliet's courtyard.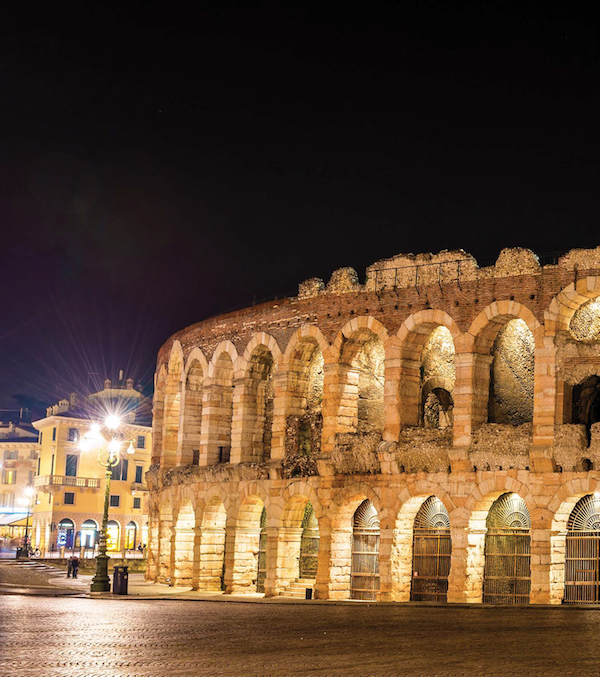 Region of wine and charm
Foodies and wine lovers can really indulge their passions in Verona. Countless restaurants, wine bars and gelaterias abound. The area surrounding Verona is famous for four styles of wine: bright Valpolicellas, rich Ripassos, complex Amarones and a sweet dessert wine, Recioto. The popular Valpolicella varietal is known to many, with its food-friendly acidity and flavours, making it perfect for sipping during appetizers such as salumni and olives. This region is also the home of sumptuous Amarone, made using an ancient method. The grapes are allowed to dry in special lofts for 90-100 days, during which time they lose 30 to 50 per cent of their water. This results in concentrated, layered flavours, creating a luxurious wine to be savoured or enjoyed with rich foods. Be sure to taste Amarone during a special meal in Verona, perhaps with roast meat, game or simply with some dark chocolate. It's unforgettable and you'll see why it's called the "King of Wines."
There is a terrific phone app called "Valpolicella Wines" that can be invaluable as you plan your visit to Verona. This smartphone app helps visitors find the best restaurants, wine bars and wineries. It includes several different itineraries for excursions to wineries, even an itinerary by bicycle. It provides space to record winetasting notes and you can share your discoveries on social media.
Romantic spots to visit
Il Sogno di Giulietta guesthouse, located on the same street, Via Capello, as the famous balcony in "Juliet's courtyard."
Giardino Giusti. Stroll around one of Italy's finest Renaissance gardens and enjoy a panoramic view of the city.
The Verona Arena. Located in Piazza Bra, originally built by the Romans in the 1st century A.D. and used for gladiator fights. Famous for its remarkable acoustics, it is still in use year-round for opera, ballet and symphonies.
Piazza delle Erbe. Located on the site of the ancient Roman forum and surrounded by Medieval and Renaissance architecture. A great spot to walk around by day to buy produce or souvenirs. Later, relax with an aperitivo at one of the many cafes and bars.
Michelin-starred restaurants. Your honeymoon is the ideal time to experience a luxury restaurant. La Fontanina is located near the arena. Their osteria has been operating for more than 200 years, offering traditional specialities such as venison carpaccio. Another is Villabella, located on 100 hectares of vineyards and olive groves, in the rolling hills outside Verona. Even dessert is offered in several courses. Guaranteed to make memories!
Activities
Rent a bicycle and tour the countryside.
Attend a jazz concert or opera under the stars at the arena.
Tour one of the many wineries in the region surrounding Verona.
Visit a sausage factory. Corrado Benedetti is an artisanal sausage and cheesefactory located outside Verona in nearby picturesque Sant'Anna d'Alfaedo.
Indulge your passion for photography with the Romanesque and Medievalarchitecture or the natural beauty of the surrounding rolling hills.When you can't decide what to do, just go for a stroll and stop at a gelateria or enjoy an aperitif at dusk. Verona awaits — there's something for everyone to enjoy!


Travel tips

Verona Airport is located five kilometres outside Verona's city centre and is serviced by nearly 30 airlines. Meridiana, Alitalia, and Lufthansa provide the most extensive coverage. It is a medium-sized airport with food and necessities easily available and particularly patient, helpful staff. The airport is accessible at street level.

Travel by train from Venice to Verona takes just under one-and-a-half hours and two hours by bus. Verona is also very close to Lake Garda, easily accessible by train or bus, which run frequently.

For in-depth travel information, including maps, weather and information on accessibility and special needs, check out www.TripAdvisor.ca under the label of Verona Travel and Tourism. W

Jane Staples is a sommelier and wine writer from Ottawa.