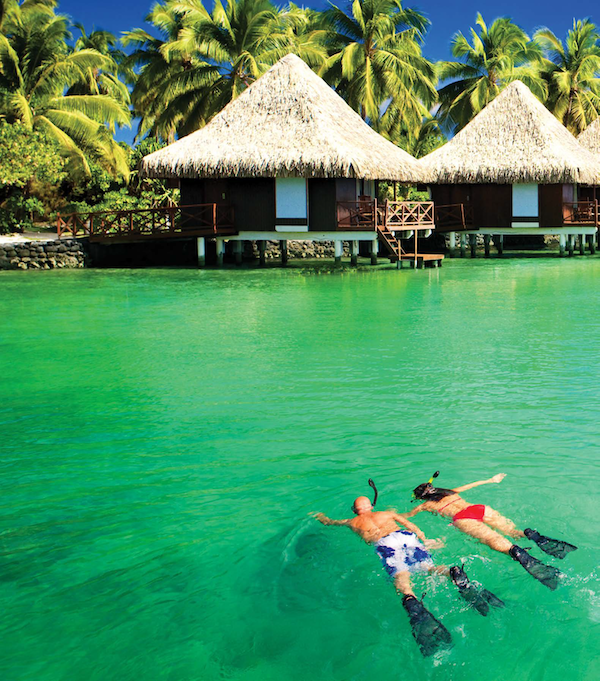 Caribbean resorts with wow-factor
By Michele Petersen
There's nothing quite like the Caribbean for romance. The mix of palm-fringed beaches, translucent waters and brilliant sunshine seem custom-made for creating lasting memories. But today's bridal couples are looking for alternatives to the standard beachfront wedding or cookie cutter resort. They're looking for bucket-list experiences. Resorts with wow factor are especially popular. Not only do they offer a unique setting but these architectural marvels also do double duty as stunning backdrops for one-of-a-kind engagement, wedding or honeymoon photos.

Say I Do underwater at Secrets Aura Cozumel. Credit: AMResorts
Overwater hideaways
When it comes to bucket-list experiences, overwater bungalows are at the top of many wish lists. Just the thought of being able to step outside your private cabana and see a starfish flitting beneath your feet is enough to inspire a couple to throw their thongs in a suitcase and fly to the South Pacific. But there's no need to fly to Bora Bora for the ultimate over-the-water bungalow experience. Innovative resorts in Mexico and the Caribbean have come up with fantastic overwater bungalow experiences, minus the crushing 20-hour flight.
The first of its kind in the Caribbean, the new overwater villas by Sandals Royal Caribbean in Montego Bay, Jamaica offer all the must-have features. Set on wooden decks poised above turquoise sea, these spacious cabanas offer jaw-dropping see-through glass floors, soaking tubs for two, a Queen-sized over-the-water hammock and a private infinity pool. There's even a Sandals Butler (trained by the Professional Guild of English Butlers) and 24-hour room service so you don't need to leave your lux water world unless you want to.
For those who really want to ramp up the togetherness factor and get away from it all, the collection of overwater bungalows at Thatch Cay Resort in Belize are made to order. Set offshore on a speck of an island near Dangriga in southern Belize, these thatched-roof hideaways are built on stilts above the clear Caribbean and are accessible via a swaying wooden pathway. An all-inclusive meal and drink plan makes it easy to focus on enjoying the surrounding marine preserve via kayaks, paddle boards and other non-motorized water toys.
If you're looking for the overwater bungalow experience but still want proximity to the comforts of a 5-star resort, then Secrets Silversands Riviera Cancun is for you. Just 20 minutes from Cancun's dusk-to-dawn party scene but a world away in vibe, these spacious thatched roof cabanas are set on stilts above a freeform swimming pool just steps to the resort's eight restaurants and eight bars, fitness facilities, full-service spa, live evening entertainment (including a disco). The Sip, Savor and See option offers complimentary dinner and drinks at 13 participating resorts. This all-inclusive resort's 24-hour room service and beach butler service are other enticing advantages.
www.sandals.com/main/royal/rj-over-the-water-suites/
www.thatchcayebelize.com
www.secretsresorts.com/silversands-riviera-cancun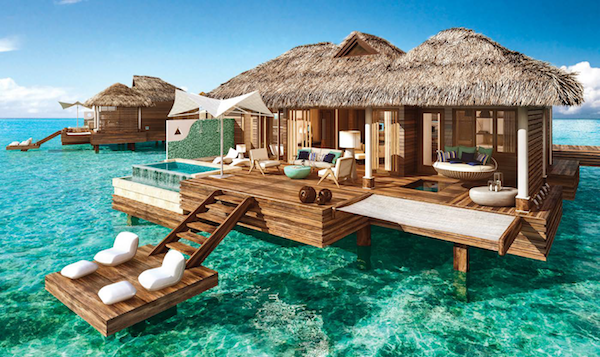 Instagram-worthy overwater bungalows at Sandals Royal Caribbean in Jamaica. Credit: Sandals Royal Caribbean
Water, water, everywhere   
The overwater wedding experience goes a step beyond at the new Overwater Serenity Wedding Chapel at Sandals Grande St. Lucian. Located at the southwestern point of the resort located on a peninsula on Saint Lucia's best beach, this open-air, glass-aisled chapel with seating for 20 guests offers swoon-worthy views of Rodney Bay and the azure waters of the Caribbean below through three glass panels. Handcrafted details such as a river stone altar and gleaming silver leaf touches makes this a venue to remember. With privacy almost guaranteed, there's little chance passers-by will photo-bomb your ceremony.
Up to 250 species of fish are the only crowds you'll see at this next underwater paradise in Cozumel, Mexico. In a unique twist on the marine experience, you can now say "I Do" underwater with the new package offered by Secrets Cozumel, a luxury dive resort set among the brilliant coral formations of the Mesoamerican Barrier Reef System, the second largest in the world. Clear visibility of the waters makes for ideal wedding or honeymoon photos. While there, you can master some skills at the Dive House, a PADI full service centre offering Divemaster Certifications as well as specialty dive courses for divers who are Open Water Certified.
Find your own personal paradise at Riviera Maya's newest wedding and private event venue, El Pueblito on Mexico's Caribbean coast. This colonial-inspired plaza is situated within the heart of Mayakoba, a unique gated eco-resort development designed to echo the contours of the existing landscape of subterranean rivers, cenotes (underwater pools) and mangroves. Home to three luxury hotels including the Fairmont Mayakoba, Rosewood Mayakoba and Banyan Tree Mayakoba, new for 2017 is the highly anticipated Andaz Mayakoba. This sophisticated collection of guest rooms and suites features a nature-inspired decor of polished stone, artisanal art and natural fabric that brings the outdoors in. Couples can even dine aboard a trajinera (Mexican gondola) while floating through the canals that meander through the resorts.
www.sandals.com/main/grande/gl-home/
www.secretsresorts.com/aura-cozumel/dive
www.mayakoba.com
www.mayakoba.andaz.hyatt.com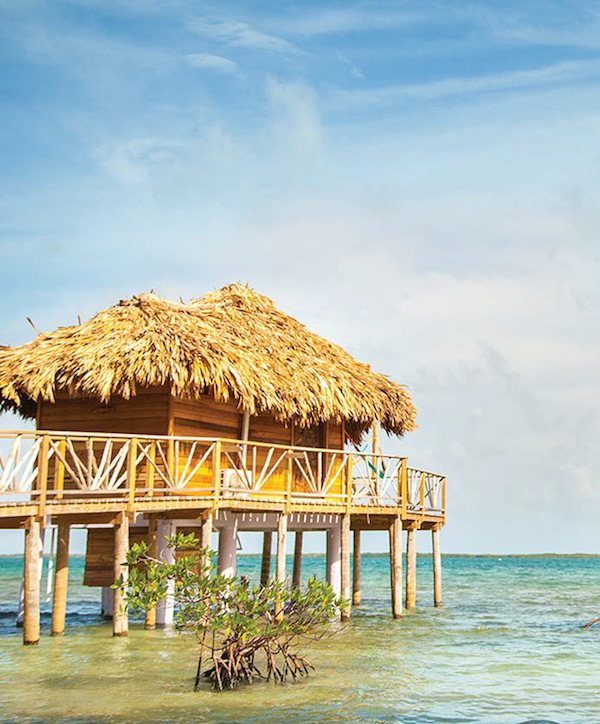 Enjoy absolute seclusion in a stunning bungalow on stilts in Belize. Credit: Thatch Cay Resort
Unique architecture  
For a romantic celebration in a unique Caribbean setting, look no further than Sonesta Ocean Point Resort. Set on a dramatic peninsula overlooking Maho Beach, this adult-only resort is St. Maarten's first 5-star resort and it capitalizes on its beautiful natural surroundings to create a contemporary backdrop for a destination wedding or honeymoon. The boutique-sized property features two swimming pools including The Edge, an infinity pool with a sandy entry, and The Point, a chic lounging zone featuring pool butler service and breezy views. Splurge on one of the swim-up suites set over a sea cave for an unforgettable experience.  The glamorous rooftop Sunset Bar and Azul restaurant offer Mediterranean-Caribbean cuisine with expansive views. Sunsets in neon red, orange and pink make for an Instagram-worthy wrap to each day.
There's nothing quite like the patina of antiquity to add a spirit of enduring romance. On the island of Nevis in the British West Indies, Montpelier Plantation & Beach is an intimate Relais & Châteaux boutique hotel set on the site of an 18th century sugar cane plantation. With its burnished historic structures, this Caribbean retreat delivers a fairytale experience at every turn. You can even be married beneath the same Ficus tree that witnessed the wedding of renowned Admiral Horatio Nelson and plantation owner's daughter Frances 'Fanny' Nisbet in 1787. Nearby, the historic Nisbet Plantation Inn offers guests a dramatic 18th century sugar mill archeological ruin ideal for an atmospheric engagement or bridal photo shoot.
Another option is to retreat to your very own love nest at one of the unique Beachfront Grande Rondoval Butler Suites with Private Pool Sanctuary at Sandals Grande St. Lucian in Saint Lucia. Located just steps from the beach, each of these au courant suites-in-the-round, with conical roofs, feature a fully-furnished private veranda with hammock, sensual outdoor shower, whirlpool and private plunge pool. You'll also enjoy views of Rodney Bay, one of the Caribbean's most serene vistas, from the circular, flow-through living and sleeping quarters. The attentive service of a personal butler and 24-hour room service wrap up the memory-making quotient of this romantic retreat.
www.montpeliernevis.com
www.nisbetplantation.com
www.sandals.com/main/grande/gl-home/
No matter which destination you choose for your celebrations, it's worth thinking outside the beachfront wedding box, and opting for one of these wow-factor resorts. Grand in scale and imagination, they're designed to reflect a wedding that's uniquely you.