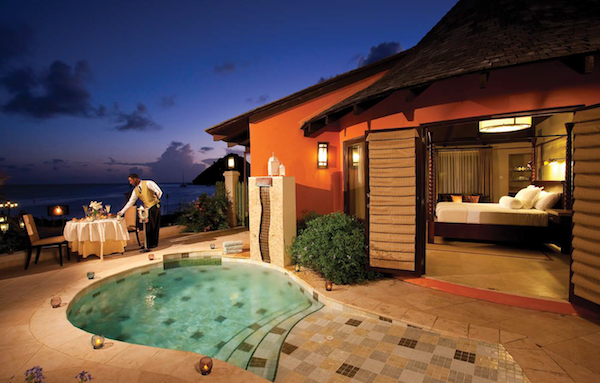 Butler service is a highlight of a stay at a Rondoval. Credit Sandals Grande St. Lucian.
Start your planning
If a fantasy resort topped with extraordinary experiences is part of your vacation planning wish list, it's worth consulting with an expert. Lindsey Epperly, owner of Epperly Travel (part of the Virtuoso network) a luxury honeymoon and destination wedding travel agency, offers the following tips for couples looking for stress-free, enjoyable travel experience.
Save time and money: Gone forever are the hours spent on Google or crowdsourcing your travel dreams over social media. Savvy couples are increasingly counting on experts to customize their travel. A skilled travel agent will take the time to learn your preference and tailor make your experience. They can also alert you to hidden costs and extra fees before you go.
Avoid disappointment: Well-established travel agencies invest in their staff and this means they have often personally visited a resort you may be considering. Do you love scuba diving, have dietary preferences or need air conditioning? It's worth knowing that if you book with an online booking engine, that the "romantic hotel" at the top of the list may have paid for that placement. And remember, the terms "romantic" and "luxury" are relative.
Be Prepared: Mother Nature is fickle. Rain, wind or even hurricanes are out of your control. If things go wrong, it's worth having a trusted travel agent to contact in case of an emergency rather than a generic 1-800 number.
Perks: A well-established travel agent that specializes in wedding and honeymoon travel has built relationships with management at leading resorts and can often score special perks such as amenities, room upgrades or custom experiences. 
Other resources:
Begin Early: Sandals Resorts offers an engagement concierge to help couples customize their wedding proposal dreams. The service is complimentary for Sandals Resorts guests.
Wow-factor Wedding Registry: Why not let your friends and family treat you to an unforgettable experience rather than a second coffee maker on your gift registry? If you already have what you need, then room upgrades or a couple's massage might be the ideal gift. Secrets Resorts & Spas offers a Honeymoon Wishes Registry you can create online for select resorts in Mexico, Jamaica, Dominican Republic and Costa Rica.
Test Drive Your Resort: To help wedding couples sample the goods, Sandals Resorts encourages couples to preview their celebrations at their resort of choice. The Test Drive package includes round-trip airport transfers, luxurious accommodations, resort tour, meetings with resort wedding and photography team, sparkling wine and cake tasting, wedding decor sampling, and a romantic dinner for two at a resort specialty restaurant.