Honeymoon Planning Tips:
Courtesy of I Just Said Yes
The wedding ceremony and reception are two of the most important times of your life. You work so hard to make sure every detail is taken care of and that the night is one to remember forever.
Your life now begins as husband and wife and what a great way to start this relationship by going on your honeymoon. There are so many places you can visit such as Europe, winery in Napa Valley, a favourite cottage or ski chalet, Las Vegas, New York City and the forever popular Caribbean Islands. All of these trips can become very expensive, but since it's your honeymoon you don't want to settle for anything less than spectacular!
Sometimes the earlier you book the more you save so start looking at your options months before the big day. Create a "honeymoon" folder so you can print all of your trip information and have it on file. Ensure all your passports, visa's and documentation are in order weeks before your departure.
How can you get help covering the cost of this trip? One suggestion would be to contact a travel agency and set up a gift registry where your guests can purchase travel certificates as bridal shower and wedding gifts. Before you know it, you will probably receive a nice down payment and really….who needs two or 3 coffee makers when you can get vouchers towards the destination of your dreams!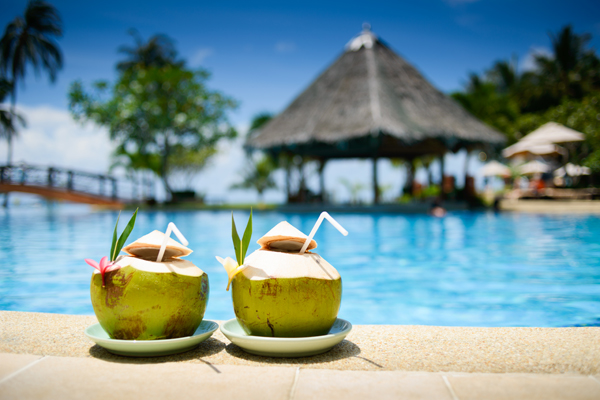 Another suggestion is to hold off on your honeymoon departure for a day or two after the wedding. You will both be totally exhausted from the weeks leading up to and the night of the wedding, and the last thing you want to do is rush to the airport in the early morning hours. Try to give yourself at least one or two full days to talk about the wedding, spend time with family and friends and get settled. Some of the most meaningful get-togethers come after the actual reception.
I know there is a lot to do for the wedding reception but if you can, get your clothes and bags packed before the wedding day so all you have to do is add those few toiletries before you head out. Have your passports, traveler's cheques and any other required documentation set aside and ready to go.
Enjoy every minute of your honeymoon because when you get back the reality sets in and the "honeymoon" will really be over!
Safe travels!!