How to Host an Intimate Wedding at Your Estate
A guest list that reaches the floor; a catering bill that equals a year of your mortgage; the high ticket price and stress of renting a chapel or venue for your big day. All of the pomp and circumstance that comes with planning and having a traditional wedding ceremony can be avoided by hosting an intimate wedding at your estate. Here are some tips every on-trend bride should consider when tying the knot at home: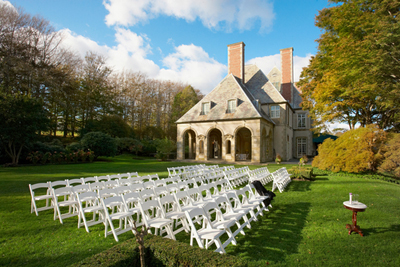 Keep the Guest List Small
Whether you intend to have a small guest list or you're working with a tight budget, after deciding to have an intimate wedding, brides will learn that the guest lists needs to be much shorter than a traditional wedding guest list.
Plan ahead to make sure there's enough space to keep your wedding guests comfortable on the big day. Your home needs to have a natural flow, so if it doesn't, move furniture to unused areas of the home or the basement. Also make sure that you've designated a spot for wedding activities like signing the guest book, cutting the cake and taking photos.
Beautify Your Home
Just like your dress, make sure that your home is beautiful by outfitting your interior with minimal decor that match your wedding's theme and colors. Add elegant touches to windows with custom romantic draperies or other sleek window treatments. Choose from dozens of colors and materials for something that is subtle and fits your everyday style so you can keep them up after the wedding.
Hire a professional cleaning service to remove the dust bunnies hiding out in the hard-to-reach places of your home (ceiling fans, window panes and blinds, vents, corners, etc.). Also, have your floors professionally cleaned or polished a few days before the ceremony, so they are in tip-top shape.
Spruce Up the Yard
Many guests will take to the yard to get some fresh air; good thing the backyard is a prime spot to host your guests after the reception. HGTV suggests making sure the ground is level and then renting a dance floor. The home and garden experts also recommend hiring a professional landscaping company weeks before your wedding date to ensure your backyard is picture-perfect. It may also be wise to have a friend or family member take care of your pet(s) in the final days before you say "I Do," unless of course you intend for Fido to be a part of your nuptials.
Hire a Wedding Coordinator
One bride can't do everything by herself. Enlist help from your bridal party and your family, but if that is not enough consider hiring a wedding service company or a wedding coordinator. Hiring a wedding service company can make your wedding day less stressful. These wedding professionals find the best rates for renting the essentials like wedding day tables, chairs, tents and even an alter, plus they know and connect you with the best caterers in the industry. Be sure to shop around for the best rate or ask your married friends for a recommendation.