Fun & Fabulous

Story and photos by Lindsay Ruck
The second my sister, Jacqueline, asked me to be her maid-of-honour, I immediately began thinking about all of the fun and fabulous events to look forward to leading up to the big day. From engagement parties and dress shopping to bachelorettes and bridal showers, there's a lot of toasting before the "I dos."
Perhaps my favourite affair to host was Jacqueline's bridal shower. If you've recently adorned the MOH sash or have the honour of planning a bash for a bride-to-be, read on to find out how to plan the ultimate themed bridal shower.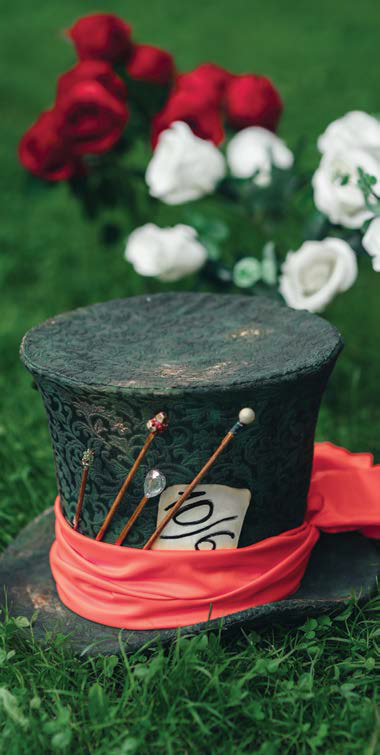 Know your audience
Before getting into the details, it's important to think about the bride; her likes and her dislikes. If you know she's not into games, then no need to force people to wrap themselves in toilet paper and call it a wedding dress. What are some of her favourite foods? Who are her nearest and dearest? Make sure you consult her on the guest list and don't start inviting random people who may not be invited to the wedding. (Awk-ward!)
Concept
While it's not mandatory to have a themed shower, I was absolutely elated when Jacqueline shared she would like an Alice in Wonderland affair. Talk about endless possibilities! (Not to mention a Pinterest board bursting with all things Alice.) Concept is key, so start thinking about how you'll bring the desired theme to life. When planning an Alice in Wonderland shower, I immediately thought clocks of all shapes and sizes, lots of greenery, colourful cups and saucers, and of course, a Mad Hatter tea party.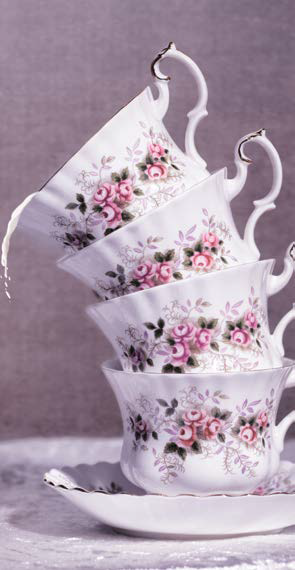 You're invited!
Just like wedding invitations, the shower invite is the first impression for the day. Upon reading the invitation, guests should pick up on the theme, know if it's a formal or more casual affair, and have insight into gifts for the bride. Include an RSVP date so you have exact numbers for food, drinks and party favours. It's best to always plan for a few more than expected, just in case someone doesn't adhere to the RSVP deadline or decides they're able to make it at the last minute.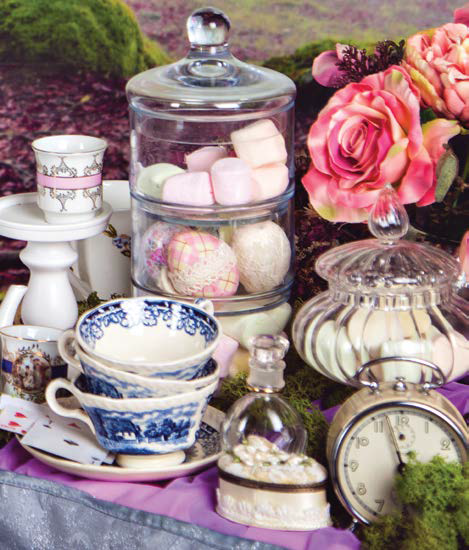 Décor
Themes can become very tacky very quickly if not executed properly. My goal for décor was to use items related to Alice in Wonderland without actually having the words "Alice in Wonderland" and Alice's face found anywhere in the space.
The table was the focal point of our venue and it was also where the ladies joined our bride for a leisurely afternoon tea. The centre of the table was lined with faux moss peppered with tea cups, candelabras, clocks, keys and faux fruit. Differing heights added visual interest to the whimsical tablescape.
Depending on the size of your space, it's a good idea to create different areas for guests to move about the room. While the long tea party table was the anchor, there were separate seating and mingling areas so guests could flow with ease. A seating area adorned with vintage books, an antique birdcage and florals also featured small pieces of paper attached to vintage metal keys. Each piece of paper asked guests to fill in the blank: "On our next date, we should…" "Advice for the bride and groom…" "At our wedding, the band should play…" Guests were also asked to guess how many tea bags filled a glass jar. The winner received a tea-themed treat courtesy of David's Tea.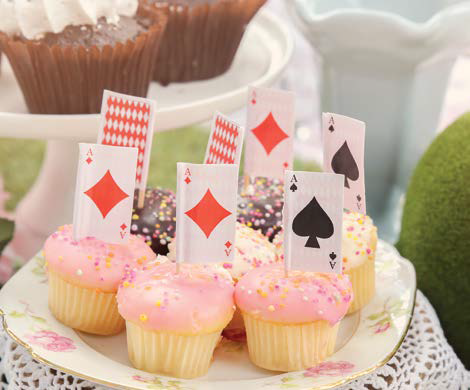 Food + drink
When the groom is a chef and restauranteur, you don't have to look far for someone to supply amazing nibbles for any occasion.
Prior to sitting down to tea, guests were greeted with grapefruit mimosas. Bottles of bubbly lay atop a bed of flower-petal-filled ice cubes and water was flavoured with lemons and cucumbers.
A tea party is all about small bites. Nothing should be too heavy, messy, or take more than one or two bites to consume. Open-faced tea sandwiches and raisin cream scones with clotted cream and raspberry and blueberry preserves were highlights of our menu du jour.
Dessert was a beautiful array of tartlets, macarons, chocolate covered strawberries, delicate madeleines and a vanilla, chocolate and rhubarb pudding created by the chef in ode to Adsolem – the slow-talking, pipe-puffing caterpillar whom Alice meets while venturing through Wonderland.
"Eat Me" and "Drink Me" tags were placed in several menu items to mirror Alice's magical cakes in Wonderland.
Special touches
Sometimes the little accents make all the difference. As a memento to the day, Jacqueline's ever-thoughtful groom sourced an original Alice in Wonderland hard cover book complete with beautiful illustrations. Guests were asked to pick a page and leave a special note for the bride.
Each guest left with a favour bag of tea-infused goodies – a David's Tea single-serve iced tea packet and a delicious tea-flavoured shortbread cookie.
While there's nothing better than hearing polite pleasantries while sipping tea, soft background music was also provided to avoid the sound of crickets if conversation fell short.
The bridal shower is a day for those nearest and dearest to celebrate the bride and toast the big day. Make her feel extra special with lots of personal touches and creative décor. Happy planning!