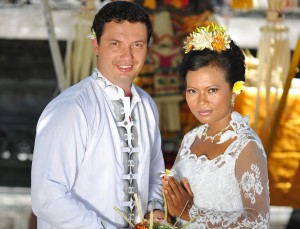 by Divine Mwimba  
Hosting a multicultural wedding because you and your fiancé have different religions or cultural backgrounds? There are a few things to consider in order to have a smooth-running but fun day. To keep both families happy, think of ways you can incorporate the diverse cultures while staying within budget.
Meet with Family Members. To bridge the cultural divide, meet with both sides of the family. The people you care about will need to understand what the other culture is about. Family members tend to be very sensitive about such topics, so make sure everyone understands and is on the same page.
Decide on the Location. You will need to decide on the setting for your religious ceremony and the venue for your celebration. If both families are set on you getting married at a religious institution, as a couple you'll need to consider the pros and cons. You might need to have separate ceremonies to accommodate both families. Once this is sorted out, try to get a venue that will accommodate all your cultural needs, such as food or space for traditional elements.
Pick cultural elements and play them out on your wedding day. Highlights to consider include traditional outfits, music, dancers and food. If your roots are from China, consider hosting a Chinese tea ceremony! Another way of incorporating traditions is through décor. Use colours that are indicative of your culture. This is where you can be very creative.
Make sure guests are aware of any cultural elements that may impact their involvement. For instance, some cultures do not allow for guests to wear certain colours. Create a website with details so guests know what to expect. At the end of the day, you want your guests to have a great time and to respect your unique traditions.
Hire a wedding planner. Wedding planners that specialize in cultural weddings can help you incorporate all the meaningful touches. If you have a huge wedding, a wedding planner can definitely help you on the day.
Happy Planning!
Divine Mwimba is co-owner of RSVP events www.rsvp-events.ca and My Wedding in a Box www.myweddinginabox.ca. She's also the blogger behind Culture Chic Wedding www.culturewedding.ca.