I'm Engaged, Now What? 8 Simple Steps to Start Your Wedding Journey
By: Anastasia Marie of Anastasia Marie Wedding and Lifestyle PR
Congratulations, you're beginning a journey with your best friend! You've told your family and friends, have taken a bunch of celebratory selfies and have shamelessly admired your sparkler in the mirror more times than you can count. But now what? When the engagement rush is over, here are the first 8 steps in planning for the perfect wedding day.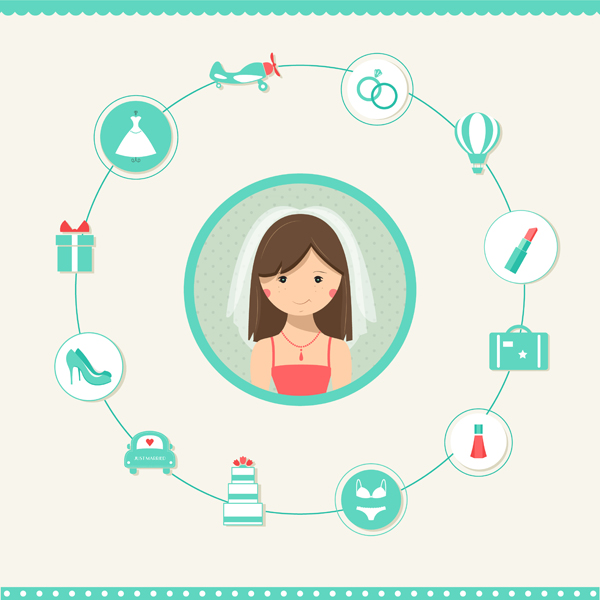 Step One: Plan a Date With Your Partner
You may have talked about getting married before, but it's likely that you didn't spend time getting into all of the details surrounding the big day. Do you know what your partner likes and doesn't like when it comes to the number of guests, location, colours and themes of your wedding? Sitting down with your partner will help you both come to terms with what it is you both want from your special day. Remember to write everything down; you will need this information throughout your wedding planning journey.
Step Two: Set A Date (But Be Flexible)
The next step in realizing your wedding dream is settling on a date. Perhaps it's your anniversary date, or the birthday of a cherished loved one. Then again, perhaps it's the only date you have off of work. Whatever your circumstances are, deciding on a date is crucial. Not only is this step a reminder that your wedding is actually going to happen (yay!), but it will also allow you to determine what kind of wedding you will have. Do you want your wedding to be outdoors in the sunshine? Better not book your wedding for April when showers are possible. Do you want your wedding to fall on a long weekend so that your family and friends can make a getaway of it? Perhaps you want to choose a date when a tropical destination flight is at its cheapest.  Choosing your date will help you determine all of the little details.
Your date will also determine the availability of your vendors. After all, you may want your favourite cupcakes to be featured at your wedding, but the store may be booked on your big day. Settling on a date makes booking your vendors a lot easier, especially when it comes time to book them. But be wary, however, of setting the date in stone. As a rule, have two dates in mind, that way, should a vendor be unavailable or a venue go bankrupt, you won't have to worry about your own availability.
Step Three: Set a Timeline
A year is tons of time, right? Wrong! When I got married, I budgeted a year and a half to planning. I figured, since I was still in school, I would need the extra time to get everything organized. What a mistake! After seeing a wedding venue go bankrupt and having a DJ and a photographer fall by the wayside, I learned my lesson: a year and a half, in wedding time, is not much time. In fact, a year of planning for a wedding flies by much faster than you can ever imagine.
With parties, vendor appointments and meetings, your year will be booked solid. That's why it is so important to decide on a timeline as soon as possible. Decide what types of wedding related business you need to accomplish each month and stick to it. There are lots of books with built-in timelines available at your local bookstore that can help you with this. Then, solicit help, because let's face it, you're going to need it!
Step Four: Set a Budget
Weddings are expensive and are full of hidden costs. It's important to settle on a budget with your partner right away in order to make sure that your finances are manageable and financial stress is kept to a minimum. My rule of thumb? Decide on a budget that is comfortable for you and then add $5000. This extra cash will allow you to budget for any surprise costs that you may not have considered before.  When you find out that the dress you ordered no longer fits and you have to make a last-minute trip to the seamstress, you will be happy that you budgeted for emergencies.
Step Five: Decide Upon Your Wedding Party
Wedding parties come in all shapes and sizes but one thing remains true to all of them: they all consist of the closest family and friends of the bride and groom. Choosing your wedding party is pretty simple. When you are deciding who will be in your wedding party, make sure that you choose individuals who are important to you and whom you know will be in your life for years to come. After you have chosen your party, it's time to ask them. Make sure they are available and willing.  Chances are, they will be jumping at the chance to be featured in your wedding.
Step Six: Choose Your Guest List
Let's get real here, weddings are about families. Often this means that your parents have already thought of exactly who they want to invite to your wedding (and they may or may not want to budge on this decision). First, decide on the number of guests you would like to invite. Then make a date with your parents to discuss VIPs and those that can be cut from the list. Stick to your guns and be ruthless. You may love your fourth cousin whom you haven't seen in fifteen years, but does he really warrant a $150 plate?
Step Seven: Choose a Wedding Planner
No matter how small, weddings can be a huge orchestration. From booking venues to booking vendors, while dealing with financial and family stress, weddings can take a toll on the best of us. That's why hiring a wedding planner is essential. Reputable wedding planners will provide a myriad of options to suit your budget and to best reflect where you are in the planning process. So, whether you are looking for a wedding planner to orchestrate your wedding from beginning to end, or if you are just looking for "day-of" management, you will be able to find a planner who suites your unique needs.
More than just a wedding organizer, a wedding planner can help you choose a wedding theme, settle on the best vendors to suit your unique style and be a shoulder to cry on when things get stressful. When selecting a wedding planner, make sure to choose someone whose personality you enjoy. You will be working very closely with this person until the big day.
Step Eight: Chill Out!
No matter how you slice it, weddings are stressful. With so many decisions to make, financial stress and the crunch of tight timelines, weddings can take their toll on relationships. In fact,  it can be difficult to remember why you decided to get married in the first place.
Take some time to chill out. Read a book. Go for a run. Watch a good movie. Talk to your partner. Take a step back and see your wedding planning as the amazing journey that it is. Because no matter how beautiful or how neatly planned your wedding day is, it is just the first day of a lifetime filled with happy days spent with the one you love. Happy planning!