Should You Include Your Children in Your Wedding? Yes – Here's How
Modern weddings aren't what they used to be. Many brides- and grooms-to-be are also parents, which can make wedding planning a little trickier than it was back when Grandma was getting ready to tie the knot. And of course, blended families are more common today, too. Here's how families can include their children on the big day: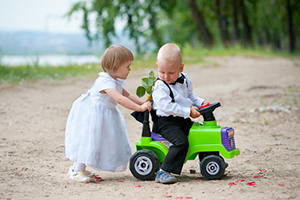 Babies
It's true that babies can be unpredictable, but if you're willing to accept a little fussiness, you'll be happy you decided to include your littlest one. While some women opt to hire a caregiver on their big day, many brides-to-be enlist help from family or close friends to share baby duty throughout the day's celebrations. Baby can even walk down the aisle in the arms of your maid of honor.
There is no shortage of adorable outfits for baby to wear — just make sure it fits in with the rest of the wedding party attire. And have some elegant swaddling blankets on hand, just in case she gets fussy. Swaddling comforts and calms babies.
Toddlers & Young Children
Traditional roles for this age include flower girls and ring bearers. For parents with more than one child, include all the children; it's just fine to have more than one flower girl or a brood of boys following the ringbearer. Plan ahead by appointing someone you trust to keep a watchful eye on the little ones. And make sure to include the little ones in the rehearsal. This will calm any pre-wedding day jitters about walking down the aisle without Mom or Dad.
Kids & Teens
Kids and teens can make wonderful additions to the bridesmaid's group or groomsmen's crew. It's not uncommon for parents to make their children part of their special day this way. Your children feel honored to be standing at the altar by your side. As long as they're able to stand still and behave themselves, they'll make a great addition to the lineup. Kids and teens will also be honored to do a special reading during the ceremony.
Adult Children
Couples who are marrying later in life can include their adult children in the celebration in a big way. Why hire a stranger to lawfully unite the two of you, when one of your children can do it? This is a special way to include your children in the wedding, and it's sure to make memories that will last forever.
First, talk it over with your fiance to make sure you both think it's a good idea. Then, sit down with the kids from both sides of the family and ask if anyone's interested — the last thing you want to do is require someone to do it when they're really not interested. After one person agrees, it's time to get started. People who wish to get ordained can do so online. GetOrdained.org offers free courses through the Universal Life Church and even provides wedding training and instructions online.