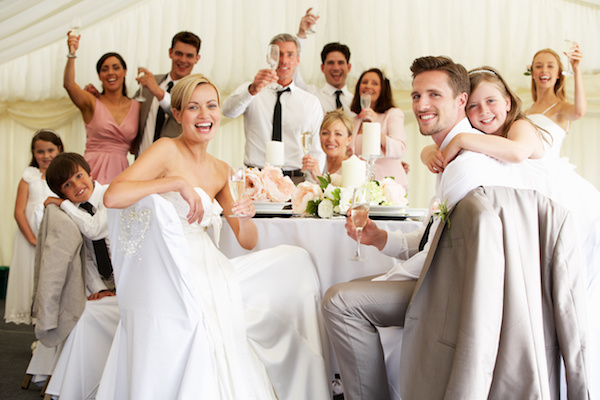 Are you and your fiancé from large and close families? You may want your celebration to be a family wedding and you may also want to involve loved ones in many aspects of your special day.
That's wonderful. But there are some things to consider. The bad news? Not everybody can be a bridesmaid or a groomsman. The good news? There are ways to include just about everyone in helping to make it a very special, memorable day.
While you're apt to not want to make your bridal party too unwieldy–after all dresses, shoes, hair, makeup and accommodations can be costly–it is fun to include flower girls and ring bearers. How many is up to you. Extend the invitation to their parents to have them involved, and don't be offended if the offer is politely turned down. After all, they know better than anybody the capacity of their little ones to manage during social occasions.
Here are some other wedding roles that can be filled by your nearest and dearest:
Music: If you've got somebody in the clan who has a great voice or instrumental talent consider asking him or her to perform at the ceremony, cocktail reception or dinner.
Public speaking: Ask one sibling to do a reading and another to recite a passage at the ceremony. Ask yet another to be your master of ceremonies.
You can have a couple of people in charge of lighting and extinguishing candles and a couple of other trusted people in charge of gifts and cards.
Decor: If you've got crafty cousins or inlaws-to-be, round them up to make centrepieces or party favours with you. The get-together will be a fun celebration in itself.
Food: If you have aunts or other ones who love to bake or prepare special dishes, involve them in a gathering to make desserts or dishes for the rehearsal dinner. There are lots of options.
Don't hesitate to reach out for assistance. Your loved ones want to help and be part of making your big day everything you want it to be.