This isn't your mama's Mimosa
No brunch gathering [or wedding] is complete without bubbly thirst-quenchers. In fact, why not make them a brunch focal point? Set up a DIY Mimosa Bar where guests can mix their own. Here are some simple, low-stress tips to pull it off in style: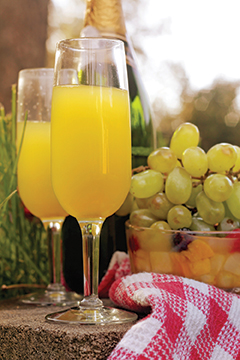 1. Start with the basics: A true Mimosa only requires orange juice and champagne but where's the fun in that? Encourage guests to be creative by laying out an array of juices, sparkling wines or champagne and sparkling water. Go trendy. Don't feel compelled to use champagne flutes. Sugar-rimmed mason jars or martini glasses are a much more creative option.
2. Mix it up: Set out an array of chopped herbs and fruit for guests to mix and muddle into their Mimosa. Tasty options include the combination of rosemary and perhaps a slice of orange peel along the rim as décor, or muddled strawberries with some added basil. The options are endless so lay it out there and let guests get creative.
3. Lighten things up: For guests who are looking for a lighter option, serve Simply Orange with Coconut Water. At 80 calories per serving, which is 25% less calories than the leading orange juice, and with no preservatives, this never sweetened juice mixes deliciously with champagne or sparkling water and will ensure everyone is part of the fun.
4. Final touches: Easily add some glam to your DIY Mimosa Bar by placing fresh blooms, a simple tablecloth and fun cocktail napkins on your dining room table.
For more brunch inspiration or to share your creations, visit @Simply_Canada on Twitter.
www.newscanada.com