Blessings from Above
Compiled by Ariel Vered and Photos by April Anne Hewens & Phillipa Maitland
Marc first noticed Janelle in the cafeteria of Florida Atlantic University, where they were both elite athletes on scholarship, Janelle for soccer and Marc for tennis.
"He said, that's the girl I want to date, when he saw me," says Janelle. "I wooed him in the cafeteria."
After graduation, Janelle returned to Ottawa and Marc to France. They dated long distance for two-and-a-half years while Marc pursued professional tennis on the ATP circuit, ranking 692 in the world.
Marc joined Janelle, who was living in Montreal, and the couple later relocated to Ottawa for her job.
In April 2015, Marc planned a day-date in Montreal of picnicking and boating on the Lachine canal.
After a trip down memory lane, reminiscing about how far they'd come since university, Marc asked Janelle to marry him.
As they disembarked from the boat, two ladybugs landed on Janelle's engagement ring. Janelle looked up the significance: "It means that someone is giving you blessings from above," says Janelle.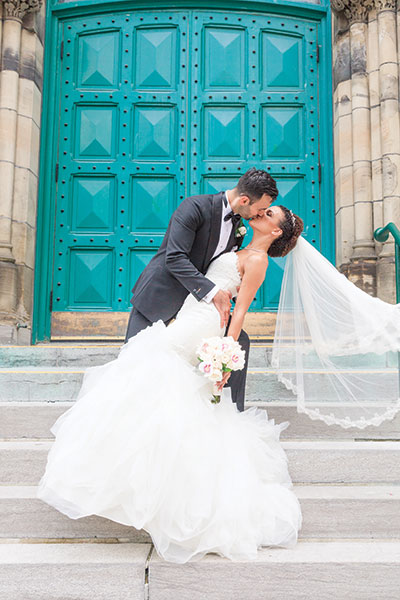 "We recently lost two grandparents, so it made the story that much more sentimental."
They chose the Glebe Community Centre, with its 70-foot tall ceilings, as their venue after their original wedding plans were kiboshed.
"It had so much potential to be transformed," said Janelle. "It gave us the avenue to be super creative, to add the flourishes, design and ambience that we wanted."
Janelle walked down the aisle in a Pronovias Duende gown that she'd found hidden in the back corner of the now-defunct Baroness Bridal. It was a three-year-old sample that thankfully could be removed.
The ivory mermaid-style dress featured an empire waist, double Spanish lace applique and a feather neckline, which inspired the inclusion of ostrich feathers in the wedding invitations.
Janelle was having a difficult time finding a veil to complement her dress.
Serendipitously, while visiting Marc's family in France, Janelle found the exact matching Duende veil at the Pronovias store, returned by a bride a week prior.
"Once the lace was used, it doesn't get used again for five years," she says.
The vision for the wedding was a glamorous, romantic fairy tale. "We wanted it to be dreamy and beautiful, unlike any other wedding we'd ever attended," says Janelle.
"We wanted people wowed when they walked in." The colour palette was ivory, dusty rose and dusty cream with rose gold accents, "fit for a prince and princess."
The wedding cake was a "regal, glamorous, over-the-top fairy tale" cake from Oh So Good with alternating tiers of chocolate hazelnut and lemon coconut and designs such as handmade sugar peonies and a hand-painted MJ monogram that mirrored the wedding invitation.
They incorporated Janelle's Jamaican heritage and Marc's Syrian heritage into various aspects of the wedding.
They performed Syrian wedding traditions of drums and dancing in the morning and featured a steel drum player and Caribbean music during the cocktail hour.
The menu was a blending of both culinary traditions as well as the couple's shared love of Asian cuisine.
The wedding also featured nods to the couple's athletic past. As the newly married couple exited the church, the groomsmen held up antique tennis racquets painted white with rose gold accents to match the wedding decor.
The cocktail reception was held on the community centre's tennis court.
And after leaving the church, the bride and groom and their wedding party went to a soccer pitch to kick around a soccer ball and got pictures of Janelle taking shots in her dress.
Reflecting on the wedding day, Janelle remembers walking with her father down the aisle towards her life with Marc.
"He said, 'Take this in, this is your moment, look at your loved ones.' Then I saw Marc's face with a huge smile and all the nerves went away."
Planner: Kennedy Event Planning
Videography: Cloud in the Sky Videography
Ceremony: St. Patrick's Basilica
Reception: Glebe Community Centre
Catering: My Catering Group
Dress: Handmade Bride (no longer in business)
Hair: Curly Hair Designs
DJ: DJ Tdot
Florist: Ottawa Flowers
Rentals: Chez Lili
Linen + Decor: Sage Designs
Lighting: Ottawa Special Events
Cake + Favours: Osso Sweet