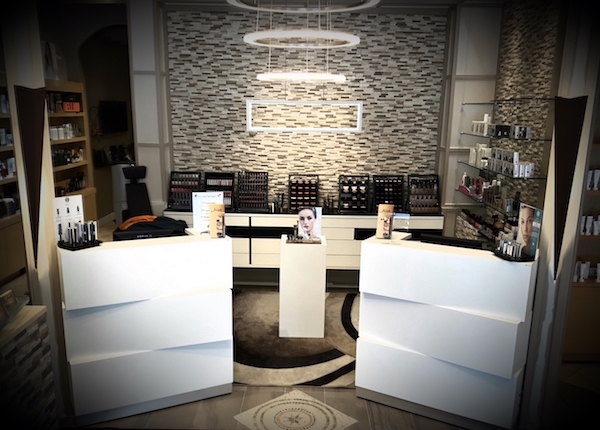 Some aspects of your wedding are optional, but there's no compromising when it comes to looking and feeling your best on the most special day of your life. It's your time to shine in the spotlight and to look flawless in the photographs that will become part of your family history. That's why it's crucial to make beauty prep and pampering top priorities. And there's no place better equipped to make you and your bridal party extra gorgeous than Jask Salon and Day Spa.
Located at Kanata Centrum in Kanata, this serene and welcoming space has been recently—and beautifully—renovated. There's much to appreciate, from its new pedicure and makeup stations to its exceptional new makeup line: Eva Garden from Italy.
It's the perfect TLC spot to bring the whole bridal party, to spend a pre-wedding spa day with your attendants, or to enjoy a massage with your fiancé. Everyone will appreciate the restful ambiance and the attentive, expert services. For instance when you bring in a bridal party, a makeup artist and a hairstylist are assigned for each guest. "The party can be in and out in less than two hours," explains Cathrine Barré, a lovely woman who co-owns Jask with senior hairstylist and master colorist Bob Goharzad.
When Bob opened the salon and day spa over a dozen years ago, in 2003, his intent was to make people feel good about themselves and to exceed expectations. He has succeeded, beautifully. As you walk in the door, you'll notice the welcome is gracious, the atmosphere is friendly and the setting is intimate. However, there's actually a lot of the floor space: 4000 square feet, offering a full spectrum of amenities and services from body treatments and aesthetics to microdermabrasion and massage therapy. "People don't realize we provide everything from head to toe," notes Cathrine.
That's ideal because on your wedding day all eyes are on you, from your pedicure to your hairstyle.
And if you can't decide between ombré, curls, an elegant chignon or a romantic half-up, half-down style, you can trust Jask's stylists to create a look that will enhance your natural beauty and complement the style of your wedding dress. The hair stylists, estheticians and massage therapists on staff train on an ongoing basis so they are always up to date on the latest trends, top techniques and the best products.
They're ready to make you look and feel your best for this special time in your life. Certainly, Jask's many self-care options are tantalizing. Manicures, pedicures, massage, facials, body treatments, microdermabrasion, tinting, sugaring, eyelash extensions and waxing are amongst the services offered. Pedicures last an hour, manicures are 50 minutes and waxing is tailored to your skin type and treatment area, using the RICA wax system from Italy.
Even getting your hair washed is pampering time here. The washing area is a relaxation zone featuring a fireplace, lower lighting, in-chair massagers and a lengthy scalp massage to release the tension in your body. After months of rushing around making wedding arrangements, you can finally sit back, completely relax and let yourself be nurtured.
"There's no need to rush out. It's very tranquil," Cathrine points out. You'll be at ease and rejuvenated, particularly because the ambience at this upscale day spa is so pleasant and friendly. People notice it and appreciate the absence of snobbery. Not only do the professionals on staff work as a team, Jask also gives back to the community, lending its support to various local causes. "We've tried to help every charity that has come in our door," Bob remarks.
When you come in the door, you and your bridal party will also be greeted warmly. And you'll appreciate the personal attention from pros who are committed to ensuring you dazzle on your wedding day – from the side, the back, the front and in all those photographs. For details about bridal packages and wedding party spa services, see www.jask.ca. To book an appointment, call 613 599-JASK (5275).