By Veronique St. Pierre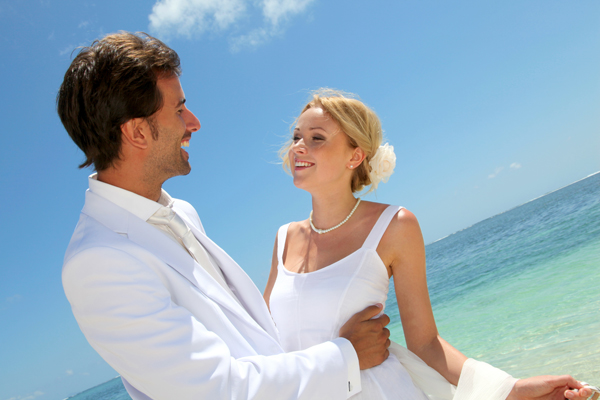 A destination wedding is a practical way to bring together family and friends from all over to celebrate your special day. Locales like the Walt Disney World Yacht and Beach Club and Kona Village Resort in Hawaii offer bundle packages for just such an event. If your guests are going to travel, they might as well get a vacation out of the trip too.
Any wedding can be complex, but when you add traveling to the mix, it shifts part of the burden to the guests. You can smooth out the process by acknowledging some basic destination wedding etiquette.
Make a Plan
Sit down and discuss what you both want for that day, and look for compromises. For example, an intimate destination wedding with just a small group could be paired with a larger party at home. This allows you to keep costs down and still include coworkers and neighbors that don't necessarily need to attend the ceremony.
When discussing the type wedding you want as a couple, create a budget so you know what you can afford. Determine what part of the expense you will pick up for guests before researching locations.
Plan Wisely
You will be doing yourself and your guests a favor by using a wedding service or travel agent. This gets the best bundle package and provides the most comprehensive safety. For example, wedding planners might have partnerships with resorts to cut the cost of rooms. She'll also know all the security tricks like taking your wedding dress on the plane with you and using a service such as Life Lock to protect you from identity theft at such an important time. Ask her about common security threats or identity theft scams in the area, and how you and your guests can plan accordingly.
Advanced Notice
Guests need to take time off work and make plans prior to your wedding. Sending out a "Save the Date" notice allows them to take care of the little necessities and budget for the trip. Once you have a firm date and reserve a location, send a simple postcard to invited guests that precedes the actual invitation and gives them breathing room.
What the Couple Pays For
There is much debate on what a couple should pay for when planning a destination wedding. The right answer is probably what they can. It is not possible for most to handle accommodations for guests, especially if planning a large affair. What you can do is arrange for group rates at the resort or local hotels.
The ceremony and reception are an obvious expense. The rehearsal dinner is also something the wedding party covers, and a welcome dinner is also a nice touch. Beyond that, it depends on the situation. Part of the fun of travel is the activities. The guests will cover their own expenses for things they do around the area, airfare and most meals. Make sure the invitation lists everything the guest must pay for in clear language, as well as whom to contact to make their reservations.
What about Gifts?
Start with a welcome bag as they check in. Include maps of the area and location appropriate travel sized gifts like sunscreen or ski hats. Wedding favors are standard. You can choose something that reminds them of the destination such as a local craft item with the couples name and wedding date.
Planning a destination wedding gives everyone a break from their life as they help you celebrate the start of yours as a married couple.
Cover photo from Flickr user Kevin Stuart
Veronique St. Pierre
Veronique studied at the Sorbonne and fancies herself the best pastry chef in the Northwest. When she's not cooking for her children, she spends her time writing about DIY crafts and green living solutions.