By Rev. Alan Viau
The re-launched Ottawa Wedding Show on April 5-6, 2014 at the E&Y Centre is a fabulous opportunity to get inspired.  This is an "event" not just a show – with this year's spring show being all about Hollywood Glam.
Join me on April 5 to hear me talk about weddings at 9:45 am and 2 pm at the show. I'll be having a book signing in between to answer your questions from 11am until 2pm.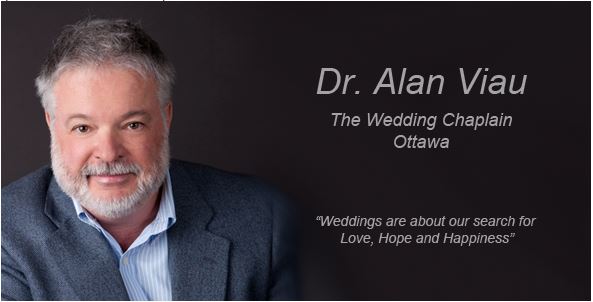 A wedding show is where you get to explore your choices and talk to the vendors. Find out what's available and who you'd like to work with for your special day.
Venue: This choice is one of your most important decisions. At the show you will find three types of venues:
Nature/ Rural Venues: These locations have access to natural settings. They are far enough out of town that you can go for an outside stroll and see the stars. Beautiful pictures can be taken at sunset.
Urban Locations:If you like a more modern setting that is easy to get to, then an urban location maybe your choice. There is a great variety of food and decor available to match your wedding dream. Each venue has its own personality that you can assess at the show.
Large Venues: Most venues typically will max out their guest accommodation at about 180 people. If your wedding guest list is larger than this, you will need to seriously look at larger locales that can take care of both small and large weddings. Many larger venue can also host your ceremony, indoors and outdoors.
Food: Weddings are often remembered for the food that was served. Good food is  something everyone loves to indulge in. There will many choices at the show, so key considerations are what type of food you'd like and how and where it is to be served.
The type of food offered at your wedding can reflect what you love to eat. For example, it can be of a certain ethnic flare such as East Indian or Mexican. Dishes can range from pub food to haute cuisine. Whatever you select it must, of course, fit into your budget.
It is important to consider dietary restrictions for your guests. The two biggest requests are vegetarian and gluten free items. Make sure that the quality of these alternative dishes are at the same level as the mainstream dish. For example, it would be inappropriate to serve roast beef and have a pasta primavera as the vegetarian option.
Photography: Your wedding day will seem a like it goes by in a flash. For months you have planned it and then you feel that the day went too quickly. There will be much going on that you'll be in sensory overload. This is why you need a professional photographer to capture the moments of the day – so that you can re-live them for years to come. How do you choose the right photographer? It comes down to three points: style, personality, and price.
The Ottawa Wedding Show will give you the opportunity to examine many of your choices, and of course you can come by and chat with me. See you there.