A semi-circle of seven chairs faced the wedding arch. Katrina and Torin celebrated their wedding with their immediate family. It was an intimate and touching ceremony.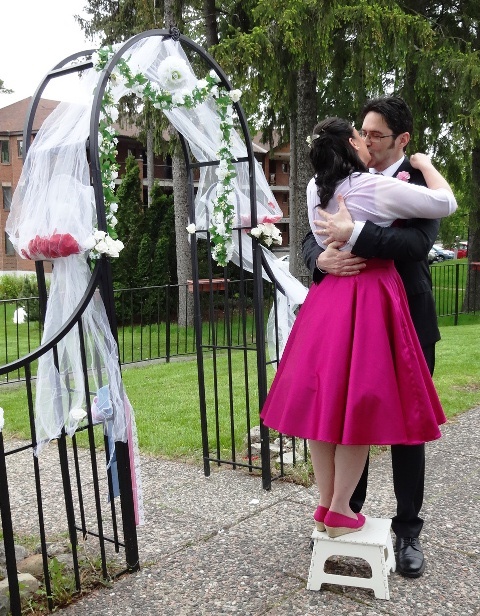 The Kiss on a Stool. Photo by Alan Viau
The Monterey Inn is a small hotel located on the banks of the Rideau River. It has a small patio where wedding ceremonies can be performed. On an overcast day, it was the perfect location for an intimate wedding for Katrina and Torin. They planned to have only their immediate family witness their event. It was a welcome surprise when Katrina's brother made the trip from Albuquerque!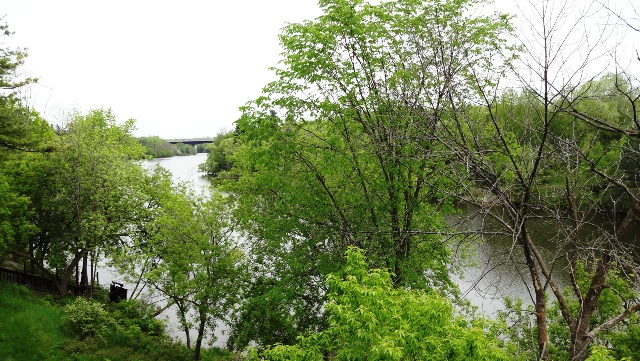 View of the Rideau River from their room. Photo by Alan Viau
I greeted Torin on the patio and then checked in with Katrina. She was getting ready in her colorful dress. She was buoyant and ready to go!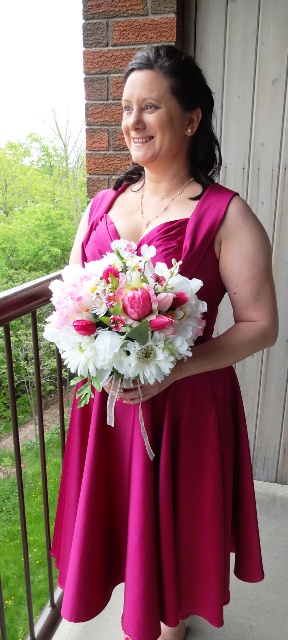 Ready to go. Photo by Alan Viau
Katrina walk down from the hotel room accompanied by her brother. They walked to the entrance of the patio where she met her father who walked with her the rest of the way. There was no need for recorded music – just the sounds of nature around us.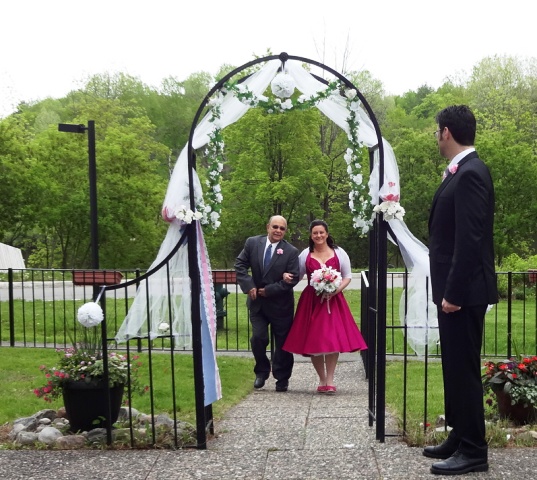 Walking in. Photo by Alan Viau
I made my introductory remarks for the ceremony. The reading consisted of The Art of Marriage. It was really heartwarming that each family member was given a few lines to say. It seemed as if they were giving their blessing and a little advice. Their two fathers signed the register and license.
The handfasting ritual was used for their vows. Katrina made the two pieces of fabric. Torin wanted to have denim and she crafted a lace ribbon. It was a very personal addition reflecting their personalities.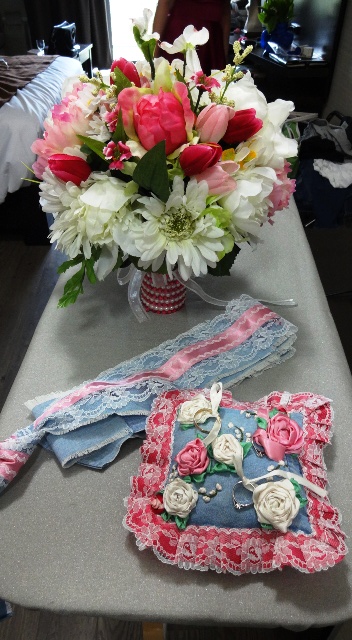 Denim and Lace. Photo by Alan Viau
I retrieved the three rings from a pillow that Katrina made – again reflecting the denim and lace theme. Torin placed both the engagement and wedding rings on her finger.
Finally, I declared them married. They were about to kiss … when, unexpectedly, out came a small stool for her to stand on. It made for a very poignant moment. Congratulations to our newly married couple!