Fun and Lively
Compiled by Ariel Vered and Photos by Phillipa Maitland
Keti and Pierre had seen each other out on the Ottawa club scene when they met through a mutual friend in 2009.
She added him on Facebook, but politely shut him down when Pierre asked her out for coffee. Two years later, Keti walked into a club that he was managing. And the rest is history.
Pierre proposed in March 2017 while they were in the Dominican Republic for a friend's wedding. He surprised Keti with a romantic dinner on the beach, complete with a private waiter and personalized menus.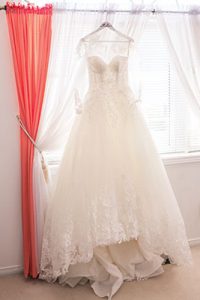 "Pierre took my hand and said sweet things about me and him," recalls Keti. "I got pretty emotional." After a five-course meal, they returned to the hotel to celebrate with their friends.
"It was the most special thing I had ever experienced," Keti says. Keti walked down the aisle of St. Patrick's Basilica in an ivory strapless Sophia Tolli ballgown from Dominique Levesque in Ottawa, with alterations by Justina McCaffrey.
The dress featured a sweetheart neckline, lace bodice, lace-up corset back, metallic threading and a long train. She had a mesh-and-lace bolero made to wear during the ceremony.
She changed-up her look for the party, going strapless and taking down her ceremony updo for a long and curly style. Pierre purchased his custom tuxedo at Sur Mesur, a light stone-grey suit with satin black accents and paired it with a black bowtie, shiny black shoes and funky socks.
After the traditional church ceremony — which featured a professionally trained opera singer (Pierre's stepsister), an organist and a trumpet player — the couple went to take wedding photos, when they came upon 200 to 300 students during frosh week festivities at Major's Hill Park.
"They were chanting, 'We love love,' 'You look beautiful,' and burst out clapping when we kissed," says Keti.
They found out later that a video of this aired on CTV's Saturday 11p.m. news.
The wedding reception theme was chic and formal, modern and clean. Held at the National Arts Centre (NAC) O'Born Room, a striking ballroom with two-storey-high, floor-to-ceiling windows overlooking downtown Ottawa, "it was so beautiful, it didn't require a lot of décor," says Keti.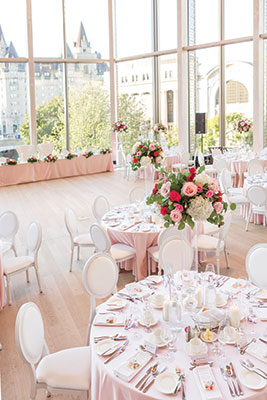 The wedding colour palette of silvers, pinks, greys and whites was reflected in thoughtful details from the invitations to the menus to the light grey wedding cake from Serendipity Cakes by Olivia, which featured pink flowers and edible silver foil to evoke the silver foil of the wedding invite.
To set a fun and lively tone, Keti and Pierre insisted on theatrical wedding party entrances: one groomsman entered in a Batman suit and another pair was chased by a guest in a T-Rex costume while the Jurassic Park theme played. For their own grand entrance, Pierre lip-synced a Craig David song to Keti as indoor fireworks went off.
For their first dance, the couple danced to Brian McKnight's Back at One, before performing the viral Drake In My Feelings challenge amidst another round of indoor fireworks.
Says Pierre, "We didn't want anybody to leave before midnight." There was also a photo booth and a life-size Jenga set. Keti and Pierre incorporated her Albanian and his Egyptian culture through food and entertainment.
The dessert table had Albanian and Egyptian desserts with little flags. The party featured an Albanian dance and a belly dancer with musical accompaniment from their emcee, a professional tabla percussion player.
The couple customized a gourmet wedding meal from NAC catering and had a grilled-cheese station as the midnight snack.
The party favours were bags of jelly beans, their favourite candy, with stickers saying, "Thanks for bean with us."
The couple was very involved in making sure everything was what they wanted and they wouldn't change a thing about their big day.
"It was exactly what we wanted," says Pierre. "It was about being present in the moment. I embraced it as a fun day about me and Keti. I loved that everybody was there for us."
"The best part of the night was walking up to the altar and marrying him," reflects Keti. "The rest is just a party."