Alexandra in dove grey by Truvelle. Credit: Blush Photography.
Colour Me Fabulous
Creative Couture Marries Hues du Jour
by Lindsay Ruck
In a world where couples say "I do" on the daily, it can be hard for a bride to feel her look has any originality. For those daring dames who want a little less cookie cutter while still feeling bridal, we've found some amazing designs just for you. What makes these gowns even more special? The beautiful colours!
"We definitely love to see a little colour on a wedding dress and this trend has been getting bigger over the last few years," says Meaghan Brunetti, owner of Ottawa bridal boutique The Handmade Bride. "Champagne and blush have been huge, and have been accepted as a norm in bridal style. This season we are starting to see silver and blue tones as a bolder choice for some of our clients. The new sample dresses have these cooler colours in mind. Truvelle, one of our talented Canadian designers, has introduced beautiful smoke chiffon and silver brocade skirts with gorgeous hand-beaded bodices."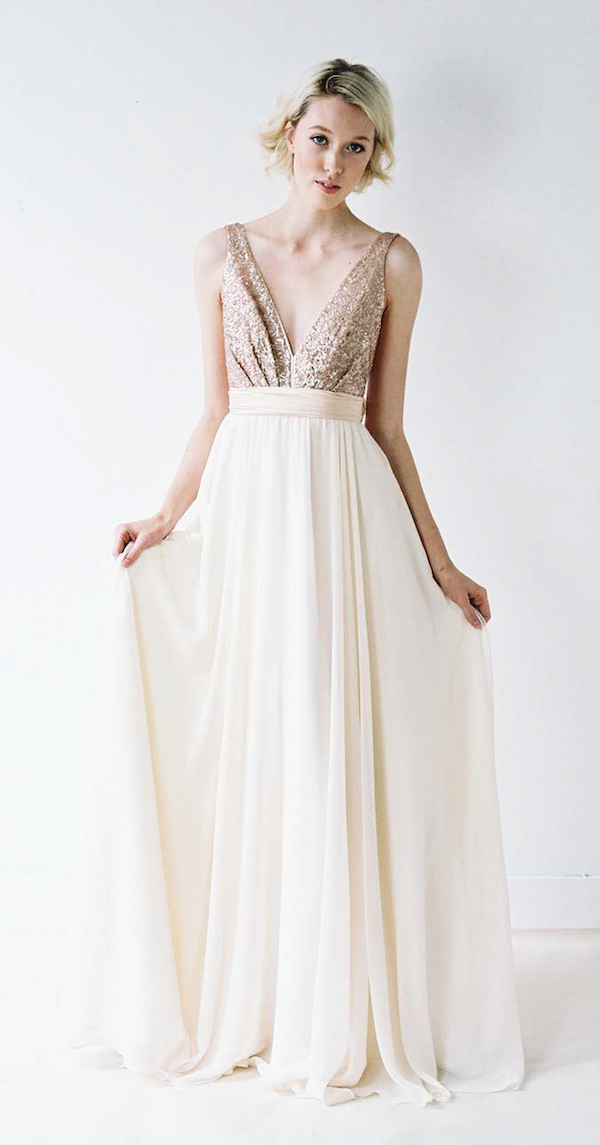 Eden in rose by Truvelle. Credit: Blush Photography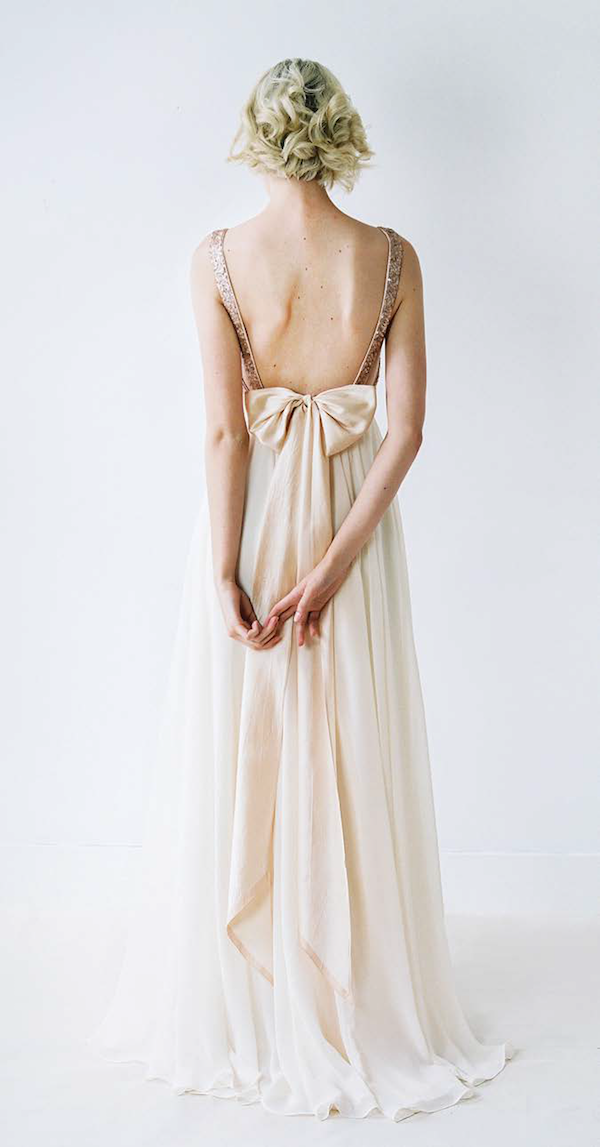 Eden in rose by Truvelle. Credit: Blush Photography
For the spring-summer 2016 season, designers have married classic styles with untraditional touches and shades. We're not saying classic is boring. Far from it! We're just taking a peek at a few of the other fashion- forward designs that may have you second- guessing the all-white strapless ball gown with the tulle underlay. Don't knock it 'til you try it, ladies!
3-D floral appliques
Floral designs are not new to the bridal scene. But this once soft and delicate look has evolved, and many designs this season put petals at centre stage. This mod look of 3-D appliques is like an added layer to the gown. And a sheer underlay in a separate shade, such as silver or champagne, really makes the flowers pop.
Noteworthy designs of the season include Mira Zwillinger's "Beatrice Silver" light silver flower gown with layers of silk organza, and Jim Hjelm's blush tulle A-line dress with a sweetheart neckline and floral embellishments.
This trend is often paired with another popular design style – the illusion bodice. Sexy sheer tops and sleeves are peppered with strategically-placed floral appliques. Drifting away from white and ivory, we're seeing layers of nude and blush lining. Both Hayley Paige and Reem Acra have paired the two designs in their spring 2016 lines.
Feathers
This design takes us back to the 1920s and the days of the high-fashion flappers. Before you start imagining what a feathered gown may entail, think a little less Big Bird and a lot more couture. From a feather embellishment here and there to full feathered skirts, when done right, this look is absolutely stunning.
The muted colours are what really take this style to another level. Jenny Packham sent a nude, off-the-shoulder A-line wedding dress down the runway of Bridal Fashion Week that included a scattering of feathers at the waistline.
Overskirts
Overskirts are all about creating an extra layer to the gown and providing added movement. The skirt can be a sheer layer of tulle or a thicker cut satin. Contrasting colours are what really makes this look shine.
Pants
Not everyone thinks pants when they think bridal, but several anti-dress brides-to-be are raising their glasses to uber-sexy, ultra-classy separates. There seems to be two dominant styles for this look. The first is a tailored, fitted, ultra-mod pant suit. A stark white or ivory are the most striking hues for this style. Carolina Herrera sent a gorgeous ivory, ankle-length pant with fitted blazer and ivory tank down the runway this season. The other side of this spectrum, where designers are a little more playful with colour, is a nod to the bohemian bride. Flowing pants and a loose top are staples of this look. Colours vary from cream and nude to grey and blush.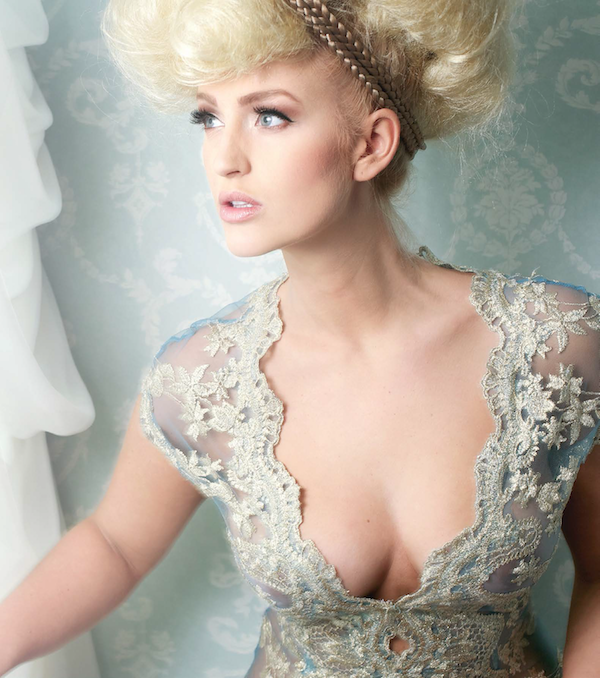 Plunging neckline
Plunging V-necks are one of the sexiest styles this season, and they are peppered throughout bridal fashion. While a plunging V is not new to the scene, some of the softer shades are.
"One of our most coveted dresses is the rose gold sequin top gown by Truvelle," says Meaghan. "It has a plunging neckline and a low back and is very flattering on many different body types. It combines a few trends: the plunging neckline, low back, off colours, sequins, and flowy skirts!"
Naeem Khan features a beautiful "Positano" sleeveless French blue tulle A-line wedding dress with a plunging V-neck in his collection. Monique Lhuillier showcases many plunging Vs in her bridal line, including "Veronique" – a plunging sheer V-neck ball gown with embroidered tulle and nude bodice.
Tiered skirts
This fun and flirty style offers tons of movement and adds layers of texture to a gown. Designer Rita Vinieris of Rivini created several pieces this season that focus on layers and dimensions. Inspired by rays of natural light and landscape painter J.M.W. Turner, Rivini's designs layer different colours and textures to add depth to the gowns. Organza tiered skirts with detailed bodices capture the designer's vision beautifully. The most breathtaking of designs from Rivini came in the form of a dawn-coloured (almost gold) hand-embroidered ball gown with circular sweeping layers of scalloped organza.
Blush and light blue are two shades that complement this style beautifully. The fun and flirty skirt paired with soft blush has a youthful look that certainly stands out amongst the simpler white ball gowns.
Mini dress
Whether for the entire day or a wardrobe change for the reception, this is another fun style that continues to gain popularity. What's fresh about this season's shorter dress is just how high those hemlines are hiked. Sexier mini styles appeared in the form of shift dresses doused in beading, while more delicate looks featured mid-thigh to knee-length and high-low hemlines with voluminous skirts.
This already fun style is amped up with colours of blush, silver and nude, and floral and two-tone designs.
"Our generation of brides feel that their wedding is the ultimate expression of their personalities and their love story," says Meaghan. "They want personal touches throughout their ceremony and décor; they love to be inspired and go outside the box when making choices about their weddings. This goes for the dress as well."
It's an exciting time in bridal fashion, and we're loving that designers are offering gowns as unique as the bride herself.
"I believe every woman wants to choose a dress that feels like her, that suits her body and her personality. Some women love a soft vintage look with delicate lace, some prefer a more urban look, and others die over more traditional ball gowns. But I have never met a bride that did not want her personality and style to shine through in the choice of her gown. I think that as we get more creative in our choices for our wedding, things that once seemed taboo are now ordinary and we continue to push the envelope in wedding trends. I love that brides are getting creative and allowing themselves to be who they are on their wedding day!" W