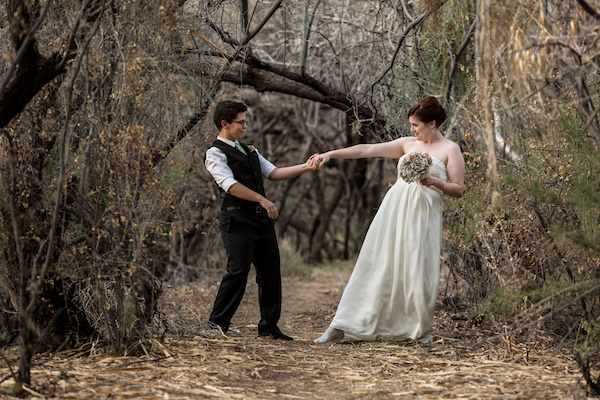 She said Yes! So there's going to be a wedding with all the trimmings — and then some. But what is a girl to wear when she's marrying the most wonderful girl she's ever met? How do you coordinate outfits so they reflect your one-of-a-kind tastes and styles, yet still leave an element of surprise if you want "the big reveal" to happen at the ceremony?
Certainly, there's fun to be had in the decision making. After all, it's your celebration; you can do what you want. You can even go shopping together, for dresses, tuxes, suits, shoes, whatevs. You can discuss what you like, help each other choose, but leave the final decisions until later so there will be a beautiful surprise waiting.
As for ideas, Pinterest is full of real-life images and couples that will get your really excited about the possibilities. If you want a formal tux, check out options at hertuxedo.com. Vests, tuxedo shirts, bowties, suspenders and other snazzy items can be found at www.hautebutch.com.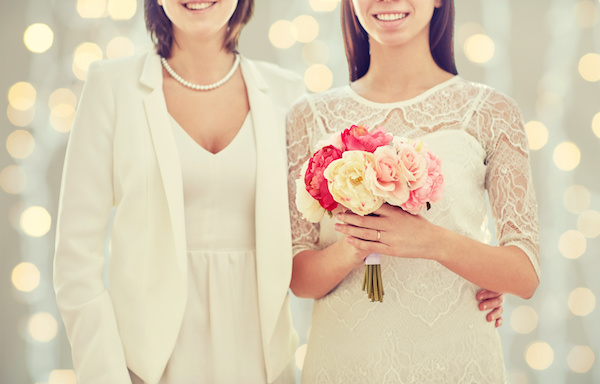 If you're planning a summer wedding and you want something that's more feminine but isn't a long white dress, you might want to consider suiting options such as a jacket with pants, shorts, a skirt or sleeveless dress to match. There are plenty of options. They can be found everywhere from Etsy to Ottawa's bridal and fashion boutiques.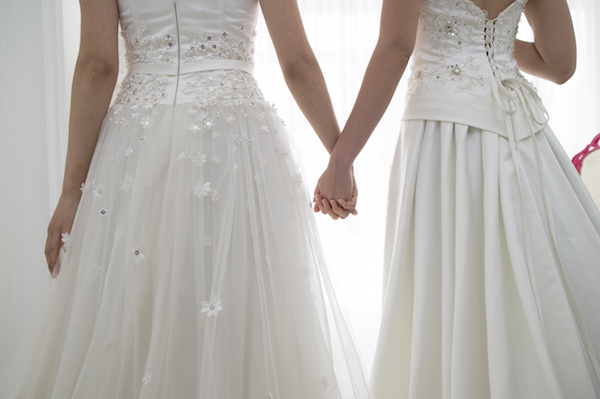 Do you both want to wear a long formal dress? Enjoy every minute of finding just the right ones. They don't have to be the same style, but if you want your wedding to have a cohesive vibe, decide on colours and a look you want and figure out a way to tie things together via flowers or accessories. The same style guidelines apply for your wedding party. Forget gender roles. You want the people you've chosen to stand with you on your wedding day to feel good and look good, however they fit into your plans.
For instance, people who prefer to wear pants can have vests or suspenders and bowties in the same colour as the people wearing dresses. Even the dresses don't have to be the same. They can be the same fabric and colour but different styles. There are lots of choices.
As as this Buzzfeed article points out, you can get creative with everything from the invitations to the cake. It's all about you: your love and your day. Enjoy!