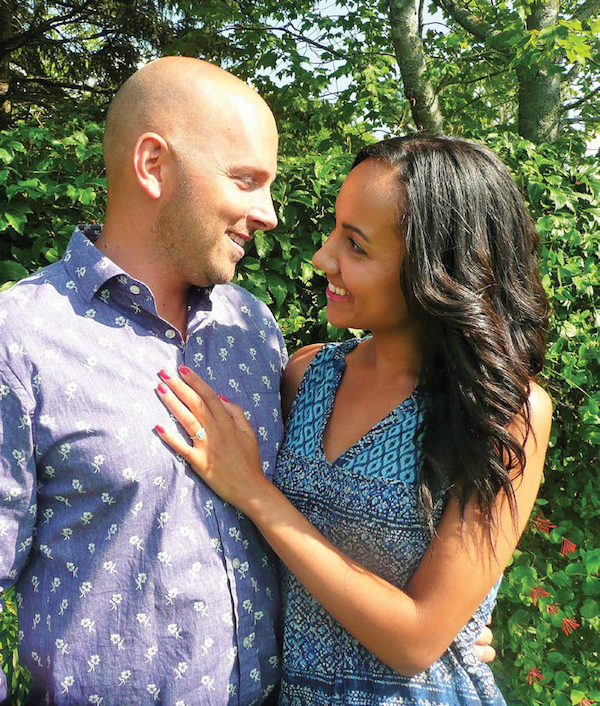 by Lindsay Ruck
photos by Heather Flick, Jacqueline Ruck and Bernie McMullo
Surrounded by lush greens and turquoise waters, I gave a resounding and tear-filled "Yes!" to the most wonderful man in the world. The excitement of our engagement in beautiful Bermuda was filled with champagne toasts and well wishes. I immediately began envisioning our day and could not wait to start planning. But before I filled my vision board with inspiration for the biggest party of my life, we kicked off the festivities with a smaller-scale summer engagement party for those nearest and dearest.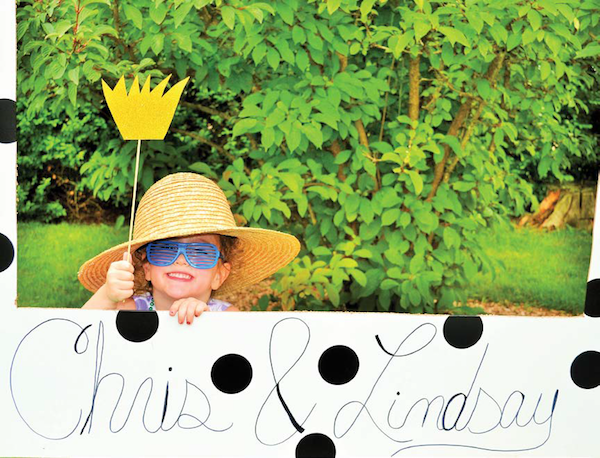 Engagement parties are all about celebrating with loved ones. It's also a great time for both sides of the family to mingle and get to know one another better. With this in mind, we wanted to create a day that would encourage just that. Think lawn games, giant drink dispensers and ring pops. The day was all about friends, family and fun. So let's break down the festivities!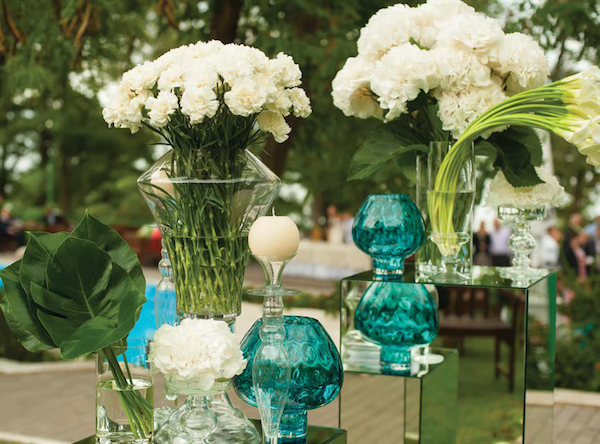 The scene
The perfect backdrop to an outdoor shindig is a beautiful backyard with lots of space. When I see an immaculate lawn surrounded by colourful florals, I immediately think lawn games. And I'm fortunate enough to be marrying a man that has been blessed with the DIY gene. So while I provided the vision, he brought that vision to life. As both kids and adults would be attending the party, we wanted games that were simple yet challenging, and unique yet relatable.
To encourage guests to venture out into the lawn and mingle, drink holders were found near each game. These giant swivel sticks were a Dollar Store find that will be used for many more outdoor gatherings in the future.
Along with the games, everyone was welcome to grab a prop, step up to the giant polka dot Polaroid frame and strike a pose. Guests were also encouraged to jot down a song or two and pin their wedding day requests to a bulletin board.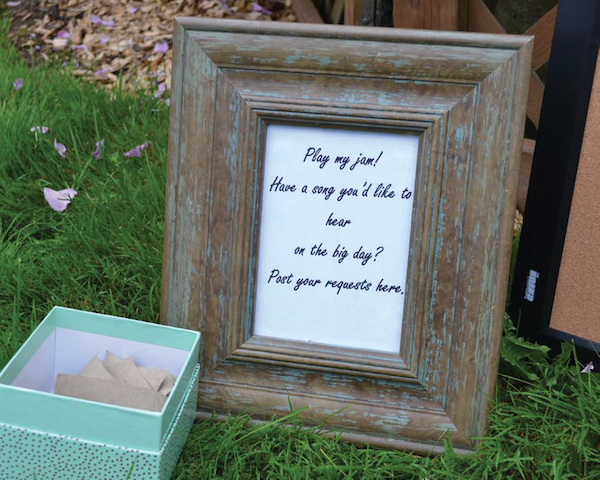 The games
Ladder golf, washer toss, giant Jenga (probably the biggest hit of the day!), and an old Viking game I sourced from Pinterest called KOOB were our featured lawn games. Each game was completely handmade and will be all the more special when played with a family of our own.
Games were accompanied by wooden hand-painted signs stating the name of the game, a picture frame holding the rules of the game (which were rarely followed), and a scoreboard for those competitive guests.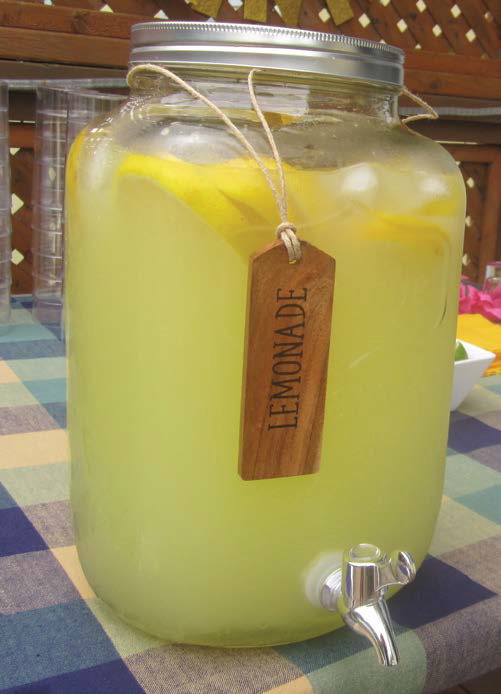 Food and bevies
While many will bring their own preferred drink of choice, it's always nice to have a few options on-hand. For the kids, we filled oversized drink dispensers with lemonade, ice, and sliced lemons. The "grown-up" drinks included a simple red sangria filled with fruit, chilled white wine, and coolers filled with ice and brews for the taking.
The drink table (placed on the deck outside so guests wouldn't have to track through the house as soon as they hit the bottom of their cup) was topped off with a gold glittered POP FIZZ CLINK banner.
The key to winning as a host is to not spend the entire day in the kitchen. Choose foods that can be pre-chopped and pre-mixed, so all that's left to do on the day is pop them on the barbecue or in the oven.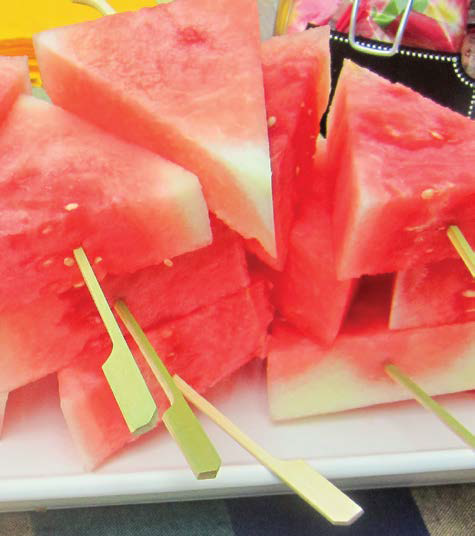 We kicked off the party with just a few nibbles: watermelon triangle slices on wooden sticks, cucumber cups stuffed with crab, and corn chips and veggies with salsa and dips.
A soft taco bar is one of my favourite savoury summer treats. It's easy, light and absolutely delicious. It's also a flexible dish as guests can customize their tacos and choose those items pleasing to their palate. Our selections included fresh, colourful veggies, such as cucumbers, red cabbage, pico de gallo and yummy guacamole. Seasoned haddock, marinated steak and chicken were the base for the dish, and it was topped off with a creamy fish sauce. Other options included an orzo, chickpea, cucumber salad, chicken and vegetable skewers and corn on the cob boiled in a large pot on the lawn.
Sweet treats included a fluffy blueberry buckle and lemon bars. For the kids – ring pops and freezies.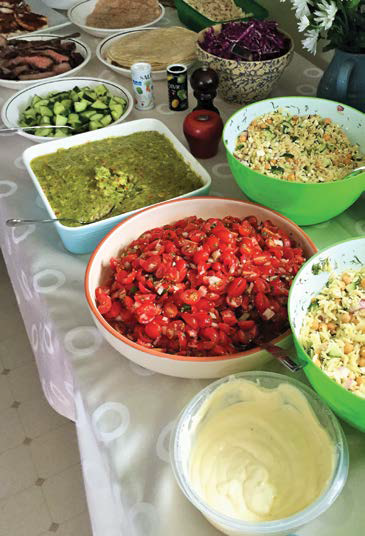 Personalized presents
An engagement party is the perfect time to pop the question to those who will stand with you on the day. For my smallest attendant, I chose a children's book about being a flower girl from the beloved Pinkaliciuos series. The older girls received a flower crown-making kit that was put to use the very next day. My bridesmaids received personal notes sharing how important they are in my life and DIY-Sharpie mugs covered with words and sketches that speak to different parts of our friendship.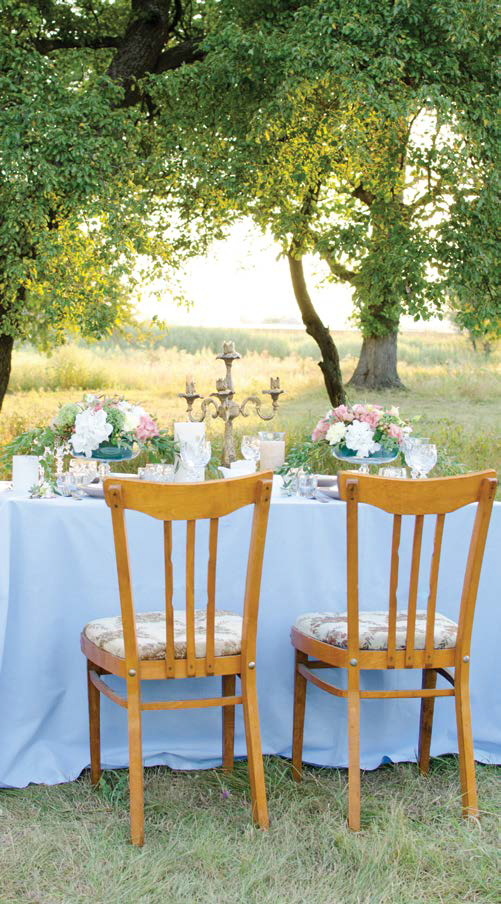 Getting the goods
We had a little over 40 guests attend the festivities, so many things needed to be purchased in bulk. The Dollar Store became my favourite go-to during shopping excursions. I was shocked at just how much these giant stores have to offer! Things like cups, plates and colourful napkins, photo booth props, metal cup holders and glittery paper for fun signs were all found at this economical girl's haven.
We are so blessed to have so many amazing people in our lives and the engagement party was the perfect warm up for what's to come! Happy celebrating!
Make Your Own Mug
As an avid tea drinker, I love a good mug. Home stores and bookstores now carry a fun multiple mix of fun mugs that cater to any style. For those Martha Stewart-mavens who want to add their own special touch, try your hand at personalized mugs made with love. All you need is a Sharpie and a plain mug.
Step one: Wash and dry your mug. I chose plain, white, wide-mouthed mugs from the Dollar Store.
Step two: Decide what you'll be writing or drawing on your mug. Use a pencil first to play around with your design and ensure all words fit on your mug. For structured designs, such as stripes, use masking tape for assistance. Once you're ready, grab a Sharpie paint marker (oil-based Sharpies work best) and start drawing or writing.
Step three: For best results, allow the mug to dry completely before baking (overnight if possible).
Step four: Set oven to 350 degrees and bake for 30 minutes. Place the mug in the oven before it heats up and leave the mug in the oven until it completely cools to avoid cracks. You may want to bake the mugs twice to ensure the ink has set.
Enjoy!