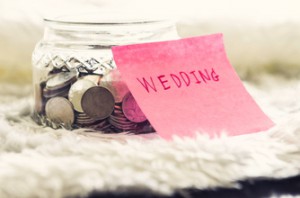 Ca-ching! In 2015, Canadians spent an average of $31,000 on a wedding, according to Weddingbells, and our friends in the United States spent slightly less. That's a big  investment. Have you had a serious discussion about wedding finances and different options?
Planning a wedding can cost you in other ways, too. Over half of all brides spend more than 15 hours a week planning their wedding, and engagements typically, at a minimum, last three months. It's like a part time job you have to pay to do. To lessen the financial burden of your big day, consider the following ideas:
Earn Extra Money
Starting a business can help take the sting out of a wedding's price tag. Companies such as Amway, BeachBody and Mary Kay Cosmetics provide an option for busy brides since this work doesn't require too much time. And, since none of the three companies require any prior knowledge — each company trains you to be successful — the learning curve isn't steep. Another great feature is that these companies don't have startup costs. Still, each has the potential to bring in enough money to help fund a decent portion of your wedding.
Bonus: All three companies have products you can use for your wedding, too.
Crowdfund Your Wedding
Crowdfunding sites, which were originally started for charities, have become go-to funding methods for some brides and grooms. While there are a few critics — see this article from The Knot — there are brides who have found success through crowdfunding sites. The Crowded Wedding is probably the best bet, if you decide to go this route. You simply have to sign up, set a campaign goal and publicize your page. It's an efficient, albeit very public, way to raise cash as nothing else has to be done once the above steps have been completed.
The cost: The site takes three percent of the money you raise.
Spread the Word about Cash
Do you need three toasters? Probably not. Instead, you can let it be known you'd really appreciate cash in lieu of gifts. Cash gifts are common in many cultures, so don't feel too bad about getting the word out. Be sure your nearest and dearest—the bridal party, close friends and family members—know that's what you want so they can tell people when they ask. Although it won't help you with any upfront costs, the money you do receive can be used to replenish what you spent. You can use this money to offset your wedding costs, and it will save your guests time from having to pick a gift out for you. It is a win-win, for sure.
One option is to Set up a PayPal account to make it is easy for family and friends to give to you.
Save Your Dollars
Finally, saving for your wedding is the best way to make sure you get exactly what you want without going into debt. To do this, take a percentage of your earnings and put it into a dedicated savings account. Only spend what you have saved, and, voila, you have a debt-free wedding.
There are different ways to fund a wedding. The rub is this: Nobody "deserves" an opulent wedding. If you can't afford one, take the time to evaluate your plans and ask yourself what is really important. This is an opportunity to start your married life debt-free and financially responsibly. Don't miss that opportunity.