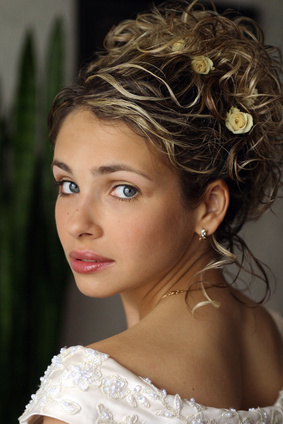 There are so many things to think about when planning your wedding: venue, florists, catering, invitations. … One thing many brides tend to neglect is to schedule hair and makeup appointments — even when hair and makeup are critical for the big day!
Flowers, food and invitations are often forgotten, but pictures are forever, and every bride should look her best. Not only does beautiful hair perfect a bride's wedding day look, but a hair appointment is a great way for a bride to  relax. When scheduling a hair appointment, it is always important to also schedule a trial appointment. After all, you don't want complications or surprises on your big day! Get a bridal consultation, ideally three months before the wedding day, and schedule two appointments where you and your stylist can try out different looks. But don't make these appointments too close to the wedding day in case you aren't happy with the results and want to meet with other stylists. At these appointments, have a friend take digital photographs so you can see how the styles look in pictures. Wear the style for a few hours to see how it holds up and if it complements the dress. If possible, try to coordinate the hair appointment with the dress fitting.
Another suggestion is to get your hair cut no more than two weeks before the wedding day and no less than one week — and have your hair colour touched up at least one week before the wedding day. If you want to grow your hair out for the wedding, you should get weekly treatments to ensure the hair stays healthy. And if you tan before the wedding, make sure to cover your hair so that it does not dry out or fade. If your wedding is a destination wedding, don't hesitate to ask your stylist to come along. It brings an element of comfort when the stylist you are familiar with is there for you. If the stylist is unable to travel, she can always do pre-trial appointments and take pictures so that you can show another stylist the look you want.
This is your special day and your day to shine.