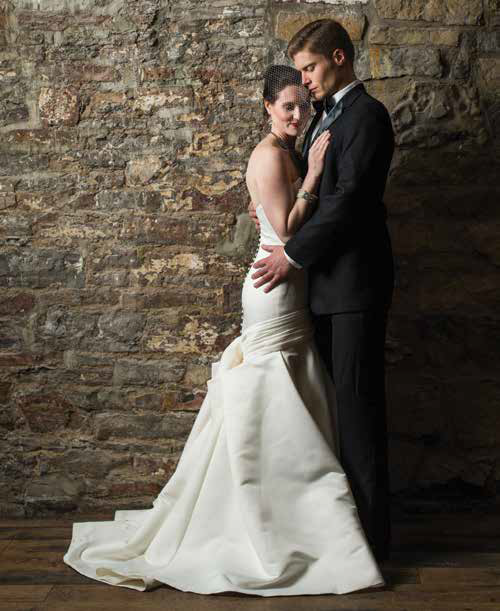 Where tradition and elegance are timeless
Location: Mill St. Brew Pub
photos by Andrew Geddes
Leading up to your wedding day, you spend hundreds of hours flipping through magazines, talking to wedding suppliers and dreaming about every detail that can perfect your special day. We thought it would be fun to give you a peek at how a fashion shoot is created by talking to the people behind the scenes. In this fashion spread, we chat with Nicole Ouellette, a wedding stylist and the creative thinker behind 'love is brewing.'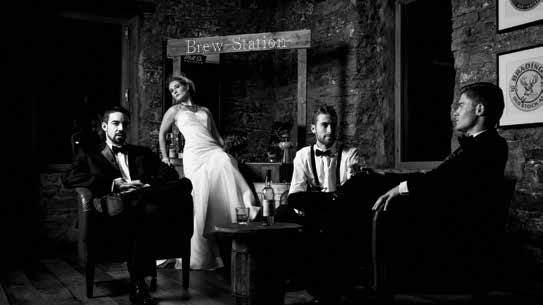 What was your vision?
I really wanted to create a shoot that was different and that the groom could relate to. I love when both the bride and groom are "styled." More men these days are taking a vested interest in how they look on their wedding day, so I wanted to take it one step further and show the wedding from a man's point of view.
What key themes guided you?
The key theme was 'love is brewing,' where old meets new; where tradition and elegance are timeless. This shoot was built around a strong groom who appreciates the finer things in life. All the elements incorporated were classic and simple, which combined made a powerful impact.
Why this location?
Mill St. Brew Pub was the perfect backdrop for this shoot, as this 140 year old former grist mill is rich in industrial heritage and charm. It brings you back to the days when it was The Mill and the man would put on his best suit and take the woman out to dinner to sweep her off her feet. Who doesn't want to be cared for by the one they love? The exposed brick, steel pipes, hardwood flooring and the windows overlooking the river exude romance in its most organic form. The added bonus was the onsite craft brewery, which only furthered the mindset that you create your perfect love.
How did you build the photo shoot?
We started with the venue and worked with Natalie of The Sugar Post to pull items that complemented the space. They brought various items that included old steamer trunks, lace, typewriters, oil lanterns and the custom barn board scotch bar. Every item helped to create the feeling of being brought back in time, back to when things were simple. We also had Julie of Sugar and Spice create a stunning cake that tied in the wood element. With the venue, attire, decor elements and photographer, it all pulled together perfectly to achieve the look we had envisioned.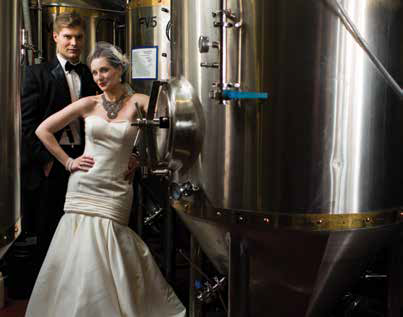 What colours and tones helped to bring this alive?
We wanted to work with the space, drawing on the soft brown, slate grey and black and add in the symbol of love, being red of course.
How did you choose the styles for the bride and groom?
All the fashion had to be very classic and timeless. Nothing says tradition and elegance like the tuxedo. The dress was by Robert Bullock, who aims to design dresses that exude sophistication and never go out of style. The sweetheart neckline and silhouette was perfect for that classic jewelled showpiece that finished off the look. W
The Players
Concept, hair and florals:
Nicole Ouellette, Wedding Junction, www.weddingjunction.ca
Wedding dress and bridal accessories:
Luxe Bridal Boutique, www.luxebridal.ca
Men's fashion:
Morris Formal Wear, www.morrisformalwear.com
Decor and styling:
The Sugar Post, www.sugarpost.ca
Cake:
Sugar and Spice Custom Cakes, www.sugarandspicebakery.ca
Venue:
Mill St. Brew Pub, www.ottawa.millstreetbrewpub.ca
Photographer:
Andrew Geddes, Union Eleven Photographers, www.unioneleven.ca