Simply Magic
Compiled by Pam Dillon | Photos by Genevieve Albert | Wedding Date: June 8, 2018
Guests are still talking about Lydia and Thor's June wedding, "and how much they loved the food, service, and overall atmosphere of our magical day," the bride says.
Just as remarkable is the fact that this couple organized everything in just eight months. Together for almost 12 years after they first locked eyes in Grade nine math class, they got engaged September 1 in 2017, when Lydia least expected a proposal to happen.
Returning home after a 12-hour workday, she discovered a pergola over the deck with lights strung from it and flowers around it. Beneath it a table was set, and there was hot chocolate along with her favourite dessert and her favourite guy, dressed in formal attire.
Thor had learned how to make crème brulee from scratch for the special evening. They danced under the 'starry night' lights, then he asked if she wanted dinner, and pointed to a covered casserole dish.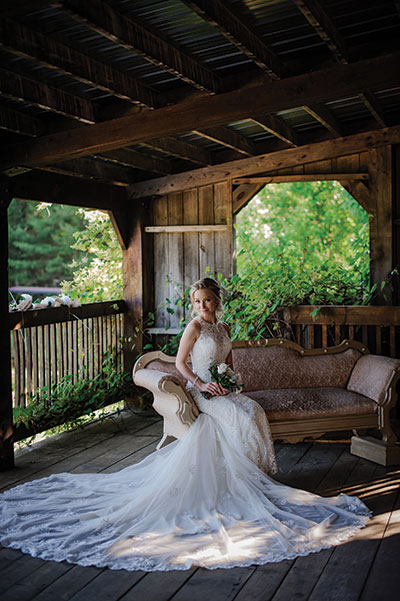 That's when he opened the dish, with the ring inside, and got down on one knee. "Of course, I said yes."
The next morning, they emailed their dream venue, the Bean Town Ranch, to lock down a wedding date. But all the traditional Saturday time slots were booked for the 2018 wedding season.
"I guess you could say we got lucky!" Lydia notes. They scooped up the Friday, June 8 opening, and started making preparations.
She describes the wedding itself as "romantic, with a bit of country chic and a touch of glitz and glam."
The ceremony was intimate and rather than working with a specific theme, they included meaningful elements to personalize the special day.
Scottish traditions were incorporated to honour their heritage, including a hand-fasting tartan exchange ceremony and bagpiping as they walked down the aisle as husband and wife.
At the reception, they surprised guests with a special choreographed dance. Filled with lifts, spins and soaring, it "blew everybody away," Lydia says. Later, she adds, "We had a sparkler send-off ceremony after our first dance on the island in the middle of the pond."
And when it came time for the garter toss, single male friends were in for another surprise.
As Lydia puts it, Thor "attached the garter to a gold football, and had the single bachelors 'go long' for the big catch."
Lydia's gorgeous dress, an Essense of Australia design in ivory/ champagne, and her earrings, bracelet, and hairpiece were purchased at Alliance Bridal in Moose Creek.
Her shoes, by Badgley Mischka, were the Ginny Embellished d'Orsay design in a kitten heel. As for the décor, Lydia credits her mother with turning the room into a beautiful space.
"It was simply breathtaking walking into the dining hall for the first time and seeing everything sparkle."
She also has high praise for staff members at Bean Town Ranch and for the site itself.
"The venue on its own is stunning," she points out.
Although the day was over in a flash, Lydia says they were able to take a few moments as a couple "to step back and soak it all in. It felt so good having everybody who we love so much under the same roof celebrating our love and marriage. Those are the most memorable moments to us. The ones we took together to enjoy and cherish."