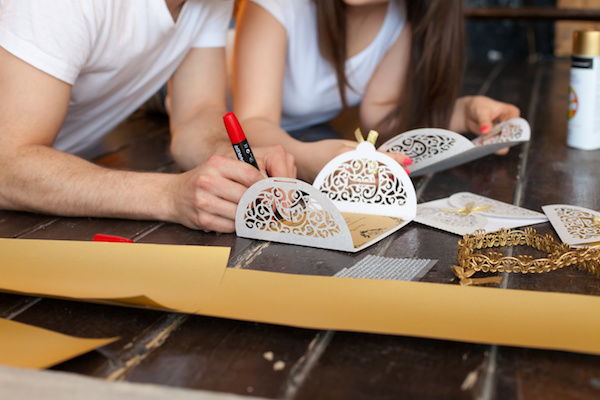 After the whirlwind of your wedding—the engagement, the months of planning and organizing, the showers, rehearsal dinner and hoopla of the big day—and the excitement of your honeymoon, you wouldn't be alone if you wanted to chill out and do as little as possible for long while.
But there's one thing you absolutely do not want to skip or delay: sending thank-you notes.
Show people your gratitude. Take the time, with your new Other Half, to send cards to all the people who helped make your celebration special. Even if you've personally thanked people, a written card is still a must. The list should include:
Each person who gave you a wedding gift
Each person who gave you a shower gift
Those who gave you monetary gifts. (Even if they contributed to a group gift or cheque, they should get an individual thank-you.)
Anyone who hosted a shower, event or gathering related to your wedding, including the rehearsal dinner.
The members of your wedding party
Your parents, particularly if they financially contributed to your wedding. Even if they didn't, you still want to thank them for their involvement in this special time in your life.
A personal, handwritten note on an attractive card is always appreciated. Don't try to cut corners with this. As it's noted on the Emily Post Institute website, "No fill-in-the-blank cards, no pre-printed cards, no phone calls, no emails, and no generic post on your website! Personal stationery or store-bought thank-you cards are best."
The cards should be sent out within a few weeks of your wedding. Don't put off this significant task. In fact, some of the cards can actually be started before the wedding. You can address many of the envelopes and write notes to those special folks who hosted pre-wedding events, such as showers, or who volunteered to help out with certain tasks.
You'll feel a lot better once all those thank-you notes are in the mail and you've let people know how much their involvement meant to you. Then you can relax.