Wedding Day Survival Kit
You've spent countless hours preparing for this special day, down to the last detail. However, there's always a chance that not everything will go exactly as planned. This is why you need a wedding day survival kit to remedy the little surprises that could come up at the most inconvenient time.
Here are some items to pack: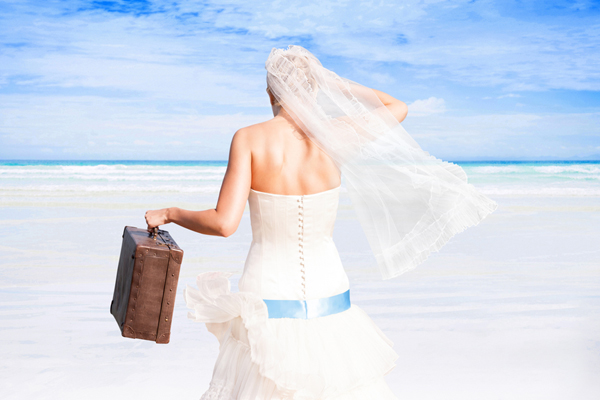 1. Health
Pain reliever. Ward off stress — or hangover — headaches.
Eye drops. To keep your eyes from getting red if you get teary-eyed.
Emergen-C. The perfect way to flood your system with Vitamin C and rapidly amp up your immune system that may have taken a hit from stress or lack of sleep.
Hand sanitizer. With so many people and germs, keep a miniature bottle in your stash.
Band-aids. For blisters or minor cuts.
2. Hygiene
Spray-on deodorant. More discreet than stick deodorant and can be shared with others.
Mouthwash. You'll be doing a lot of talking, so keep your breath fresh.
Baby wipes. You never know when a small spill will need to be rapidly eradicated.
Tissues. Emotions are running high, so don't forget the tissues.
Tampons and sanitary napkins. Don't let an unexpected leak catch you off guard.
3. Beauty
Comb/brush. Things may get a little wild both before and during the festivities.
Mirror. Bring a compact along just in case you want to do a makeup or hair check and there are no mirrors within close proximity.
Hairspray and pins. You never know if your fragile up-do may need to be rescued.
Earring backs. Wouldn't it be a bit wacky if you were forced to walk down the aisle with one-earring?
Coffee filters. As the sweat begins to pour, grabbing a napkin and wiping it off isn't going to preserve your makeup. Use coffee filters to blot the sweat away, instead.
4. Attire
Miniature sewing kit. It should contain safety pins, a needle and thread, buttons and anything else you need to make a small repair.
Pantyhose. Pack an extra pair of these in case you get a stubborn run that can't be saved with clear nail polish.
Chalk. If the bride spills something on her wedding dress moments before walking down the aisle, chalk can cover up the problem.
Stain remover. A portable stick is ideal for quickly removing wine, food or makeup stains.
5. Footwear
Fold-up ballet slippers or flip-flops. Heels aren't always as comfortable as you may have anticipated, so bring along a pair of folding ballet flats that fold up to fit in a small purse.
Blister protection spray. Should you forget to pack your slippers or band-aids, blister protection spray will minimize the aftermath of being in heels all day.
6. Miscellaneous
Shades. If you're having an outdoor affair, don't forget to pack backup shades and sunglass lenses for the wedding party.
Sunblock. This is also a must for outdoor weddings if you want to ward off sunburn.
Phone chargers. The surplus of phone calls, social media posts and impromptu photo shoots are sure to drain your battery.
Disposable cameras. In case the digital camera taps out or your cell phone dies, a disposable camera will come in handy to capture special moments.