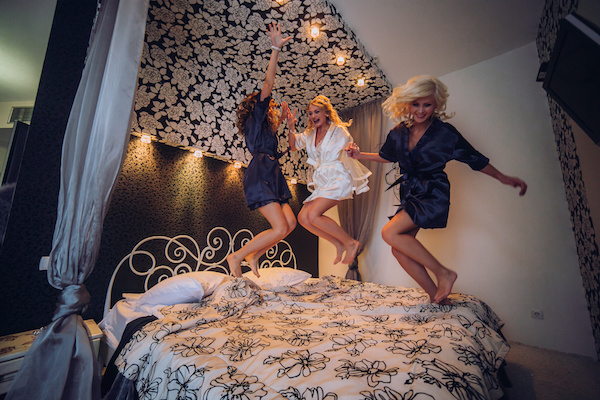 As any girl or guy knows, the anticipation and last-minute gussying-up for an extra fabulous occasion can be almost as special and blissful as the main event.
Excitement?
Hope and joy?
Giddy anticipation?
Laughter, lots of chatter and sometimes happy tears?
Yes, yes, yes!
It's a wonderful and significant time to share with those special friends and loved ones in your wedding party who, probably, have been by your side through thick and thin and many life milestones over the years.
This very personal and meaningful slice of quality time — the hours before the ceremony on the day of your wedding — is the stuff of those cherished "Remember when…?" memories you'll share, hopefully, for decades to come.
You might even share some "remember whens" as you're getting ready.. "Remember that time in high school? …" or "Remember that time at summer camp when you said you wanted to marry Prince Charming and …"
There are lots of ways to make this intimate, pre-ceremony wedding-day interval extra significant and lovely. Make it a one-of-a-kind celebration in itself. After all, this is the last time you'll be spending with your besties as a singleton. And that is pretty momentous.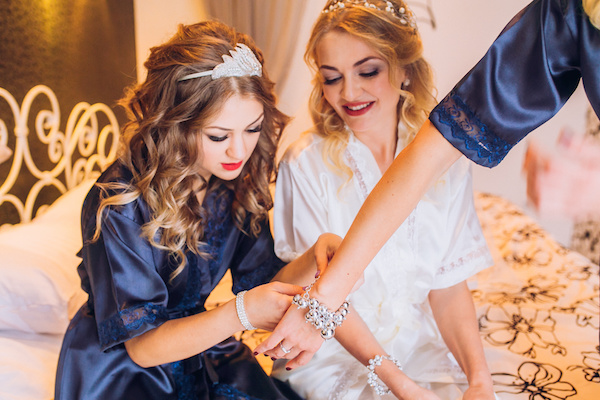 Here are some fun ideas to really make it count:
-However you decide to spend the time, plan and organize everything well in advance. After all, this is anything but an afterthought.
-As thankyou gifts, consider giving your bridesmaids pretty, short robes they can wear for this day and beyond.
-If you at home, at a hotel, resort or the venue itself with your bridal party for the night before, start the day with delectable coffee and tea, fresh fruit and other light, nutritious and yummy treats. Mini muffins, make-ahead mini frittatas or a delicious, make-ahead breakfast casserole will all fit the bill beautifully.
-Bring on the pampering. Either have a driver to take you and your party to the spa for all your treatments or arrange for the beauty pros to come to you. Hair, makeup, manis and pedis … do it all up beautifully. (Ideally, you'll have had a practice run weeks in advance, so you and your stylists will have discussed and created the look that's most flattering to your features, colours and wedding fashions.)
-Before you don your dresses, crack a bottle of champagne, add some juice and toast the joy to come with mimosas. Cheers to a wonderful wedding day!