Classic and Fancy
Compiled by Ariel Vered | Photos by Phillipa Maitland | Wedding Date: July 9, 2016
Meghan and Marc met through mutual friends at a birthday party in 2010.
"We were playing card games and Marc was doing a bad job at the card game, so I was nudging him under the table," remembers Meghan. "He thought I was hitting on him!"
In April 2015, Marc suggested getting dressed up and going out for dinner on a Saturday night. He snuck out and bought flowers for Meghan as a surprise.
"Marc is not much of a giver of flowers, so that was out of the ordinary," she recalls.
Marc took Meghan on a journey down memory lane to the same places they went on their first date, starting with dinner at Cornerstone in the Byward Market.
"We hadn't been back to the restaurant since, so I kind of suspected something," she says.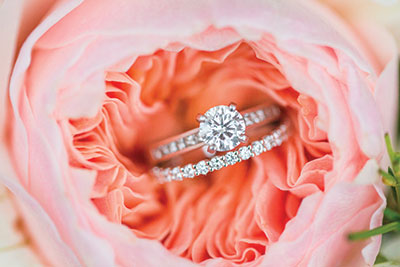 The night ended at the bus station where, years earlier, they had ended their first date. Marc asked Meghan to get out of the car, went down on one knee and proposed.
Contrary to most couples, Marc was the main organizer of their wedding. "I'm a planner at heart and I do it for work," he says.
"I took this wedding as a project I had to manage." Says Meghan, "He really took initiative and made it the most enjoyable experience I could have had.
He took the stress out of planning a wedding and it was nice to see him so excited and interested."
Meghan was responsible for choosing her dress and the flowers. She found her A-line Sophia Tolli dress at All That Glitters Bridal in Bell's Corners.
The light and airy tulle dress featured beading and lace applique, a corset back, a chapel length train and a sweetheart neckline, with the raw edge of lace rising above the neckline.
"It was gorgeous and comfortable," says Meghan. "It hit the mark on everything. I knew this was the dress."
Her bouquet included garden roses, chrysanthemum, hydrangea, thistle and greenery, which complemented the centrepieces.
Meghan attached her late grandfather's gold pendant to her bouquet as a symbol of good luck.
The couple wanted a summertime wedding and fell in love with the Chateau Laurier as a venue.
"The Chateau Laurier is a beautiful building, you barely need to do anything in that space to make it look classic and fancy," says Meghan.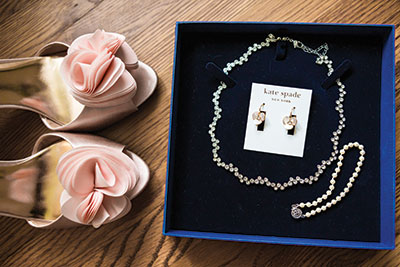 The ceremony took place under a tent on the terrace. Meghan fondly recalls getting teary-eyed over a poem that was read during their vows and Marc wiping her tears away.
The reception took place in the Laurier Room with a neutral colour palette of pale pinks, white and gold as the wedding colour theme.
The theme of the wedding was, quite simply, fun. The couple wanted to take advantage of the opportunity to celebrate and bring old friends together.
They knew what they liked from having attended many friends' weddings and wanted the focus to be on their guests.
They made sure that the dancing was the longest portion of the night and had lots of laughs: during his speech, Meghan's dad donned a shiny pink dress because Marc had bet him $150 that he wouldn't wear a pink dress to the wedding.
Amidst all the fun and dancing, one moment stands out for Marc.
"Meghan coming down the aisle, I'll never forget," he says.
"After months of hearing about makeup and hair, so much hype, seeing it all come together on that day in front of friends and family, that first moment was the moment that stood out."