Courtesy of Ottawa Wedding Show Blog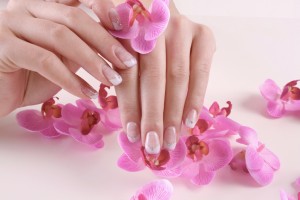 Something that seems to be very important these days is the attention that is paid to ones' fingernails. Now more than ever brides need to consider "what to wear" on their nails. An artistic and intricate design on fingernails is becoming quite the trend in everyday living.  On your wedding day it is no different as you want your nails to look perfect then  more than ever.
There are many nail options available. Some brides want acrylic nails and others prefer to have grown out longer length natural nails. Either way nail art is now in mainstream society and from all accounts here to stay for quite a while.
Some brides just want a basic look and other brides want something very creative. The key to having great nails on your wedding day is to balance the art on the nails with the mood and theme of the wedding. This would mean more traditional wedding type décor would require a more subtle nail design whereas a more flamboyant wedding could sustain a more dramatic look in nail art.
One of my favourite looks is the French manicure with the lace. I think this looks both elegant and classy. As in the "how-to-video" I am including (see Ottawa Wedding Show Blog for Videos) a splashier look on the French lace manicure can also include glitter. I was amazed in researching this topic how really easy it is to custom design  intricate art on your fingernails (in this video make a lace look).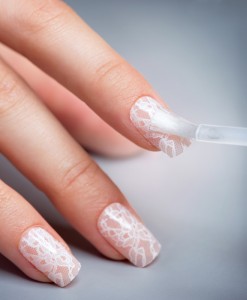 Some brides-to-be plan in their wedding budget to have their nails professionally done. Others plan to do their own nails. If you are planning to do your own nails a good idea would be to practice several times before the big day. The best time to do "the final" version of your nails is the day before your wedding. If anything happens to one of your nails you can easily touch it up or redo the one nail.
Other designs that you might consider for your wedding include fancier ones that have tiny pearl or diamond like stones adhered to the nail as part of the art design. Nail art is a great way to include the theme of your wedding by matching the overall look in a design on your nails.
The fun part about the nail art is that getting together with your bridal party to do the nails either professionally or yourselves as a group.  It could be a fun activity to add  to the schedule of the times you will be spending with your bridesmaids. Also, if you schedule a few practice sessions, collectively the group may come up with a unique design that can further personalize your wedding party look.