The Big Easy
by Mary Ann Simpkins
With its antebellum Garden District homes, vibrant neighbourhoods and gas-lamp-lit cobblestone alleys, New Orleans combines a European ambiance with southern charm. Rated one of the world's top eight truly romantic cities by CNN Traveler, the city is an ideal honeymoon destination. Originally French – founded by Montreal- born explorer Jean-Baptiste Le Moyne de Bienville in 1718 – New Orleans was briefly a Spanish colony before becoming part of the United States in 1803. Fusing the French and Spanish heritages with Haitian, Caribbean and African Creole cultures has produced a city unlike any other in America. A city that lives by the Cajun French expression, Laissez les bon temps rouler (Let the good times roll).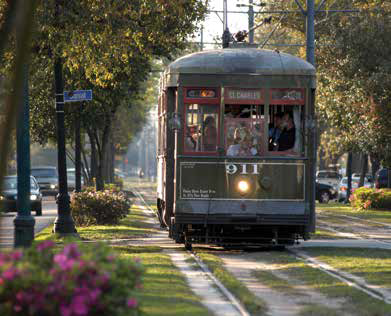 St. Charles Street streetcar. Photo by: Cheryl Gerber
The French Quarter
Nestled on the high grounds of the Mississippi banks, the city's historic heart captivates visitors with its blend of Spanish, French, Creole and American architecture. To explore its streets, take a romantic horse-drawn carriage ride from Jackson Square. The peaceful green oasis lies opposite America's oldest cathedral and Spain's one-time city hall. Delicately filigreed ironwork balconies grace many buildings such as the Royal Sonesta Hotel. Located on Bourbon Street, jam-packed with jazz and blues clubs, the hotel plants you in the middle of the action. Behind the 1830's New Orleans row house facade, you'll find an elegant European-style hotel with crystal chandeliers and French doors.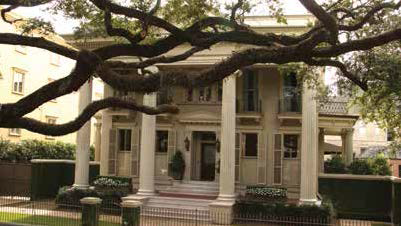 Garden District homes. 
Many couples marry in the tropical courtyard, followed by a reception in the adjoining Fleur de Lis suite. The hotel has its own jazz club, but at the nearby Court of Two Sisters, you can settle down under trees shading the courtyard and listen to musicians while indulging in an extensive buffet. The Jazz Brunch specialty is seafood and shrimp Creole omelets. The restaurant, previously the Royal Governor's residence, sits on Royal Street, where the upper crust lived. Their 18th and 19th- century buildings now function as restaurants, boutiques and antique shops, some comparable to museums. Furnishings at M.S. Rau Antiques include an empire-style bedroom suite once owned by King Farouk. New Orleans' distinctive cuisine ranges from gumbo and jambalaya to beignets introduced by the Acadians kicked out of the Maritimes. Café du Monde has made fried fritters covered in powdered sugar since 1862.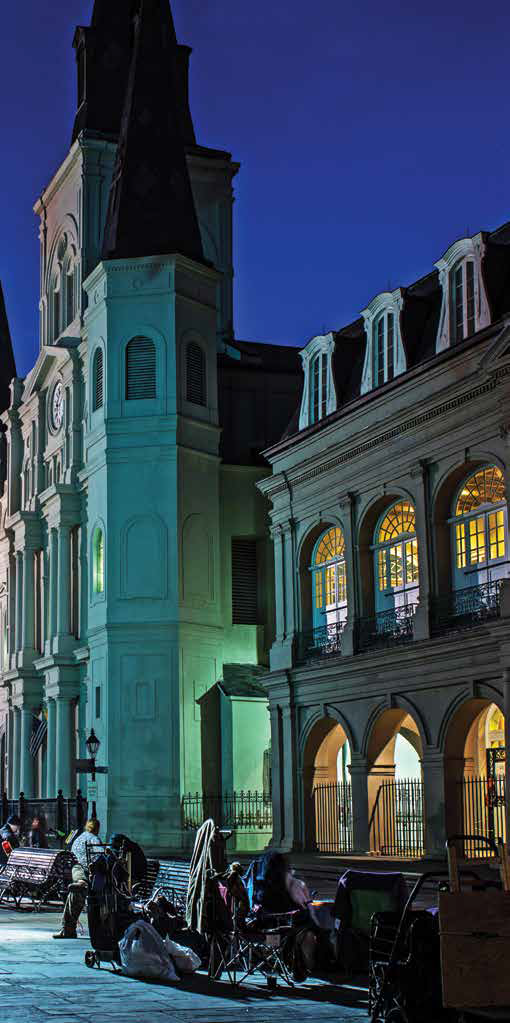 In Arnaud's, the grande dame of New Orleans' Creole restaurants, waiters in black tie recommend the signature appetizer, shrimp Arnaud, boiled shrimp topped with a spicy rémoulade sauce, and oysters Bienville. In the quieter residential section, where Brad Pitt and Angelina Jolie own a property, is Maison Dupuy. Made up of five brick town houses with traditional tall arched windows and wrought-iron balconies, the hotel encloses the quarter's largest courtyard. A heated pool dominates one section. In another lush tropical foliage and a bubbling three-tiered marble fountain, sets an enchanting setting for many tying the knot as well as diner seating alfresco.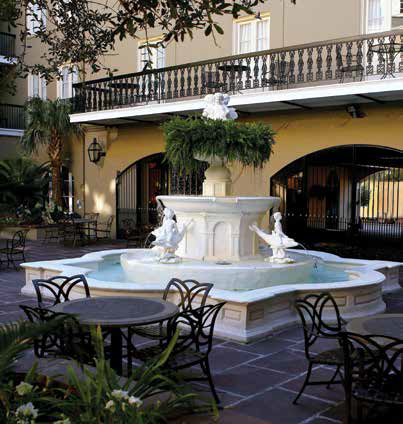 Fountain, Courtyard Maison Dupuy. Courtesy: Maison Dupuy
Tremé neighbourhood
Two blocks from Maison Dupuy in Tremé is St. Louis Cemetery. Ornate, brick and plaster tombs crowd the oldest "city of the dead." Established in 1789, the cemetery's most eccentric crypt is Nicolas Cage's $250,000 grey-stone pyramid-shaped vault.
Faubourg Marigny
Marquis Bernard De Marigny subdivided his huge plantation to form this suburb west of the French Quarter. The world-famous Preservation Jazz Band still play in the French Quarter, but the better clubs are found on Marigny's Frenchmen Street. You'll need to reserve to dine at the most popular club, Snug Harbour.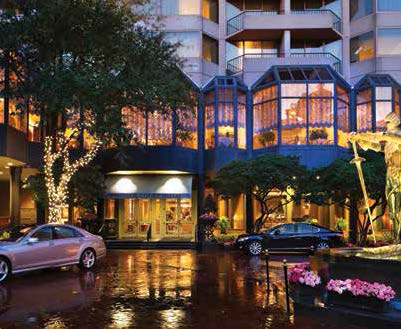 Windsor Court. Courtesy: Windsor Court. 
Arts district
Opening the Contemporary Art Centre revitalized the area sometimes called the Warehouse District. Today, the small area boasts 26 art galleries, Harrah's Casino and the Omni Royal Crescent Hotel. The four-star boutique hotel rises above a quiet leafy street just two blocks from the French Quarter. On the roof, relax on chaise lounges set under a banana tree or in the large Jacuzzi. For private dipping, reserve a junior suite with a separate living room, king-size bed and an oversized bath with Jacuzzi tub.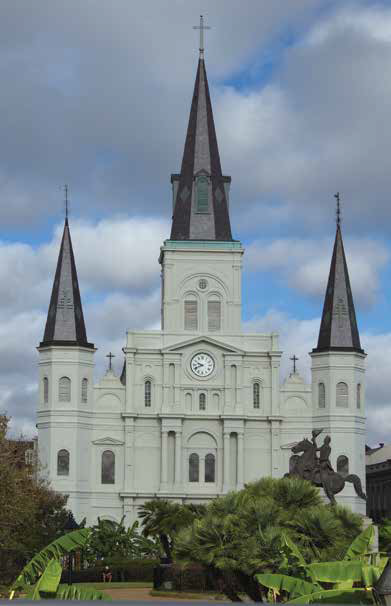 St. Louis Cathedral from the river. 
Central business district (CBD)
The CBD, as the French Quarter's high rise neighbour is known, evolved from founder Sieur de Bienville's plantation. Among the 19th and 20th-century buildings is the Windsor Court Hotel. Named one of the country's 50 top big city hotels by Travel + Leisure Magazine, this beautiful upscale hotel offers weddings and honeymoons in rooms enhanced with antiques and art. The $8 million museum quality collection of 17th to late 20th-century primarily British furnishings, tapestries, sculptures and paintings, includes works by Gainsborough, Reynolds and van Dyck. Spoil yourselves with a treatment in the spa. On the roof of the 23-floor building, float above the city in the huge pool or watch clouds float by from the deck. Palm trees line Canal Street, the dividing line between the French Quarter and CBD, and action central during Mardi Gras. It's home to Saks Fifth Avenue and the Palace Café, which recreates the atmosphere of a French bistro with murals of musicians and a dramatic spiral staircase to the mezzanine. The house specialty is a crabmeat cheesecake appetizer.

Wedding in Royal Sonesta Club courtyard. Courtesy: Royal Sonesta
Garden District
Hop aboard an old-fashioned streetcar on Canal to ramble slowly through the Garden District. Snubbed by the French Quarter's Creole residents, the newly arrived Americans migrated here, building mansions framed by English-style gardens of magnolias, azaleas and camellias. Disembark to walk hand-in-hand under trees still bearing Mardi Gras beads months after the carnival. Stop to admire the Queen Anne to Italianate-style mansions. Residents include Sandra Bullock and John Goodman. His wife owns the children's store, Pippen Lane, on the city's preeminent shopping street, Magazine Street. Upperline restaurant presents a wonderful sampling of regional specialties. The three-course Taste of New Orleans comprises three small plates of such contemporary Creole dishes as turtle soup and duck étouffée. Many couples become engaged in its intimate rooms.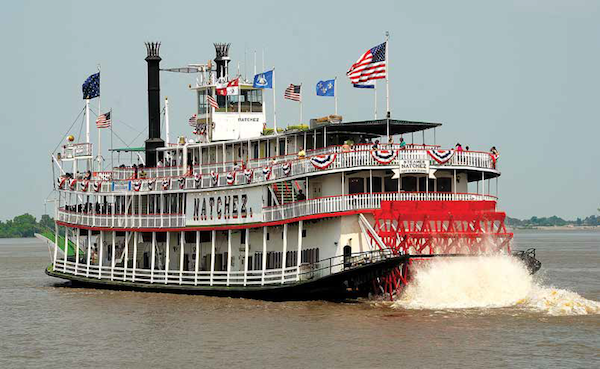 Natchez heading downriver. Courtesy: New Orleans Steamboat Company
Shades of Scarlett O'Hara
Sailing on the Steamboat Natchez, the Mississippi river's last authentic steamboat, recalls a more gentile era. The gentle soothing ride passes the last battle of the War of 1812 site and buildings devastated by Hurricane Katrina. A jazz band plays in the dining room. Venture further back in time with a day trip to a plantation. A canopy of live oaks towers
over the walk up to Oak Alley Plantation.
Dressed as southern belles, guides help you imagine life in the gracious Greek Revival Mansion. Down the road, Laura Plantation's yellow-coloured facade, green shutters and red window frames typifies a Creole plantation. Built by a French naval officer in 1805, the sugar plantation still has its slave cabins, occupied by tenants until 1977. Musician Fats Domino is descended from slaves who worked here.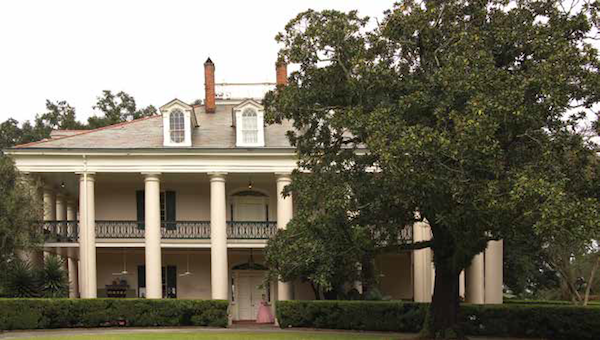 Oak Alley Plantation.
If you go
New Orleans offers the best deals in the summer, when it is hot and humid. Hurricanes hit chiefly in August and September.
Wedding documentation
Ten year passport valid until at least six months after your return.
Proof of full names and addresses.
Proof of divorce or death certificate (if applicable).
New Orleans Marriage License.
Visit the Parish Clerk of Court Offices to obtain a license. It's possible to be married the same day. The fee is about US $31.
For information: marriageinfo@jpclerkofcourt.us.
Accommodations
Royal Sonesta Hotel New Orleans www.sonesta.com/royalneworleans
Maison Dupuy www.maisondupuy.com
Omni Royal Crescent Hotel www.omnihotels.com
Windsor Court Hotel www.windsorcourthotel.com
Information
New Orleans Convention and Visitors Bureau www.neworleanscvb.com
Transportation
There are no direct flights from Ottawa to New Orleans. Instead, Air Canada makes one stop in Toronto while United, Delta and US Air make at least one stop in the U.S. W
This story first appeared in the 2014 winter issue of Ottawa Wedding Magazine.