Courtesy of I Just Said Yes
Should I offer a cash or host bar at my wedding reception? I have written about this before but it seems to be a very popular question so thought I would touch on this subject again.
Weddings are all about the food, music and of course the alcohol. The average number of drinks for a wedding reception is around 7 drinks, that is one drink per hour. Depending on your group, this average can vary and may be lower or sometimes higher. Most of my weddings fall into the 6-8 drinks per person average.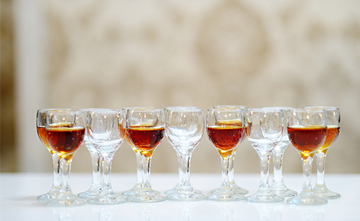 The thought of a huge bar bill can be very scary and the unknown can just cause additional worry on your special day. There are a couple of options if budget is tight. You could offer a cash bar where guests pay for their own drinks. This is not my favourite idea but some clients cannot afford the bar bill plus everything else. There is the option of a "toonie bar". Being from Canada, a toonie is a $2.00 coin. All guests would pay $2.00 for every drink and then the bride and groom pay the difference. This certainly helps your bar bill expenses plus the guests are not paying full price for the drinks either.
If you choose a cash bar it is very important that you note this on your invitation so guests can bring money with them. If you do have a little extra money to spend, you could always pay for a bottle of wine per table or supply one drink ticket per person.
If want to keep the open bar but not spend too much, then you can follow these steps to help save you some money. Only provide standard products on the bar and do not allow shots. Don't order the premium names, cognacs, and liqueurs. Don't place bottles of wine for dinner at the tables. Let the guests go to the bar and get wine by the glass. You will eliminate the opening of many bottles that may not be finished plus any corkage fees.
Many clients think it's cheaper to shut down the bar for dinner but actually, it makes it worse. Guests will order two of everything before dinner and then after the meal, the bar will be hit hard. Leave it open and let the guests have a drink during the meal. If the venue allows the bar to be open until 1AM, shut down the bar at Midnight. This will help guests at the end of the evening to slow down and with the closing of the bar, you can put out some light snacks and coffee/tea.
Whichever bar option you choose is up to you and your budget. Perhaps religious beliefs will dictate your decision or local tradition may be what you follow. In my city, cash bars are virtually unheard of and will raise eyebrows at your reception, yet I have been to weddings in other cities where they are common.
The most important thing is to ensure your guests to drink responsibly. Remind them during your speeches to drink in moderation and that you will provide them a cab at the end of the night if need be. Many couples go so far as to offer designated driver services to get guests home safely at the end of the night. Remember drinking and driving don't mix.