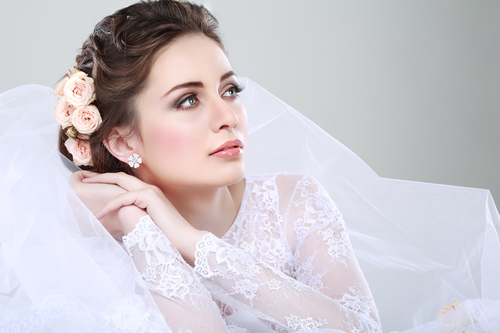 When the 2017 bridal fashions hit the runway, our Pinterest boards exploded with new "dream dresses." But beyond dazzling gowns, the hair and makeup trends were also noteworthy. From charming hair accessories to innocent and fresh-faced looks, there is plenty of inspiration for nuptial style. Overall, the big trends seemed to be celebrating and accenting natural beauty; here are a few of the best ones for this season:
Soft Smokey Eyes
Bid adieu to your black shadows! The runways were filled with soft brown eyes, including matte brown liner. The softer shades keep the look natural, while still enhancing the look of your eyes. The subtle look is romantic and subdued, and will never go out of style. On your wedding day, it's important to use a quality brand of makeup that will last through the night, such as Artistry and their Artistry Signature Color Eye Shadow Quads. To learn more about Artistry and other Amway products, check out Amway's Facebook page.
Pink Pouts
Continuing with the natural look, most models were wearing dewy pink colors on their lips. Try out some different shades to find a pink that works well with your skin tone. Coral undertones were another trend seen on the runway, so try out one some different shades, evens if they aren't what you would normally go for! While lip gloss can easily be overdone, don't be afraid. Applying a thin layer can have you looking luminous and fresh.
Flower Crowns and Beyond
It seems that flower crowns are here to stay! Multiple designers featured them in hairstyles, usually paired with loose waves and more casual updos. Continuing the celebration of all things natural, live floral pieces added a touch of authenticity to many styles. Not always featured in a crown, single flower embellishments and metal floral pins also made appearances.
Metallic Accents
Metallics are also having a major moment this bridal season. One of the most common places metallic accents were seen was, surprisingly, as eyeliner! It may seem over the top, but a thin line of silver or gold can be charming and add just the right amount of sparkle to your look. Also spotted? Gold nails, silver hair pieces and even metallic sparkly lips.
Sleek and Simple Dos
Hair seemed to be a bit more polished this season than others in recent memory, and it looked gorgeous. The looks struck the perfect balance of being put-together, but not too fussy. Ballerina buns, including hairbands and bows at Lela Rose, made a bold comeback. Sleek knotted styles and tight braids were seen from many designers, presenting a modern and chic bride.
Bold Brows
Embrace the eyebrows you were born with! Natural brows have been gaining in popularity in general, so it's no surprise that they're making their way to the bridal stage. Thicker and darker brows frame your face and eyes in a beautiful way. Be sure to put in plenty of practice to perfect your brow shape and color with pencils and powders.
The most recent fashion shows reintroduced natural beauty and sleek sophistication to the bridal world. Hair and makeup can help to create your perfect vision for your wedding. Work these trends into your big day to create a timeless look that will blow away your guests.