One of the most popular outdoor weddings spots in Ottawa, Rockcliffe Park Pavilion, has reopened. The renovations not only make it handicap accessible, it offers a new path for the bridal procession.
The Rockcliffe Park Pavilion remains an Ottawa icon for outdoor wedding ceremonies. The heritage Pavilion was built in 1918 along the Rockcliffe Parkway and looks out over the Ottawa River.
I've performed many weddings there in all seasons. Brides and grooms flock there because of the park site, river view and sheltered roof.  One bride wanted to have her wedding there because she had  family picnics in the park and always dreamed of having her wedding there.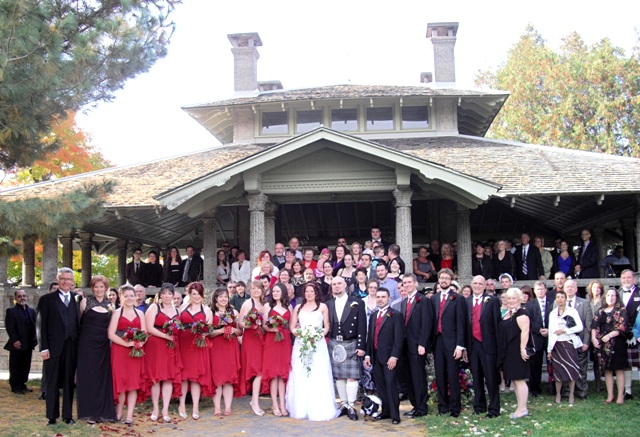 Over the last year, the Pavilion was closed for renovations. I performed a wedding ceremony there a few weeks ago and liked the improvements.
One of the biggest issues with the Pavilion was that it was not handicap accessible from the curb. You could only get to the Pavilion by scaling several steep steps. This made it impossible for those needing accessibility and difficult for a bride – having her hike up her skirt to process in from the limousine.
Now there is a beautiful at grade path that gently rises on one side of the Pavilion. The accessibility option is solved. It also allows for a much nicer procession for the bride. She and her party can now appear coming around the Pavilion.
You can see the bride and her father relaxed just before the entrance procession.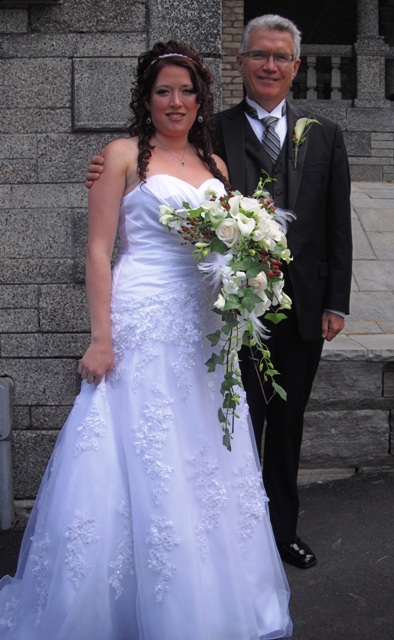 The Dachshund ringbearer, Frodo,  was well outfitted in his tux.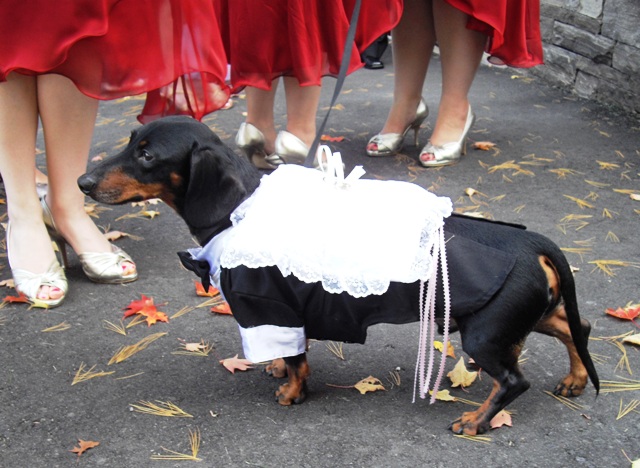 Instead of performing the wedding inside the Pavilion, it was done on the south steps to take advantage of the sunshine in October and because of the large number of people present. The Pavilion only holds up to 150 guests.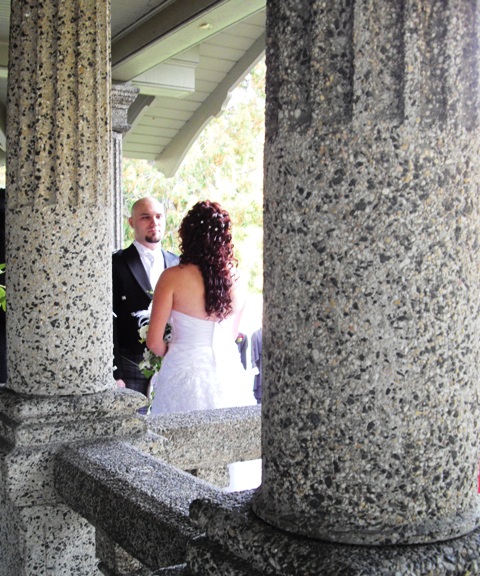 Despite some of the shortcomings of the Pavilion such as one electrical plug, limited parking and occasional tour buses, it is still a stunning location – especially with the fall colors.