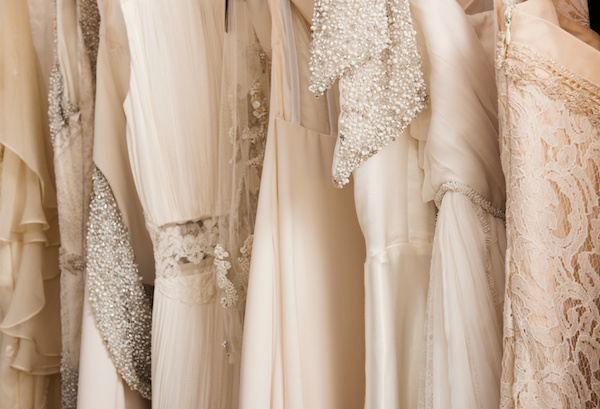 Creative Cuts
Find your perfect gown at one of these unique boutiques
The experience of choosing your gown should be as unique as you. Ottawa Wedding Magazine explored a handful of intimate bridal boutiques available to Ottawa brides. These alternative options offer competitive prices, on-trend styles, and prime locations.
What more could a girl ask for?
The Handmade Bride
Have you pictured your dream dress so clearly in your mind, yet you've been unable to find it? The Handmade Bride works with independent designers who create original gowns in their studios. They encourage clients to be part of the process and work with stylists to customize their unique wedding dress.
Never outsourced, the focus is on Canadian-made collections that can be made-to-measure. There are a number of sample gowns in the boutique and brides can order the original design or use the gown as a starting point to create their own one-of-a-kind dress.
"We meet with each client one- on-one to get a sense of what they are looking for in their wedding gown. We will look at your inspiration and your preferences with you. Your bridal stylist will select sample pieces for you to try based on your style, body and budget," explains Meaghan Brunetti, owner and bridal stylist of The Handmade Bride. "This is when the magic happens! As you try on different silhouettes and styles, we listen to you and help you narrow down the options. Sometimes that means changing the colour, fabric, or even the cut of the entire dress."
Working directly with the stylists is what allows this boutique so much flexibility.
"We believe that choosing handmade items is an ethical choice as much as it is a decision on quality. We feel strongly that by taking production of the dresses out of the factory and into the design studio is the solution to disposable fashion. We believe that your wedding gown should be an heirloom piece gorgeously made just for you."
And it's not just about the bride. Make it your go-to for the whole bridal party. Find bridesmaids dresses in up to 300 colours, men's ties and delicate accessories. Alterations are also offered on any gown – no matter where you made the purchase.
The collections range in price. Knee-length dresses are as low as $400, but most gowns average around $2,000. Custom gowns range from $1,800 to $10,000 and up, depending on the design and fabrics. Bridesmaid dresses are around $160 to $300, and custom evening gowns for mothers of the bride or groom start at $800.
The Handmade Bride
306 Cumberland Street, Ottawa
613 695-8247 handmadebride.ca
Victoire
"Loved by rebel girls with good manners everywhere, Victoire is a shop obsessed with anything made-in-Canada, super cute, gold or embroidered."
With a focus primarily on Canadian designers, mixing in a select few American designers, the store's aesthetic is described on their website as "rock 'n' roll tea party."
The gorgeous and unique gowns found in-store could satisfy many-a-bride and bridesmaid.
They do carry a bridal-specific line: Birds of North America (BofNA). The brand carries such a cult following because of the great attention to detail: the designer's cuts are impeccable, and the fit leaves women feeling like a million bucks without having to spend a small fortune. The price point speaks to a customer who sees the dress as a day-of accessory.
"As a great customer of ours said, 'I love clothing and fashion. So why would I blow  my entire year's clothing budget on something I'll wear once?'" shares Regine Paquette, co-owner of Victoire. "So I think that is how we differ most. We sell to brides that don't want to buy into the idea that you need to spend large sums of money for your wedding day, and that buying your wedding dress doesn't have to be a time-consuming affair of fittings and alterations. It's ready-to-wear for the wedding dress industry."
The dresses are offered in sizes two to 16, and because they're not traditional wedding gowns, alterations are more affordable (comparable to the cost of taking in or shortening your favourite business or formal attire).
Aesthetically, the dresses have a vintage feel, reminiscent of fit-and-flare 1950's dresses and 1960's minis. They look amazing styled with a traditional heel or something more off-the-beaten-wedding-track, like cowboy boots.
Victoire has hosted two wedding events alongside Sparrow Flowers and Heart Deco rings.
The girls at Victoire are willing to stay open late to accommodate a bride's party, but Regine doesn't see BofNA brides making this request. "Most of the women who have bought the BofNA bridal dresses have done so without all the fanfare usually associated with 'saying yes to the dress.' We definitely serve a more low-maintenance kind of bride."
Prices for BofNA designs range from $349 to $425. A lower cost is tagged to bridesmaid gowns. And yes, they would likely wear them again.
Victoire
246 Dalhousie Street, Ottawa 613 321-1590
1282 B Wellington Street West Ottawa
613 421-0089 victoireboutique.com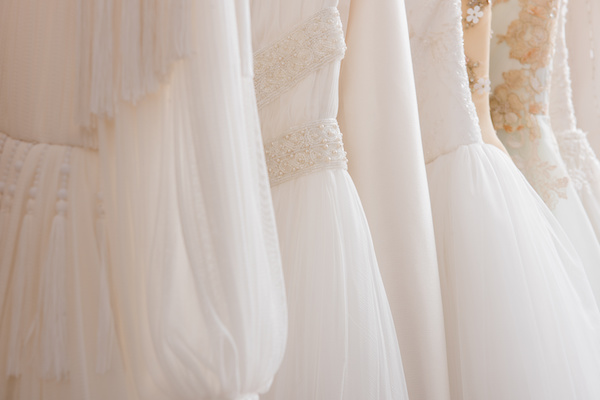 Flowers & Vintage & Bridal
An absolutely charming store. When you walk in, you won't know where to go first. Vintage bridal gowns on the right, clothing on the left, flowers near the cash, and interesting trinkets all around.
"Vintage brides tend to be creative 'outside the box' thinkers who strive to be individuals. They are also often no-fuss, no-nonsense, uber-practical and pragmatic women. I also have many eco-conscious brides who appreciate that the gowns are recycled and take pride in the fact that they are not adding unnecessary strain on the environment. As well, my brides tend to be more budget-conscious," explains Jamie Garner, co-owner of Flowers & Vintage & Bridal (FVB).
Jamie gets only a few new dresses per week, as vintage dresses are becoming rarer and harder to come by. She recommends popping by every few weeks to see what's new. "I usually send my brides to their local tailor for alterations. They tend to be much less expensive than bridal salons. I also always recommend a good dry cleaning for the pre-loved and vintage gowns. It really does wonders to refresh them before the big day."
The biggest difference between FVB and other bridal salons is the casual atmosphere. "I want my customers to feel comfortable and at home here. You don't need to make an appointment, you can peruse the gowns at your leisure and you can take as long as you like trying on and contemplating your choices. There is never any rush or pressure."
You can also reserve the store for a private "after hours" shopping soiree for you and your bridal party. While you look for your dress, the girls can look too. Instead of having a unifying colour, have a unifying style: vintage.
As prices for wedding gowns range between $85 and $595, they are certainly affordable. I know I had trouble leaving without one.
Flowers & Vintage & Bridal
502 Somerset Street, Ottawa 613 407-6151
Rent frock Repeat
Ever play that dangerous game where you buy a dress you can't afford to wear to a party with the hope you won't spill anything
on it and can return it the next day? Well, for a small cost, you can do just that and have your dress expertly dry cleaned once you bring it back.
Kristy and Lisa founded Rent frock Repeat (RfR) in August of 2010. It is a 100 per cent Canadian-owned-and-operated business based in Toronto. They have a combined 13 years of experience in sales and marketing, and an infectious passion for the fashion industry. They work with designers, purchasing dresses either directly or through their authorized sales agents. Rent frock Repeat scours both the runways and the showrooms of top designers to find amazing frocks that would normally be outside of the average woman's budget – or not available locally – and makes them available to rent and return at a small fraction of the retail price.
Their dry cleaner of choice, Creeds, has consistently landed in the Top 10 in North America. In the unlikely event Creeds is unable to take care of everything, a small insurance charge will ensure no additional cost to you.
The best part: brides get in on it too. "You would be amazed at how many brides come to Rent frock Repeat, both online or in one of our showrooms, looking for a non- traditional wedding dress," says Miranda Furtado, director of marketing. "Many brides are finding looks on Pinterest and other social media outlets and are inspired to wear something other than the traditional white dress. We have a great variety of dresses that would suit a bride looking for something unique, whether they are having a big, lavish wedding, a destination wedding, or a simple, city hall wedding. We also offer a second style for $35, which will get the bride through both her rehearsal dinner and big day."
Bridesmaids also come in regularly. RfR has a large range of dresses that can be matched based on colour, texture or style, so brides can find that perfect look for their wedding party.
"Another great feature that we offer is the RfR 'Something Borrowed' Bridal Program. This allows the bride to earn free rentals simply by sharing a personalized promo code with her guests. As guests rent (and use the promotional code during the checkout process) she will earn 10 per cent of each rental fee. This promo code will also help us ensure guests do not rent the same frock and this means less drama on her special day! When the bride is ready to rent, she simply e-mails in to find out how many 'Frock Dollars' she's earned."
RfR also offers private fitting parties. A bride can bring up to 10 guests for an evening of food, drink, socializing, and trying on beautiful frocks! The RfR stylists will save all of your favourite dresses to your personal online wish list. You provide the friends, food and drink and RfR provides the dresses and dessert, including cutlery, plates, and napkins. Cost is $20 per person. A $20 credit will be applied towards a rental if a guest places an order on the day of the party.
To book a private fitting party, e-mail info@rentfrockrepeat.com or call 613 241-7890. Dress prices range from $40 to $250 (for a gown that is over $1,500 retail).
Rent frock Repeat
107 Murray Street, Ottawa 855 FROCK-IT (855 376-2548) or 613 241-7890 rentfrockrepeat.com