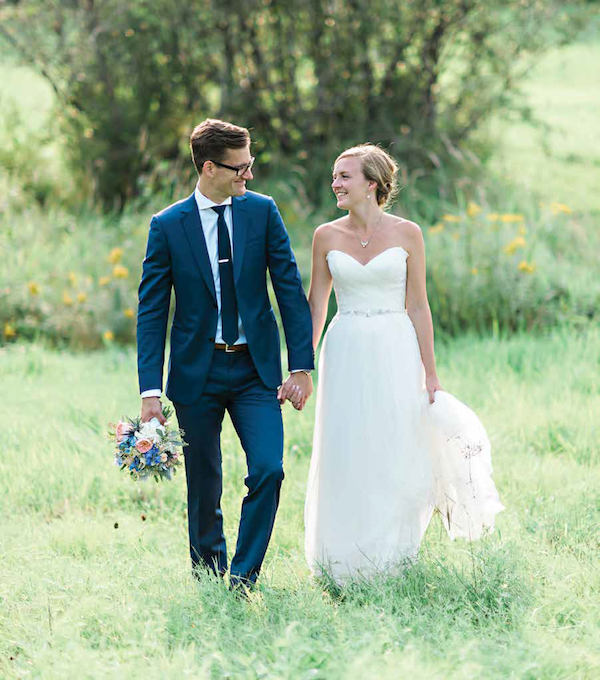 Friendship leads to wedding bells
by Iris Winston
photos by Candace Berry Photography
Alli Churchill and Robbie Davidson were friends long before they realized they were destined to become husband and wife.
"It was definitely a relationship in the making that neither of us was expecting," says Alli, whose first connection with the Davidson family was through her friendship with Robbie's sister, Keltie.
"Siblings sometimes come in handy," notes Robbie.
"Years ago, when I was living in southern England, Keltie surprised me by appearing on my doorstep unexpectedly," Alli explains. "Ever since, Robbie and I have been trying to surprise her in the same way."
Two years ago, Robbie arranged for Alli, then a psychology major at Saint Mary's University in Halifax, to make a surprise call on his sister in Ottawa. But the planned surprise meeting between Keltie and Alli never happened.
"She was busy working, so I stayed with Robbie the whole time. It kind of worked out because that was the beginning of romance for us."
Their first unofficial date was a long walk beside the Rideau Canal under a full moon. Two weeks later, Robbie visited Alli in Halifax to confirm the beginning of their long-distance romance.
Another thread that brought the pair together was when Keltie joked some years before that she had too many friends and suggested Robbie make Alli his new best friend. (Was Keltie playing matchmaker?) From that point on, the pair regularly spent time together when he visited relatives in Halifax or when she came to Ottawa.
"All this meant that we were very comfortable with each other before we ever started dating," says Alli.
"It definitely made a long-distance relationship achievable," adds Robbie.
It also set the stage for Robbie's proposal. After one of his regular weekend visits, Alli dropped him at the airport for his return flight to Ottawa. On this occasion however, he turned back after Alli was out of sight and spent the day with relatives in Halifax. Robbie would propose the next day.
The day of the week was important, says Robbie, because Tuesdays had long been Alli's favourite day.
He explains that when Alli and her siblings were young, their mother assigned each child a day to pick up the mail. Alli was responsible for meeting the mailman on Tuesdays.
"This not only made Tuesday her favourite day of the week, but it also prompted her love of sending letters and special care packages, knowing how excited receiving personal mail can be – especially these days when the mail typically contains a mix of bills, flyers and junk mail. A small note from a friend can make your day."
The Tuesday he chose, February 3, 2015, was particularly appropriate because there would be a full moon that night – a reminder that the couple's first steps along the road to romance were taken under a full moon.
With Alli's home in sight, Robbie called his bride- to-be and suggested she check the mail.
The request seemed odd, says Alli, as it was unlikely any mail could have been delivered that day. "There had been a huge snowstorm. The entire city was shut down and everything was closed."
Nevertheless, she did as she was asked. "As she opened the front door, I went down on one knee and asked her to marry me," says Robbie, adding with a smile that Alli was so surprised to see him – as she assumed he was at work in Ottawa – that she shrieked in delight and then could not even remember her reply. "I told her that she had said 'yes' and was stuck with me now."
Robbie, an audiologist by profession, chose a custom-made solitaire engagement ring set at an unusual angle in white gold. Alli, a volunteer at Capital City Mission and a sustainable team member with Venture 2 Impact, says her beautiful bauble is absolute perfection. "It's small, perfect, and just what I wanted. I didn't want anything ostentatious that would get in the way and be likely to bump into everything. And I didn't want to have to take it off."
She approached wedding gown selection in a similar spirit. "I really don't like shopping, so I bought my wedding dress on the first trip out. I wanted something very simple, and something Robbie would like."
Alli's mother, brother, and closest friend joined the bride on the one-day shopping trip. Alli chose a strapless Maggie Sottero gown with a lace-covered heart-shaped top, back lacing and a short train. (Alli and her wedding gown is currently featured on the Maggie Sottero website.)
The wedding ceremony was held at St. Andrew's United Church in Halifax on August 29, 2015 —"a very special place for me, as it is home to Halifax's Sunday suppers, which had been a part of my life for years," says Alli. The wedding flowers, prepared by Chelsea Lee Flowers, were also a nod to Alli's past, as each bundle was displayed in family heirlooms.
To entertain the 200 wedding guests in between the ceremony and reception, Alli prepared "a type of to-do list of different places Robbie and I visited while we were dating. They were walking in our shoes before they joined us for desserts at the wedding reception."
Held in a large tent at McNabs Gardens (a friend's property), the reception was set up as an informal celebration of the joyous occasion.
"Robbie has such a large family and I have such a broad group of friends, that we needed a style of reception that was suitable for many different people and personalities," says Alli. "We had fruit salad, whipped cream, tea biscuits and homemade jam — my Mom and I made the jam — and friends brought all kinds of other treats. There was no formal sit-down or speeches, because we wanted to keep it nice and casual and we didn't want to be front and centre. The idea was to have just a little structure, but enough freedom for everybody to mingle and for us to mix and mingle with the guests. The important thing was to see all the people who had come to celebrate with us."
An evening of dancing, a campfire and fireworks were all part of the happy event, which, says Alli, "was just a great end-of-summer party and a great start of our marriage together." W