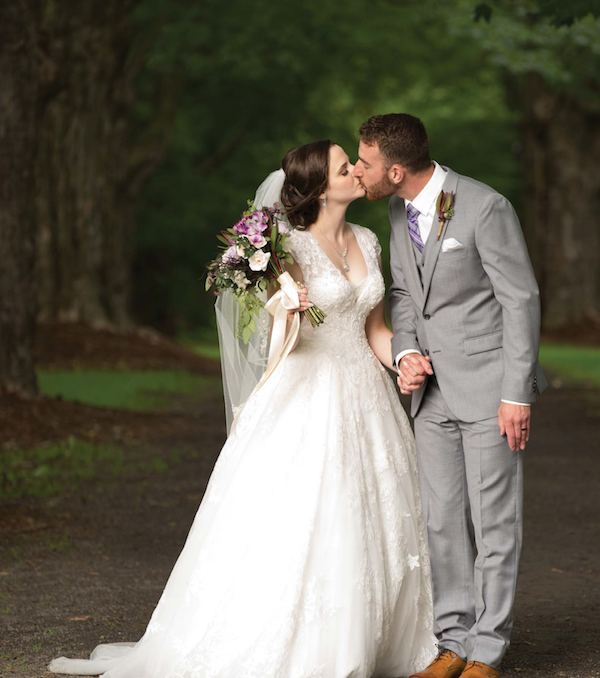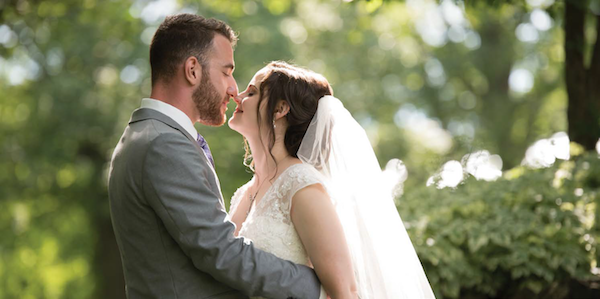 Genuine Sweethearts in a Non-TraditionalWway
By Iris Winston and Photos by Lisa Mounteer
At first meeting, they tried to shoot each other. Their second encounter was competing for honours at the pool table in an Ottawa billiard lounge. Their first official date began with raw fish, continued with bowling and ended with a stroll through a graveyard.
It is safe to say that Amélie Brack and Clark Dobie did not head into romance the traditional way.
The two met in the summer of 2013 when a mutual friend invited Amélie to play laser tag and mentioned that another friend of his — Clark — would also be taking part in the game.
"In laser tag, you run around a type of obstacle course trying to shoot each other with laser beams," explains Amélie, noting that, although both of the men were soldiers, she won the game. "Trying to kill each other may not sound like a very romantic meeting, but laser tag's a lot of fun."
"Clark and I didn't say much the rst time we met, but there was de nitely interest on both sides," she adds. "I asked my friend if he would arrange another get-together before they went back to the training camp [Canadian Forces Base Borden]. He obliged and we spent the evening playing pool and talking."
When Clark returned to Ottawa a few weeks later, the pair went on their first date. "That was a blast too," says Amélie. "We went for sushi and then went bowling. We were both bored with the bowling, so we went for a walk in what we thought was a garden. It turned out to be a graveyard."
Traditional dating took over for a short while. Then, Clark received word that he was to be posted to Edmonton, Alberta, for further military training.
"I felt I had found someone special in Amélie and I think our feelings were mutual," says Clark. "I didn't want to lose her over a posting, so I dared ask her if she would move to Edmonton with me. That was a big early milestone in our relationship."
"When he asked me to move with him I agreed, even though we had been going out for only six weeks," recalls Amélie. "Everybody thought I was crazy, but it worked out. We've been very, very fortunate."
They were soon settled in Edmonton with Clark, who works in heavy mechanics, stationed at Canadian Forces Base Wainwright and Amélie managing a Moore's Clothing for Men in the city.
Following their established pattern of unusual activity, Amélie and Clark went camping in Golden, British Columbia, one cold weekend in May after Clark returned from a three-month exercise away from home.
"It was about three degrees. We froze," says Amélie. But, she notes that the memory of their hike alongside the Kicking Horse River was warm because this is when Clark decided to propose.
"He told me to close my eyes because he had a surprise for me," she says. "When I opened them, he was down on one knee by the river. It was an amazing moment."
The engagement ring he chose was even more amazing, she says. "I fell in love with it the moment I saw it. It has three stones for the past, present and future. e diamonds are from the Northwest Territories and the band is Yukon gold and the ring is delicate and perfect."
Some 20 months later, on July 9, bride and groom returned to Ontario to be married in an outdoor ceremony at Stanley's Olde Maple Lane Farm in Edwards.
"We're casual rather than formal people and we wanted to get married outdoors in a garden rather than in a church, because we are non-religious," says Amélie. "Everything worked out to be exactly what we wanted, though we were worried about the weather for a while. But the rain held off just long enough."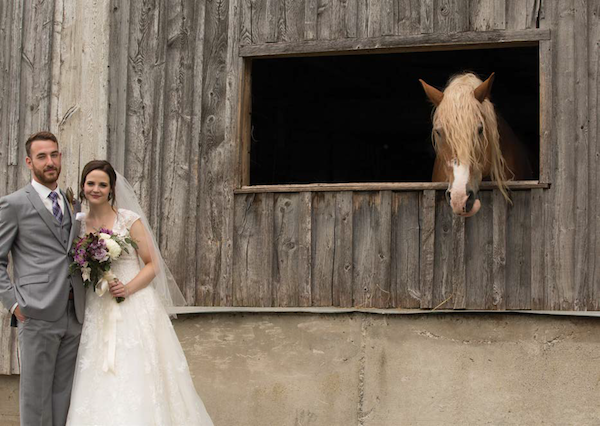 Another possible glitch was the loss of their wedding officiant, who had to cancel at the last minute. The problem was solved when All Seasons Weddings provided a replacement. "Although we just met, he did a great job," says Amélie. "Everything went just as we wanted it to."
Amélie chose an ivory-coloured Oleg Cassini wedding gown with a number of special features. "It's very different and Victorian in style, and it has pockets," she says. "That really worked for me. I joked that I could carry my vows and some sort of snack in my pocket, but that didn't happen."
The flowers from Passiflora Floral Boutique in Embrum were also unusual. "When we planned the wedding, my idea was of a garden romance," says Amélie, "but I wanted to stay away from daisies and bright colours and keep the colours soft. I wanted something different and wild — alien-looking flowers and cacti and succulents. The people at Passiflora really understood what I wanted and the result was just beautiful."
Following through on the soft tones, her three bridesmaids — close friends from high school and university — wore matching gowns in different shades of purple that were both flattering and modest.
"We had family and friends from all over the country at our wedding," says Amélie. "One of my best friends from childhood even flew in from England. Everyone came together to celebrate. It was incredibly moving that people would take so much time and spend so much money to be there for us."