Down the Aisle
Make memories to last a lifetime
Compiled by Iris Winston and Photos by Miv Photography
The future was set for Hanna Browne and John Potakfianakis from the moment they met.
"It was love at first sight," says Hanna.
"It truly was, for both of us," says John.
They first saw each other when they were both students in a summertime real estate class, more than six years ago. "We were both still in university at the time, so when the summer came to an end, we both had to go back to school," says John, a Carleton University graduate. "Hanna was at Queen's University, so I drove to Kingston to visit every weekend for the next year."
As soon as Hanna completed her arts degree, she returned to Ottawa. Soon afterwards, she and John each bought their first houses in the city and began building their careers in real estate and commercial property management respectively, while cementing their romance. (Hanna, now a broker, wrote the real estate examination when she was just 18.)
"We have done a lot of travelling together, which both of us love to do," says John, 27. "From our first trip to Hawaii, we have seen a lot of countries. The two of us have experienced so much since meeting — from living in different cities, being back together in the same city and travelling together to such places as Costa Rica, Greece and Thailand. It's been an amazing six years. The two of us have experienced more together in those years than many people do in a lifetime."
The most recent trip was for their honeymoon in Bora Bora, French Polynesia, following their wedding on February 18.
"It was absolutely unbelievable," says Hanna, 25. "A dream — the weather, the resort, the food and, of course, the company were wonderful."
An earlier memorable trip culminated in the official proposal of marriage. To celebrate their fifth anniversary as a couple, John arranged a surprise journey.
"He told me we were going away for the weekend, but I had no idea where to or what to pack," says Hanna, adding that the day before he did offer an indication of the temperature to help her in that regard.
The surprise destination was San Francisco, California. "We spent a couple of days exploring the city," says Hanna. "Then we went to a beautiful hotel in the Napa Valley. John had organized a private wine tour for us. We visited five wineries through the day. At the last one, we hopped on ATVs and went to the top of the mountain. From there, we could see the Golden Gate Bridge."
"John had a picnic table all set up with photos from each of our years of dating," she continues. He had even arranged for a photographer to be there. Then, he had some beautiful words to say to me. When he asked the question, I absolutely screamed yes. There is so much love between us that we always knew it would last a lifetime."
As well as dealing with the complexity of making the arrangements for the special day long-distance, John had to have the engagement ring ready to slip onto Hanna's finger. And, says Hanna, although they had intended almost from the beginning of their relationship to marry one day, they had not discussed Hanna's preference in ring styles.
"We'd just never talked about rings," says Hanna. "I had never looked at rings and didn't really have a style." So, the choice was up to John. He turned to a jeweller friend of his parents, Jean Charlebois of Gemco, for help. The result was a custom- made, cushion-cut diamond engagement ring, with the central stone surrounded by a halo of smaller diamonds.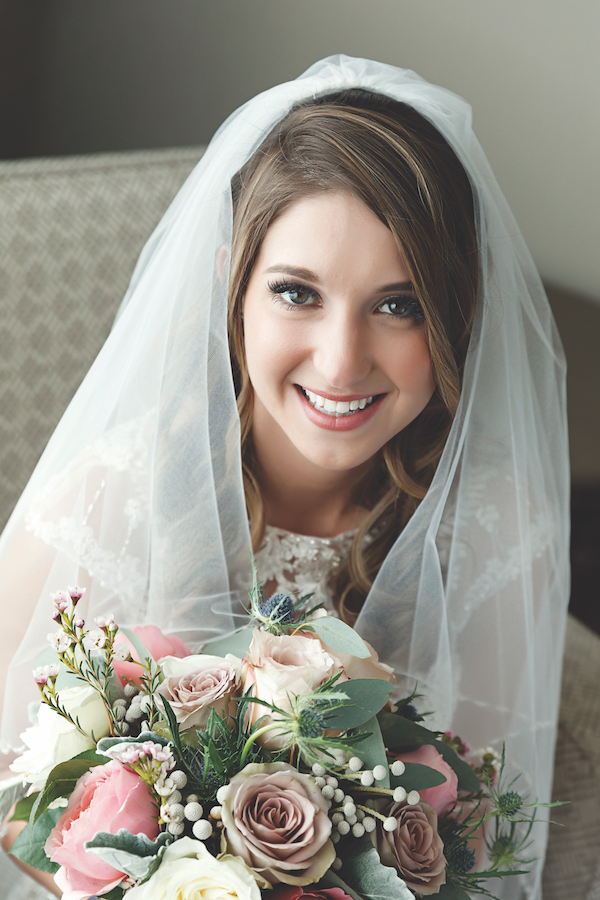 Hanna's wedding dress was the end product of another surprise trip, this time arranged by her father.
"I'm very close to my father," says Hanna. "Even from a very young age, whenever I needed a dress for a special occasion, I would go with him to choose it."
In keeping with that tradition, he took his daughter to New York City where they visited five bridal salons, eventually finding the perfect wedding dress — a Sottero and Midgley designer gown. Called the Beckett, this elegant floor-length, tulle sheath is enhanced by lace and decorated with Swarovski crystals and pearls.
"We kept the dress a secret from everybody until the wedding day," says Hanna. "Nobody saw it until I walked down the aisle."
Meanwhile, Hanna gave her five bridesmaids freedom of choice in selecting their dresses, merely telling them that the main wedding colour was a bluish grey.
"I wanted them to be comfortable in dresses they really liked and they were very appreciative of that," says Hanna, adding that she delayed ordering the flowers until the wardrobe selection was complete. The result was a perfect blend that "looked incredibly planned."
The wedding ceremony at the Notre Dame Cathedral, the seat of the Roman Catholic archbishop of Ottawa, was conducted by Father Michael Hartney and Father Alex Michalopolus in a two-fold ceremony celebrating the heritage of both bride and groom. The reception for 320 guests was held across the river in the Grand Hall of the Canadian Museum of History.
Hanna says the impressive space overlooking Parliament Hill and housing the world's largest indoor collection of totem poles, is her favourite room in the city.
"The view is absolutely spectacular and the high windows make it that much grander," says John. "This and every aspect of the wedding day, truly couldn't have gone any better. We are very grateful to everyone involved."
As well as having dancing between courses during the banquet, Hanna and John had included several other individual touches, from washroom baskets containing "everything from Tylenol to cologne" to a cellphone charging station and slippers for guests, who needed to rest after dancing the night away. Then they were invited to take embroidered white fleece blankets home as remembrances of the wedding day.
Even the weather cooperated for the couple's special day. "The weather was absolutely amazing. To have clear skies, sun and a temperature of nine degrees Celsius in February was wonderfully lucky. There is something magical about getting married in the winter." W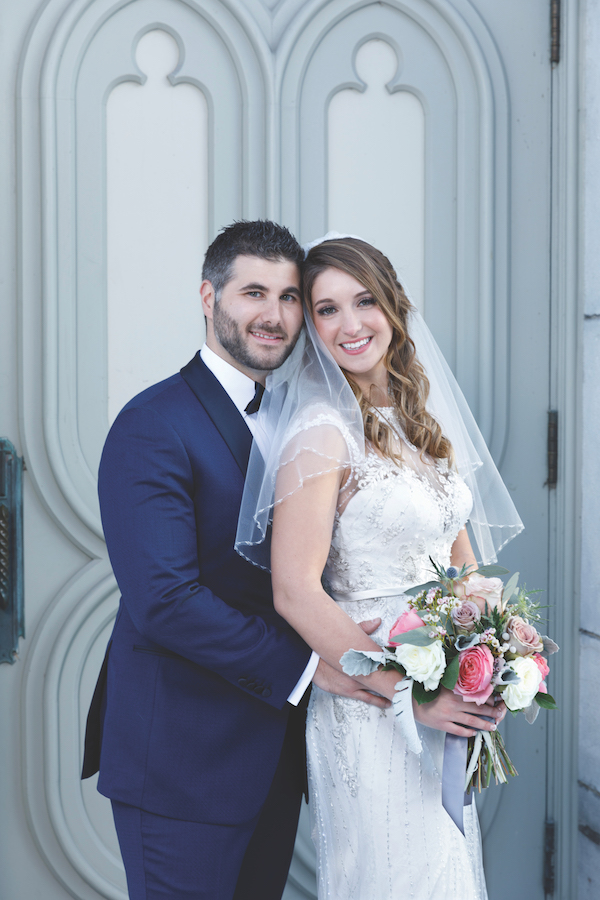 WEDDING PARTY
BRIDE:
HANNA BROWNE
GROOM:
JOHN POTAKFIANAKIS
MAID OF HONOUR:
JACKIE DARWIN
BEST MAN:
RUDY VIAL
BRIDESMAIDS:
ABBY BROWNE, EMILY BEEKMANS, TESSA MARSON, JASMINE MORVAY
GROOMSMEN:
BLAKE BISDEE, RYAN MACINTOSH, ADAM RICCI, JACK WRIGHT
VENDORS
LOCATION OF CEREMONY:
NOTRE DAME CATHEDRAL
PRIESTS:
ROMAN CATHOLIC: FATHER MICHAEL HARTNEY
GREEK ORTHODOX: FATHER ALEX MICHALOPOLUS
LOCATION OF RECEPTION:
CANADIAN MUSEUM OF HISTORY GRAND HALL
BANQUET CATERER:
SODEXO
DECORATOR/COORDINATOR:
WEDECOR
BAND:
SWAY
DJ:
GEORGE THOMAS
VIDEOGRAPHER:
CARLO MION
FLORIST:
L'ORANGERIE
JEWELLER:
JEAN CHARLEBOIS, GEMCO
WEDDING DRESS:
BECKETT BY SOTTERO AND MIDGLEY