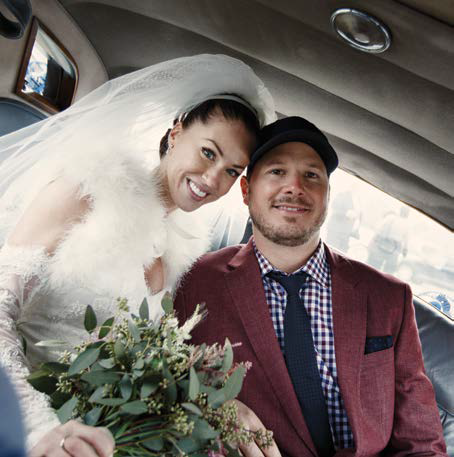 Beautiful Union
An intimate wedding for a storybook romance
by Iris Winston
photos by Miv Photography
Jessica LaBonté and Erik Bédard were drawn to each other upon first sight.
"My life is like a fairytale now," says Jessica. "There was instant chemistry when we met, but we never thought it would come to anything because we lived such different lives."
When they met, Jessica was a massage therapist and teacher who lived in Gatineau, Quebec. Erik, then a professional Major League Baseball player originally from Navan, Ontario, was spending eight months of every year on the baseball circuit in the U.S.
"We met through mutual friends in 2007, and we dated a little in the off-season, then kept in touch through the baseball season and dated again in the next off-season, but we weren't really serious then. By the next season, we realized we were getting attached and had to make a decision."
"Because I was travelling a lot, it was hard at first," says Erik, "but the more time I spent with Jessica, the more I fell in love with her."
"Also," says Jessica, "I wasn't coming into the relationship alone. I was a single mother. My son, Maddox, was two when Erik and I met. It was very important to me to find someone who would be really good to him."
And that, she says, is exactly what happened.
"They really bonded after Maddox and I went to visit Erik when he was playing in Seattle," says Jessica, adding that, from then on, their future was set as a family.
"Maddox is a great kid," says Erik. "The more I got to know him, the more he became like my son. Now, I love him like my own."
Soon after the trip to Seattle, Jessica and Maddox moved into Erik's house in Cumberland.
"The house is beautiful and very special," says Jessica, explaining that Erik's father was the contractor. "He did a wonderful job and we love everything about our home."
In July 2013, Erik, who was not taking part in MLB All-Star Week, was home for four days.
"It's always a highlight of our year to be able to come home as a family for those four days," says Jessica. Adding that one of their favourite times is having their morning coffee in the kitchen, "surrounded by windows and looking out at nature. This was when Erik got down on one knee and proposed," she recalls. "It was very exciting and the ring he had made for me is so beautiful — a three-carat round diamond surrounded by two rings of diamonds."
From that point on, Jessica says, life turned into a whirlwind, as she had just three months to plan for their wedding, set for November 2, 2013.
"We had to get married in the off-season, and as Erik's other passion besides baseball is hunting, we couldn't get married in October. As fall is my favourite season, I wanted it to be in the fall."
Once the date was set, Jessica began her search for that perfect dress. She decided on a custom-made form-fitting lace gown from McCaffrey Haute Couture on Sussex Drive.
Next the couple had to decide on a venue. "We looked at some places," says Jessica, "but nowhere gives me the feeling I have when I'm home, so we decided to celebrate our marriage in our favourite place in the world — our house."
The couple exchanged vows in Paroisse Saint- Hugues, travelling to and from the church in a 1954 Rolls-Royce they hired for the occasion. They returned to their home for a dinner catered by Urban Element.
"We had always said that we wanted our wedding to be small and intimate, so we had just 30 people for the dinner," says Jessica. "Our parents, my sister, Erik's brothers and our three best friends and their spouses. We had the table set up in a big rectangle so that everyone faced each other and we all danced to a wedding song."
Later, they were entertained by jazz singer Kelly Lee Evans, then joined by more friends and continued the celebration with a DJ and more dancing.
"Everything went without any glitches," says Erik. "And we had so much fun. Our wedding day was one of the best days of my life. I never thought it would stand out as it does."
The joy of their special day continues every day, says Jessica. "The man I married is the most genuine person with the kindest, biggest heart. And the way he is with Maddox is the greatest gift of my life. My life truly is like a fairytale."