So Unforgettable
Compiled by Pam Dillon and Photos by Lisa Mounteer
Two years after Ken and Paige started dating, he asked her to be his wife. The date was March 15, 2015, and the proposal was unforgettable. Paige had confessed to her best friend, Jessica, that she thought Ken was ready to propose; what she didn't realize was that her bestie was in on the plan.
During a restaurant dinner, Ken revealed Jessica had spilled the beans. Naturally, Paige was angry. Then he said, "I don't want to get your hopes up, I just need more time."
At that point, Paige was angry and embarrassed. As she tells the story, "We finished dinner, pretended like nothing was wrong, and went home to our dog, Lily."
When Paige returned from taking the dog out, though, something was up. The house was dark, candles were lit, and her laptop was open on the coffee table. On the screen there was a video icon and the words Play Me.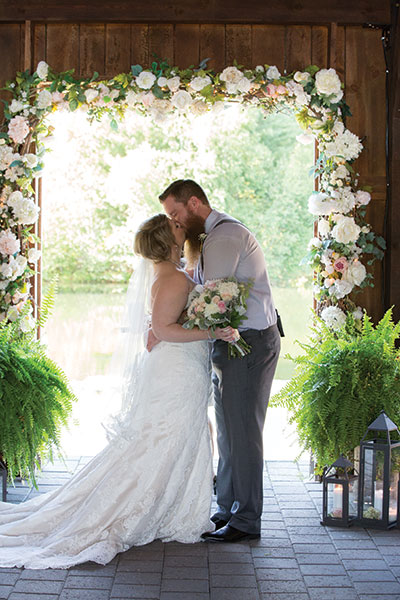 So, she did. It was Ken's profession of love for her, with music and photographs of the couple. At the end it directed Paige to call Lily, so she complied. "Our little girl came running into the living room with a box tied to her collar."
But when she opened the box, it was empty. "Talk about a rush of emotions," she says now.
Totally flustered, Paige walked into the kitchen where Ken was on one knee, with the ring in his hand, asking if she would marry him. At last, she got to say yes.
Their wedding at the Bean Town Ranch was even more spectacular.
"It was honestly the most amazing, unforgettable day for the both of us, (and) for our family and friends," Paige says, adding everything was perfect, thanks to the TLC of Bean Town staff members. Even the weather cooperated.
"The whole time it just felt right," she adds, "and exactly how we wanted to start our lives as husband and wife."
Paige's gown was a Stella York design she found at Hannamars Bridal in Peterborough.
"As soon as I put that dress on, I had no doubt it was the one," she says. "I had never felt more beautiful before."
The theme for the wedding was classic but rustic, and Jade Gardens of Vankleek Hill created the table centerpieces, along with bouquets and boutonnières. The couple reached out to a family friend, Billy Allen of Rustic Rentals, for décor items.
"Billy also made us our unique handmade guest-book tree which we now have in our living room."
Another close connection, Paige's cousin Kelsey Mercer of Kelsey's Custom Cakes, made the wedding cake and cupcakes.
For Ken, one of the highlights of the day happened when he and Paige's father were getting ready.
That's when his soon-to-be father-in-law gave him the tie clip that belonged to his father who had died, unexpectedly, about a month before the wedding.
"It meant a lot," Paige says. And for both Paige and Ken, the most memorable part of the wedding was their first dance.
"It felt like we were in a movie," she recalls. Just as it got dark, they were led away from the crowd to an island to dance, as their guests watched.
"Our song started to play and we just danced and talked and it felt effortless, and to everyone's surprise fireworks started to go off all around us and all you could hear was everyone cheering. It was just magical."