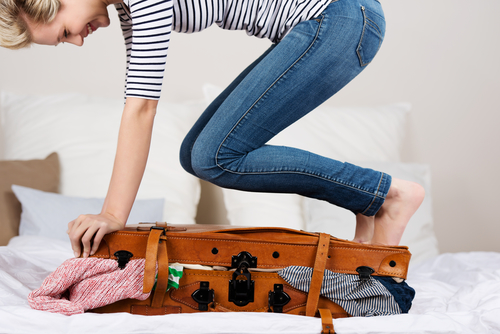 When daydreaming about your honeymoon, it's easy to get swept up in the excitement. You envision every exciting activity on your agenda and start mentally planning the outfits you'll wear for each one. The problem is that sometimes the vision you have in your mind about what to bring on this all-important trip doesn't always translate into the most thoughtfully planned suitcase. At the same time, you want to be able to be carefree on your honeymoon, so your bags must be light. So in the spirit of easy travels and memory making, here are some tips to follow for smart honeymoon packing.
Prepare to Plan
Packing for a trip can be a headache. But packing your wardrobe for your honeymoon can feel like an even more monumental task. The last thing you want is to forget an important item or end up wearing the same outfit repeatedly. After all, the pictures from this milestone trip will live on forever. So what's a girl to do? The answer: be prepared. Look at your entire vacation on a calendar and write out each day's activities and what type of outfit is needed for every one. Instead of merely relying on your own mind to organize all this, actually write it down.
Maybe you're going on a safari one day and are dying to wear your new olive green jacket for the occasion. Go for it! But then consult your written outfit schedule and find another activity or two when you can use the same jacket in a new way. One idea is to layer the jacket over your favorite black dress, adding some character to a fancy dinner look, or repurpose it by tying the jacket around your waist when you go sightseeing the next day. Aim to maximize the bulkiest items you'll be bringing, like outerwear, jeans and bags. Wherever possible, mix and match these pieces in new ways multiple times so you keep your luggage light and your look fresh.
Get Strategic with Your Shoes
The previous section covered ideas for saving space with your wardrobe, but what about shoes? It turns out they deserve a shout out all to themselves. Shoes can take up an inordinate amount of space in your bags and really weigh you down. Instead of packing a different pair for every outfit, plan to bring one pair of each type of shoe you'll need. Depending on the variety of vacation you're taking, this might look like: one pair of tennis shoes, one pair of sandals and one pair of high heels or wedges. Make sure that you choose shoes that are either in a basic neutral color or are black, so that they can coordinate with nearly any outfit you wear.
A final tip for shoes is to wear your bulkiest pair on the airplane, to and from your destination. If you're heading toward colder weather, wear your fur-lined boots on the plane. Heading to the beach? Wear your tennis shoes as you travel. This will mean that the lightest shoes you bring (which also take up the least space) will be the only ones you need to pack. Say hello to more room in your suitcase!
Identify Electronic Essentials
Beyond wardrobe items, many newlyweds fall prey to bringing too many electronics with them on their honeymoon. Electronics tend to be heavy and somewhat fragile, so they can bog you down and limit your spontaneity. Since you'll be honeymooning, there's no need to bring a computer. You will be happier leaving the PC or Mac at home, really! And even though it's tempting to bring a high-quality camera with you to document this special trip, fancy cameras and all their equipment will just restrict your mobility and end up being anchors that hold you down. Instead, use your smartphone for capturing those memories. A device likethe Samsung Galaxy S7 has a 12MP camera that takes quality pictures and is easy to slip into your purse or pocket. Be sure to remember a few charging cords and pack one in each of your suitcases so you're never without power, even if a bag gets lost.
Furthermore, consider bringing along a Kindle or similar e-reader, instead of carrying physical books with you. Most travel guides are available in a digital format and you'll save yourself a lot of space by bringing this one device instead of several hard copies. Load up your favorite travel books and you'll have a wealth of information and entertainment at your fingertips that occupies virtually no space.
In the midst of all the magic surrounding your honeymoon travels, remember to pause and spend time planning your wardrobe and packing list in detail! The more you've planned your outfits in advance and more strategically you've packed, the less stress you'll experience on this very memorable journey. Get creative, keep it light and be ready to experience the time of your life. Enjoy!