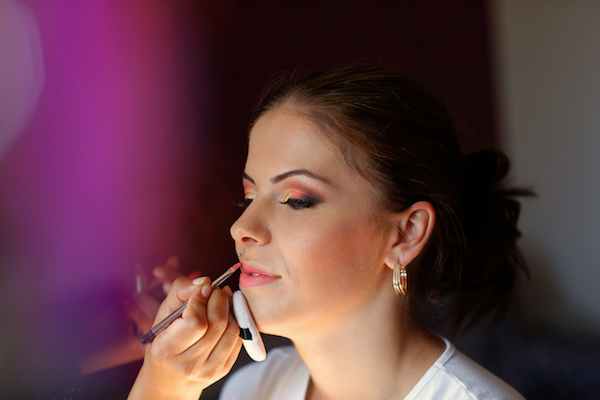 Forever Flawless
What winter weddings lack in sunshine and warmth, is more than made up for with dreamy white backdrops, cozy fur shawls, DIY hot cocoa bars and inviting fireplaces. It's also the one season of the year where you don't have to worry about makeup melting down your face or sweat putting a damper on your curls. While the unpredictable weather comes with a few beauty caveats, like dry skin and staticky strands, it's nothing that these hair and makeup experts can't fix. And lucky for you, they're into sharing.
Here are the simplest steps to ensure your winter wedding look lasts all day and night.
Emphasize hydration
The week before your wedding isn't the time for a major upheaval to your skincare. You don't want to risk a bad reaction or a lingering irritation. A few product swaps to make your skin as plump and moisturized as possible will make all the difference in creating a flawless canvas for your day. "Hydrated skin is the key to your makeup's longevity. In the winter months, you want to switch out lighter, summertime moisturizers for thicker ones and be more diligent about exfoliating at least twice a week to slough off dead skin," says Cassandra Garcia, Bobbi Brown makeup artist. "With the constant change of humidity in the air, hair-whipping winds, and dry office heaters, your skin is thirstier than any other season. Pay close attention to the areas around your nose and cheeks where it tends to get driest. Then, feel free to spot treat with a double dose of a thick, intensely hydrating cream, like Bobbi Brown Soothing Balm." (Soothing Balm, Bobbi Brown)
Take a short break from SPF products
We've heard enough reminders from derms to know that slathering on sunscreen is a non-negotiable part of our daily routine, but your wedding day could be the single exception. "The extra slickness from an SPF is tricky because sometimes it can eat through your makeup, especially if you have oily skin. Plus, sunscreens tend to give your face a weird, paled-out look in photos, particularly in outdoor pictures where there's a harsh reflection of light from white snow," says Cassandra. "You can get an SPF-free pass this one time, but absolutely don't forget to pack the sunscreen for your honeymoon!"
Apply a smart combo of liquid and powder formulas
Since your skin is drier in the winter, liquid and cream formulas will hydrate and provide coverage at the same time. "You want to achieve that quintessential 'glowing bride' look and it's easier to play around with the level of dewiness you want if you avoid a matte base. Use a Bobbi Brown Foundation Stick or a liquid formula that's long-wearing and provides cushion and comfort for your skin. Creamy blushes and highlighters not only look really natural; they are easier than powders when you need to touch up after shedding a tear or two during your ceremony. It won't look as cakey as another layer of powder makeup," says Cassandra. "Then, add a light dusting of setting powder to certain areas that are overly shiny, like your T-zone, so your makeup doesn't budge." (Skin Foundation Stick, Bobbi Brown )
Consider a colourful punch to your wedding makeup
Save the runway trends for another day. A subtly smoky eye or a classic red lip can look particularly gorgeous against a white dress and a snowy setting. Plus, bolder colours tend to have stronger, longer lasting pigments that won't wear off like lighter neutrals. "I often see brides request a red lip in the winter, and a pop of colour looks so chic as long as it's your only focal point within your makeup look," says Cassandra. "First, line your lips with a liner that matches your lipstick shade. Use the same liner to fill them in before applying your lipstick – it gives it something to grip to. Then, apply a layer of matte lipstick, which won't quickly wear off the way glossier formulas do."
Stock up on waterproof formulas
"This is the time to invest in high-quality products with long- wear and waterproof formulas, or make sure your makeup artist has them handy," says Cassandra. "Cold air and harsh winds will probably make you teary-eyed way before you're ready to walk down the aisle. So if you're worried about smudging, apply a cream shadow on your lids and use it as an anchor for a waterproof powder shadow. Then, apply gel eyeliner, which lasts longer than most pencil formulas. And of course, top it off with a water-resistant mascara for an eye makeup look that will stay put."
Opt for a no-fuss hairstyle
When your hair is exposed to the elements, it immediately starts losing its shape. So instead of spending hours beating curls into submission, or trying to make stick straight hair hold a wave, find something that complements your type and texture. "You'll deal with a lot less stress if you prepare for the worst case scenario weather situation, and go for an easier hairstyle that you won't have to fuss around with too much during the day," says Jeanie Syfu, TRESemmé celebrity hairstylist. "For example, if you have straight hair, think about a sleeker-than-ever pony with lots of shine and a few special hair accessories. Or if you have curls, give them definition with smoothing serum and change up your part from your usual 'do – like a chic centre part. Whatever the style, the key is to blast it with anti-humidity hairspray so it seals in the look." (Climate Control Climate Protection Finishing Spray, TRESemmé)
Make sure your hairstyle works with your accessories
If you plan on wearing a hat, veil, or any other hair accessory as part of your bridal style, make sure to bring the items with you to your trial and take note. "Hair tends to get static with the changes of temperature in the winter months due to dryness, and a clingy veil or synthetic hat or scarf can exacerbate frizz and flyaways," says Jeanie. "The best bet to combat static and keep your style intact is to soak your hair in a hydrating mask the day before your wedding. Apply it to your ends for five minutes and rinse it out. Then, stick a single dryer sheet into your day clutch for touch-ups throughout your wedding day. It works wonders at taming flyaways when you gently smooth it over your hair." (Botanique Nourish & Replenish Mask, TRESemmé)
Quick fix for a chipped, dark-coloured mani
"When it comes to nails, spring and summer brides often use more neutral colour palettes than they do in the winter. The cold weather feels more appropriate for winter brides to take the opportunity to wear gorgeous dark red, navy, or burgundy nails. It punctuates a white dress, makes your ring stand out in photos and adds a touch of glamour," says Jin Soon Choi, founder of Jin Soon Hand & Foot Spa. However, darker shades also mean smudges and chips will stand out. "Make sure you always apply cuticle oil before and after your manicure, and keep your nails super moisturized throughout the day," says Liliana Pennington, Londontown director of education. "The more hydrated your nails are, the longer your polish will last." If you still notice a smudge on the day of your wedding, lightly dab a cotton swab in nail polish remover or use Londontown Instant Smudge Fix to smooth out the area. (Kur Instant Smudge Fix) W
Source: brides.com.