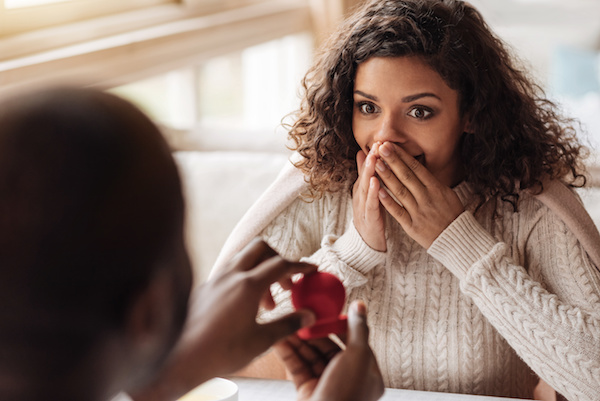 Countdown to your wedding
The best time to snap your paired-up pictures depends on how and when you plan to use them. Here's a rundown of photograph scheduling options—choose whatever works for you.
Day one/two: Take a picture of yourselves to commemorate the moment you get engaged — you'll already be wearing a photogenically (and naturally) happy smile!
First month: Schedule a photo shoot early in your engagement if you plan to submit a formal engagement announcement with a photo to your local paper. (Check your paper's guidelines for specific pose or print quality requirements, which are often listed on the newspaper's website.)
When you set the wedding date: Have a photo taken for your wedding website or save-the-date — many couples incorporate photos of themselves into the design. If this trend appeals to you and you're planning to send guests an early heads-up, have photos taken eight to ten months before the wedding, in time to print and send save-the-dates no later than six months before the wedding.
Six to eight months before: You can also take engagement pictures once you've booked your wedding photographer or when you're narrowing down your final choices (which should occur when your planning countdown hits the eight-months- prior mark).
Three months before: If you plan to submit a shot with your newspaper wedding announcement, check their guidelines for specifics and schedule a picture-taking session at least three months before the wedding. Larger newspapers ask to receive wedding submissions up to six weeks before the event, and you'll want to factor in four to six weeks before that deadline to see your proofs and make prints.
Two months before: Trying out wedding day looks? Schedule hair and makeup trial appointments the same day as your engagement photo session to capture a preview of your wedding day fabulousness on film (you could do the salon in the morning and the photo studio in the afternoon). Factor in some in-between time for damage control, on the off chance that the salon results aren't as great as you hoped.
Up to one month before: Planning to feature your smiling faces on the wedding program, the favors or plastered on the hot air balloon in which you'll be leaving the reception? Schedule pictures in plenty of time to see proofs, select your favourites and get everything you need printed up.