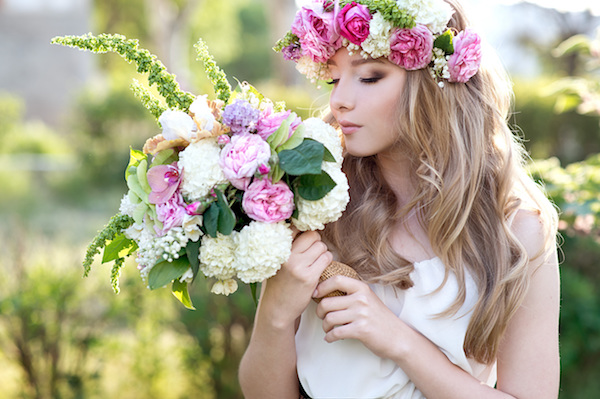 Spring is wedding season and a big part of wedding planning is choosing the right flowers to fit your vision for the big day. Flowers set the tone for the wedding and whether they are bright and bold or soft and subtle, the floral arrangements, bouquets and boutonnieres are important aspects of any nuptials. Luckily, brides do not have to look too far when trying to pick the right flowers.
Naturally Dejan Kristan, marketing director for Pick Ontario, is touting the benefits of blooms from our own province. "Ontario greenhouse growers produce a wide variety of flowers that are perfect for the big day," Dejan says. "Gerbera daisies, Viburnum, Peonies, Dahlias, Calla Lilies, Oriental Lilies, Freesias, Spray Roses, and Ranunculus.  These are just some of the many flowers that brides can find in season to accompany both their colour scheme and theme."
Here are Dejan's top spring wedding picks:
–         Gerbera daisies are widely grown in Ontario, and the sunny blooms are available in almost every colour, making them a convenient choice regardless of your weddings colours.
–         Viburnum or "Spring Snowballs" have a mass of tiny white blossoms that create a look of fluffy round clouds, and add a delicate softness to arrangements.
–         The large layered blooms of Peonies or Dahlias give arrangements a romantic vintage feel.
–         Long Calla lily stems add a structural elegance to bouquets and arrangements. Tie several together for a bouquet with a modern look.
–         Spray Roses offer the beauty and fragrance of roses, but on a charming miniature scale. Each branched stem has multiple blooms, which make excellent filler in large arrangements. Spray roses are also more likely to be grown here in Ontario, as opposed to its single long stem cousins, which are often imported from South America.
–         Ranunculus is so hot right now!  A breakout hit from the Canada Blooms show, if you have browsed Instagram at all, you have almost certainly seen some beautiful ranunculus arrangements.  A very trendy and beautiful flower, it will get noticed.
When you choose locally grown flowers, Pick Ontario points out, the longevity of the flowers is maximized, so they can be enjoyed even after the day has passed.  Local flowers also tend to have more fragrance than those imported, as their scent comes from natural chemicals that they release into the air.  Imported flowers often lose these chemicals during their long transportation, so the shorter the trip the longer the scent of the flowers will last.
"Flowers are one of the most essential parts of any wedding and spring is the perfect time to experiment with vibrant colours and various types of blossoms," adds Dejan. "I don't think there is a better way to enhance the happiest day of your life than with fresh, locally grown flowers that smell like they've been picked that morning."
For more information,  visit www.pickontario.ca. Follow @pickOntario on Twitter and Instagram, and like them on Facebook.