Tips to keep your Face Fresh all Day Long
With temperatures on the rise, brides are always looking for ways to keep cool and look great in the summer sun. But whether you are travelling to a warmer climate or keeping it local, there are things to keep in mind when planning a heated affair. To ensure your face is picture perfect, here are a few tips to make sure you're ready to brave the heat.
First things first
There are three beginner steps to every summer makeup regime. Intense UV rays can cause skin damage, so a quality primer is the first ingredient to a flawless face. "In the summer, primers are your friend," says Heather Farmer, an Ottawa area makeup artist. The primer acts as a barrier between your skin and your makeup, and absorbs the oils that may clog pores. In the summer sun, a primer is a must to ensure your makeup goes on smoothly and stays on throughout the day. "Skin primers such as Smashbox Photo Finish or Makeup Forever All Mat primer will help you from getting glossy or shiny," adds Heather.
If you are opting for foundation, a water-based as opposed to oil based is the way to go, as it won't feel as thick on your face. For a lighter choice, tinted moisturizers provide sheer coverage and still give you a light glow. This is a great option for those with oilier skin. There are brands that have created base foundations and tinted moisturizers with high UV protection, but beware that some SPF products have the tendency to be heavier and thicker on the face.
Once the foundation is applied, a setting powder or sealer is the key to your makeup staying put all day long. If you're having an outdoors affair or taking pictures under the warm rays, your makeup can begin to break down from the sweat and oils on your face. A powder or sealer will adhere to the foundation and provide lasting coverage, in turn minimizing the amount of touch-ups. It's also a great combat against excess shine. "I'm loving MAC's Blot Powder," says Heather. "They have a tiny amount of tint to them, and are mainly for keeping off the shine — great for keeping your skin fresh all day." Now that you've got a blank, even canvas to work with, it's time for the fun part — adding colour to your look.
When choosing between a gel and pencil liner, Heather says there are a few things to consider, from the style of application to the wear of the product. "When I think about summer, gel liner is not what comes to mind right away because it has that liquid liner look that more often than not has a winter appeal. Gel liners do, however, have the ability to go on lightly if you are careful and can then be smudged to give a gentle smoky eye." Products such as the Stila Smudge Pot or Smashbox Jet Set waterproof gel liners are great options to achieve this look. For sweat or tears, smudge- or waterproof mascara is always a good idea to avoid those racoon eyes by the end of the night. To avoid creasing, use an eye shadow primer before applying the shadow. Smooth primer over entire lid and extend upward to the brow bone. This will ensure even coverage and hold the shadow in place.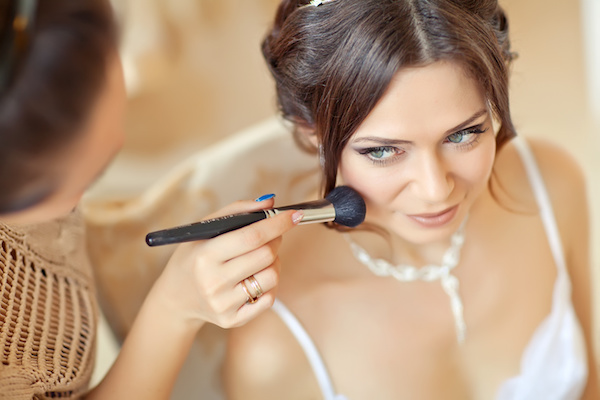 Blush
To add colour to the cheeks, a stain is an ideal choice as it has longer staying power and tends to leave your skin with a natural finish. Heather recommends the Benefit Benetint as well as Stila's Lip and Cheek Stain. "It takes some getting used to and needs to be applied quickly, so testing it out by yourself on your wedding day is not recommended." To apply, dab a small amount and blend quickly, moving it along the cheekbone and gently wrapping it around the apple of the cheeks.
Lips
Lips can be extremely sensitive and, if not protected, can burn in the summer sun. If you are wearing lipstick on the day, start with an SPF-enhanced lip balm. If you're going with gloss, it will last longer if you begin by applying a translucent powder on the lips. Leading up to the day, it's a good idea to have a hydrating lip balm on hand at all times to have your lips kissably smooth. So to all of you summer brides, Heather has these things to keep in mind: "The key to surviving a hot, sunny, summer day is SPF in your moisture and base products, and everything needs to be made to last. Also, long-wearing and waterproof are your friends in this weather, where you are more likely to perspire." So don't be afraid of the sun, just be prepared!
Article By Lindsay Ruck