This is the second of three posts of an Canadian exclusive interview with Jorge Perez, Bridal Director for Waterford Crystal, Wedgwood China and Royal Doulton. Jorge talks about using decor and activities to punch up your wedding, making it a unique experience for your guests.
I was really ecstatic in having the opportunity to chat with Jorge Perez, Wedding & Red Carpet Gown Designer, On-Air Personality for Shop NBC and Bridal Director for Waterford Crystal, Wedgwood China and Royal Doulton. The interview was graciously made possible by the Linen Chest, a Montreal based company. Part 1 was on using the 1,2,3 Rule.
Whether you are a Do-It-Yourself bride or organizing your wedding through an all-inclusive venue, you want to make your wedding memorable for your guests. Your wedding is not a copy from a wedding magazine or a one-upmanship competition with a friends wedding. You want a wedding that is unique to you.
Jorge recommends that you focus on two aspects to personalize for your event: heritage and heart. 
Look into your heritage for ideas and speaking what's in your heart are the best ways to connect with your guests and keep them engaged. I agree with him totally. I give the same advice in crafting a wedding ceremony. If you keep those two ideas throughout your day, then you will have your wedding.
Jorge brims with ideas in personalizing your wedding.
Have all the center pieces different. One couple really loves camping and had each table set up with a sprig from a tree. They also had a gift table with a tent and a really humorous candy table.
Get a variety of dishes and stemware. Have each table set up with their own set.
Make place-mats or table runners that are a collage of photos from all members of both families. You take all the photos and make one 8 x 14 image. Go to the nearest photocopier vendor and have them copied as place-mats or tape them together as a table runner.
Hire actors to present the story of how you met during cocktails or between courses.
For favors, take one of your favorite recipes, for example grandma's apple pie. Print a card with the recipe and give a bag of apples.
Put games on the tables so that your guests can interact immediately. Trivial Pursuit works well.
Have fun with the guest register. I had a couple who used a two handed saw because he build barns.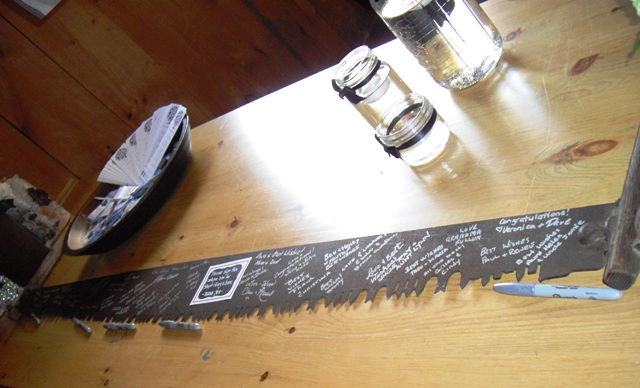 Jorge implores that you don't lose sight of the event. It is a celebrate of you. By focusing on your heritage and heart you can be assured that you won't get lost in the hype from magazines and media. You will have YOUR wedding.
Part 3 will be on Gift Registry advice where I will also be offering a giveaway prize from Waterford Crystal, Wedgwood China and Royal Doulton that will be available in Ottawa's two Linen Chest locations.