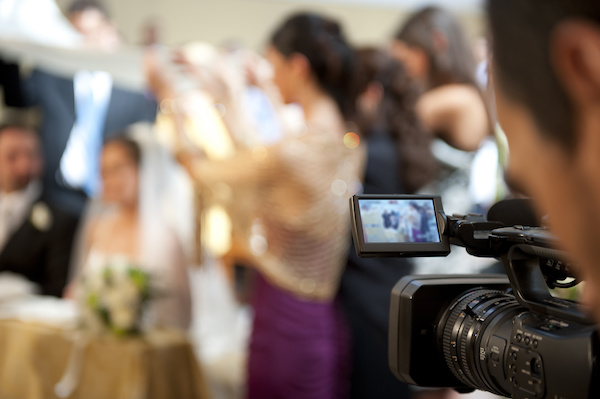 You know that wedding. You've been to it.
The setting is beautiful. The pews or aisle seats are festooned with floral arrangements, lanterns and bows. An organist or guitarist starts to play as the seats gradually fill with people in their party-best. Eventually, the groom and groomsmen appear at the front and, minutes later, the bridesmaids and bride start their momentous walk down the aisle.
It's the big moment, the culmination of a year or two of planning and the stuff of a bride-to-be's dreams. Should you, then, whip your cell phone out and take a picture?
Lots of people do. Actually, it's not uncommon for wedding guests to rise out of their seats and stand in the aisle to snap photos while the ceremony is underway. Snap, snap, snap.
Everybody's got a cell phone, so sometimes there's a flurry of picture takers. At the same time, there may be a pretty disappointed bride and groom. After all, they've invited you to bear witness to one of the most important occasions of their lifetime. They're expecting you to pay attention.
What's more, they've probably hired a professional photographer and maybe even a videographer to record the special moments and festivities. Odds are, if you're one of the "cell phone snappers," you might be in the way or making their job more difficult.
In fact well known Ottawa photographer Mark Cooper has written about it, in response to the dismay expressed by many of his clients about this trend.  And the response to his online post has been huge.
Mark has even been asked to suggest wording to be included in wedding invitations to ask guests to put away their devices. Here's what he suggests:
Dearest Guest
Thank you for participating in the celebration of our love on this most special day in our lives. As you witness the exchange of vows and rings, it is our hope that you will be fully present during this intimate expression of our love. In honour of our ceremony and love, it is our sincerest request that you put away your electronic devices and celebrate with us through your presence. 
What do you think?