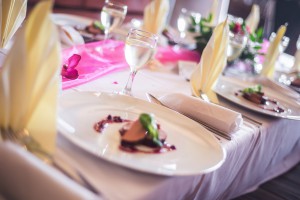 Splurge or Save?
The reception typically eats up 50 per cent of a couple's wedding budget. With the average wedding costing $25,000 to $50,000, that can quickly add up to a huge bill. And paying off a pile of debt is not a good way to start a marriage.
By making smart food choices, you can have a wedding to remember without a debt you'd sooner forget. Here are some guidelines to help you decide when to spend or splurge when it comes to your reception.
Quality over quantity
Be smart. Don't skimp on quality by buying cases of cheap champagne. Instead, splurge on good champagne, but keep costs down by limiting the number of bottles and serving it only during speeches.
Make smart choices
Arrange to have a cocktail reception instead of an elaborate sit-down dinner. This will save money without compromising quality.
Balancing act
Skip the elaborate dessert table and opt for a beautiful professionally-made cake instead.
Think seasonal/local
Take a pass on imported caviar and stick to seasonal and local produce. It will taste better and help keep the food costs down.
Skip the frivolities
Do you really need to have your butter carved into roses? People will hardly notice, but you will when you get the final bill.
Consider your options
Surprisingly, a plated dinner is typically less expensive than a dinner buffet. This is because when people serve themselves, they tend to take much more food than a waiter would serve, and the caterer has to keep restocking the food for a buffet.
Do your research
A brunch buffet is usually less expensive than a sit-down dinner or a served brunch. Mid-afternoon hors d'oeuvres can be a good money-saving option, particularly if you have waiters serving the appetizers rather than allowing guests to serve themselves.
Do it yourself drinks
Rather than waiting for the unknown bar bill at the end of the night, choose a place where you can bring in your own liquor and hire your own bartender. This way, everything is paid for in advance, and there's no anxiety about being stuck with a huge bill at the end of the reception.
Be creative
Come up with a signature drink, such as a flavourful punch or a favourite cocktail that represents the happy couple. It's a nice touch that's more economical than providing a full bar.
Leave it to the professionals
Despite your best efforts, some things like a wedding cake is best left to the professionals.
Be flexible
Avoid peak wedding dates. By holding your reception on a Sunday rather than a Saturday, in August instead of July, you could save bundles without compromising on quality.