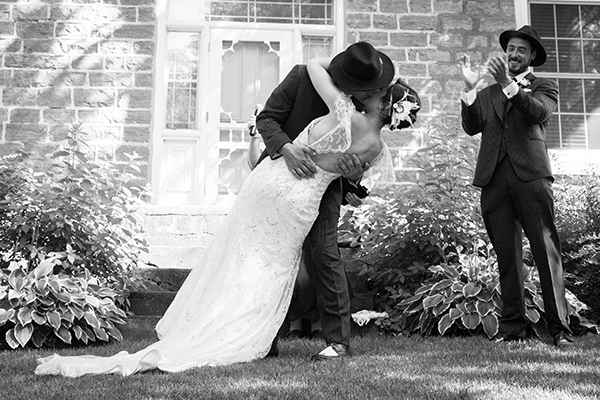 Photographer: Valerie Miles Photography
Bride Name
Melissa
Groom Name
Patrick
Date of Wedding
07/10/2015
Photographer
Valerie Miles Photography
Reception Held at
Stonefields Heritage Farm
Ceremony Held at
Stonefields Heritage Farm
Wedding Dress
Alliance Bridal
Groom's Fashions From
Tip Top Tailors
Bridesmaids Fashions From
UniqueVintage.com
Groomsmen's Fashions From
Tip Top Tailors
Bride's Hair By
Stephanie Rollin
Cake By
Gisele Seguin
Catering By
Thyme and Again
Invitations By
Paper Studio
DJ Services

Quality Entertainment
Description (Up to 500 Characters)
It was a beautiful day in July for a vintage, 1920's themed wedding which included flapper dresses and fedoras, fringes, lots of feathers and a vintage car. There were a lot of do-it-yourself projects in realizing this perfect wedding day, including the making of the centerpieces, the bouquets and the boutonnieres. Some guests arrived in 1920's themed clothing and the signing book was made of pages that looked like old telegrams. All went without a hitch and it was a most beautiful wedding day!